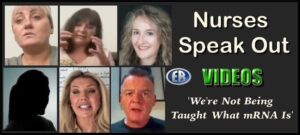 ER Editor: These are four of the best videos of nurses (in the UK as it happens) speaking out about the top-down, corrupt, CRIMINAL, highly unethical nature of what has been happening in hospitals over the past year. Testimony is also given over vaccines and their effects: the lack of knowledge among medical personnel about the nature of the vaccines that they THEMSELVES are taking is quite incredible (1st video). These nurses have had to do their own research on what the vaccines and the PCR tests are. Hospitals have stopped administering the flu panel when patients enter with an unknown respiratory infection. At least three of these nurses have quit; two of them are planning to stand for election.
'In my opinion, it's an illegal clinical trial'
The first video is an anonymous nurse who gives 15 minutes of powerful testimony to the UK Column team during the very first part of the video. Three nurses speak out in the 2nd video on The Sons of Liberty show: Kirstie Miller, Lisa Brackenridge, and Mandy. The 3rd video is an in-depth interview with David Scott of UK Column with Lisa Brackenridge.
The last video with Charlie Ward is an interview from the past week with Dr. Kevin Corbett and Kate Shemirani.
Normally we would provide a summary of points, but the topics covered here are many and diverse.
'Nurses have been turned into agents of the State'
'We're taught to go with the Narrative, but the Narrative doesn't make sense'
********
Sons of Liberty talking to Kirstie Miller, Lisa Brackenridge and Mandy
'It's not sold to the public as a clinical trial, but that's what it is'
'Why are we vaccinating people with immunity?'
'Why aren't we doing immunity testing?'
Kate Shemirani and Dr. Kevin Corbett with Charlie Ward
************
Published to The Liberty Beacon from EuropeReloaded.com