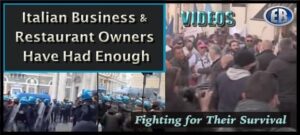 ER Editor: See also this RT report from April 7 on protests by bar, business and restaurant owners, titled WATCH business owners clash with police as anti-lockdown protest turns violent in Rome. The videos in this article, as well as in the tweets below, are worth watching.
Please note that we don't endorse the statistics given below in the RT report, nor do we acknowledge that 'cases' are rising. We've published too much over the last 13 months to know that 'case' and 'death' figures are as real as a 3 dollar bill.
********
Italians pelt police with stones, set off fireworks as hundreds descend on PM's office to protest Covid curbs (VIDEOS)
RT
Hundreds of protesters have traveled to Rome from all over Italy to vent their fury at Prime Minister Mario Draghi and his government's strict Covid-19 measures, which are making life tough for small businesses like restaurants.
.
At least one protester was injured as a 500-strong crowd gathered in the capital on Monday, some of whom hurled stones and bottles at police, while others let off fireworks, Rome-based newspaper Il Messaggero reported.
Translation: Rome now, explodes with social anger of citizens and workers against Covid restrictions and political class.
Translation: A demonstration of restaurateurs and shopkeepers against restrictions breaks out in #Rome despite a ban by the authorities. The protesters want to reach the Parliament. The #IoApro ("I open") movement is gaining momentum in #Italy.
There were chants of "freedom" and "we are all workers" as the crowd made its way to Draghi's office, where protesters faced off with lines of riot gear-clad police.
Translation: Rome today. Police State
Some 130 coaches full of people from across Italy arrived for the protest, with more than 50 people turned around by police at stations and toll booths as they tried to make their way into Rome.
While heated, the protest was less violent than another demonstration in Rome last week, where policemen were among those injured amid clashes with bar owners and restaurateurs. (ER: See article linked to above.)
Many Italian business owners are angry at the government's public health measures, with most areas of the country classed as either an 'orange' or 'red' zone, meaning hospitality is shut down and strict travel curbs are imposed.
More than 114,000 people in Italy have died from Covid-19 to date, and the number of people with the virus currently admitted to intensive care units is still rising.
The country has registered over 3.78 million confirmed cases of the coronavirus since the start of the pandemic.
Italians Pelt Police with Stones, Set Off Fireworks as Hundreds Descend on PM's Office to Protest Covid Curbs (VIDEOS)