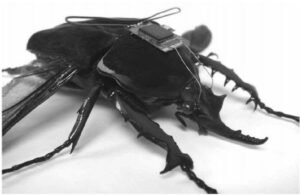 I just received very disturbing news from Slovakia, where a hospital lab personnel in Bratislavia conducted a study on the COVID PCR Tests and concluded the test swabs that they jam up your nose all the way to the brain are implanting Darpa Hydrogels in your body.
Darpa is the Defense Advanced Research Projects Agency – a research and development agency of the United States Department of Defense responsible for the development of emerging technologies for use by the military. Originally known as the Advanced Research Projects Agency, the agency was created on February 7, 1958 by President Dwight D. Eisenhour, USA
From the study "Darpa Hydrogel (reference) is an artificial substance that creates a converter between the electromagnetic signal and living cell, tissue and organ. Converts an electromagnetic signal from a transmitter to a signal which a living cell understands and responds to. (see photo of beetle – Darpa Hydrogel was injected into this nerve structures and was controllable via a radio)"
"Darpa Hydrogel and lithium block and destroy the pineal gland and cause the thinking person to become a controllable biorobot. A hydrogel is a carrier of an active substance, its task is to get the substance into the body at a pre-desired place."
So, the Darpa Hydrogel is a key component, "these are actually nano-antennas", to connect to 5G and allow the global elite to literally control people like robot beatles.
They cite their test results that show Darpa Hydorgel is also deadly to human blood cells. When used in conjuction with Lithium, which is highly toxic, can destroy the Pineal Gland. The report further states "From this information it is clear that test sticks are a criminal tool of genocide in the population of Slovakia. This is a worldwide, thoughtful and carefully prepared event."
Here is a link to full study in PDF format.
This is stuff from the Science Fiction archives happening right now.
Jai Guru Dev
Visvamitra
From Slovakia Hospital – COVID PCR Tests Found to be Tool for Genocide