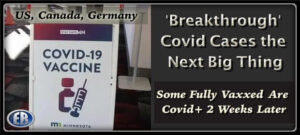 ER Editor: Breakthrough cases, so-called, are being defined as testing positive for Covid-19 two weeks after the second and final vaccination. They encompass the range of no symptoms to mild and severe. One death has been reported.
The phenomenon has just made an appearance in Germany, according to the German version of the Epoch Times, whereby fully vaccinated hospital staff appear to be infecting others:
In Halle / Saale, there is an unusual SARS-CoV-2 case: a man who received both vaccinations appeared symptom-free in the Elisabeth Hospital and was negative in the rapid test. However, a PCR test for control revealed an "enormously high viral load."

The medical director of Elisabeth Hospital, Dr. Liedtke explains, "The virus apparently has a new strategy and is bypassing all the defensive measures we have had so far. This is a completely new situation." (ER: This is an interpretation. There may be other factors at work. See the Children's Health Defense piece below.)

A spokesman for the hospital could not say anything on the evening of March 30 "whether it has already been determined which mutation it is," according to the portal "T-Online."

What vaccine the man had received is currently unknown to the Epoch Times.

The local web portal "Dubisthalle" wrote on March 29 that employees already vaccinated against the Corona virus were responsible for the recent outbreaks.

"Two hospitals have separately informed the Emergency Management Staff that chains of infections at the hospitals appear to be traced to already vaccinated employees who showed up for work symptom-free," the city said.

"The cases at least suggest that vaccinated people can still be contagious. Therefore, our request also to all vaccinated persons to adhere to minimum distances and hygiene rules and, where distances cannot be observed, to always wear at least a medical mouth-nose covering."
This phenomenon is also being reported in Canada. See 'Breakthrough' COVID-19 cases: The possibility of infection after vaccination.
All of which leads us to one consideration: is 'breakthrough' being conveniently treated as some sort of separate phenomenon? When really it is just part of the same thing already reported: cases of covid infection were already being seen among the elderly in care homes post-vaccination where previously no Covid cases had been reported, among vaccinated homecare workers and medical staff, too. If these infections arose fairly quickly afterwards, inside a 2 week period, what's the significant difference? If we treat 'breakthrough cases' as a separate entity, we get a smaller statistic of those infected post-vax. If we collapse all these cases, then our statistic of those-infected-post-vaccine is significantly higher. Terminology matters. (See Some Very Disturbing Facts Related to Mass Vaccination [VIDEO]) 
********
'Breaking Through' — States Report Growing Number of COVID Cases Among Fully Vaccinated
Washington, Florida, South Carolina, Texas, New York, California and Minnesota have all reported breakthrough cases of COVID
A majority of people with confirmed vaccine breakthrough experienced mild symptoms, if any. However, since Feb. 1, eight people with vaccine breakthrough cases were hospitalized and the DOH "is investigating two potential vaccine breakthrough cases where the patients died. Both patients were more than 80 years old and suffered underlying health issues," officials said in a press release.
Washington isn't the only state reporting breakthrough cases. Florida, South Carolina, Texas, New York, California and Minnesota have also reported cases of fully vaccinated people testing positive and becoming ill with COVID.
The Florida Department of Health in Volusia County had six documented breakthrough cases, Sumter County had six and Lake County had 26 cases, according to emails from each county spokespersons.
Dr. Sunil Joshi, president of the Duval County Medical Foundation, compared the COVID vaccine to the flu vaccine. "It's like the flu shot, for instance, right. We know, we encourage people to get the flu vaccine. That doesn't mean that you're not going to get the flu. But the disease is significantly lessened," Joshi said. "So remember, the whole goal for this, from the very beginning, has been to keep people out of the hospital. And so anything positive after the vaccine is not unusual, it can happen." (ER: The vast majority of people are never ever likely to end up in hospital with Covid …)
In Charleston, South Carolina, the Department of Health and Environmental Control (DHEC) identified 134 breakthrough cases in those fully vaccinated across the state. In the past month alone, Roper St. Francis Healthcare treated four patients in the hospital and were aware of 10 other "breakthrough" cases that did not need hospitalization.
The Medical University of South Carolina reported seven COVID cases in fully vaccinated people. Roper Hospital is working with DHEC to analyze positive test results to see if variants may play a role.
"All of these individuals we identify who get infected or even hospitalized despite receiving two doses, that virus will be sent on to DHEC for further analysis," infectious disease physician Dr. Kent Stock said. "The question is, is that phenomenon influencing these numbers?"
In Wichita Falls, Texas, seven vaccine breakthrough cases were reported Monday in those fully vaccinated against COVID. Of the seven cases, six had the Pfizer vaccine and one had Moderna.
"We've been watching that since the very beginning, since vaccinations started and so we started noticing it was just maybe one per week, two per week, now we are currently at seven," Amy Fagan, assistant health director of the Wichita Falls Wichita County Public Health District, said.
As of March 24, Minnesota had identified 89 "breakthrough" COVID infections with a small number resulting in hospitalization, according to Star Tribune.
Out of caution, the state is reviewing the cases to see if they have anything in common, state infectious disease director Kris Ehresmann said. "A cluster of cases vaccinated at the same site could suggest a handling problem with the vaccine, or that a lot was tainted," she said.
When asked about Minnesota's vaccine breakthrough cases during a White House press briefing on March 26, Dr. Anthony Fauci, President Biden's chief medical advisor, said:
"This is something we take seriously and follow closely. You will see breakthrough infections in any vaccination when you're vaccinating literally tens and tens and tens of millions of people. So in some respects, that's not surprising."
According to Fox News, a Long Island, New York woman tested positive for COVID Tuesday — more than a month after receiving her second dose of the Moderna vaccine meant to protect against the virus. "I was shocked," Rosen said. "I'm the 4.9% that got Moderna and actually got COVID."
In a March 23 letter to the editor of the New England Journal of Medicine, eight physicians reported on a study they conducted on breakthrough cases at the University of California, San Diego and University of California, Los Angeles (UCLA) health systems.
According to the letter, UCLA instituted an optional testing program on Dec. 26, 2020, for asymptomatic healthcare workers using PCR nasal testing in an effort to detect asymptomatic SARS-CoV-2 infections after vaccination.
From Dec. 16, 2020, through Feb.9, 2021, a total of 36,659 healthcare workers received the first dose of a COVID vaccine, and 28,184 of these persons (77%) received the second dose. Among those vaccinated, 379 people tested positive for COVID at least one day after vaccination, and the majority (71%) tested positive within the first two weeks after the first dose. After receiving both vaccinations, 37 healthcare workers tested positive.
According to the study, the risk of testing positive for COVID after vaccination was between 0.97% and 1.19% –– rates higher than the risks reported in the Moderna and Pfizer vaccine trials.
As The Defender reported in December 2020, one explanation for "breakthrough cases" in the fully vaccinated may be the use of polyethylene glycol (PEG) in mRNA COVID vaccines like Moderna and Pfizer.
Studies have found approximately 72% of people may have PEG antibodies. In those people, the antibodies may cause an anaphylactic reaction to the vaccine. Or, the antibodies may break down and degrade the PEG-coated mRNA in the vaccine before it gets a chance to get into the cell and start programming the production of spike proteins, resulting in the vaccine being less effective.
********
Dozens in Central Florida Contract COVID-19 after Being Fully Vaccinated
So-called breakthrough cases pop up in Orlando area
LOUIS BOLDEN
All Global Research articles can be read in 51 languages by activating the "Translate Website" drop down menu on the top banner of our home page (Desktop version).
***
They're called COVID-19 breakthrough cases — people who have been fully vaccinated yet still contract the virus more than 14 days after their second shot.
The cases are popping up around the country, including in Central Florida.
Hanna Rewerts, 27, is a physical therapist and has been tested for COVID-19 at least once a week since the pandemic started.
She says she got her first positive test just days ago.
"I was shocked, you know," Rewerts told News 6. "Immediately I'm like, 'This has to be a false-positive. This can't be right.'"
But multiple tests confirmed it.
She said she was shocked because she is also fully vaccinated.
As a health care worker, Rewerts had her first dose of the Pfizer vaccine in December 2020, according to her vaccine card. Her second dose was three weeks later in January.
More than two months after the second shot, she contracted the virus.
"So it's just, it's very odd," Rewerts said.
Rewerts is among a growing number of people.
Earlier this month, the Minnesota Department of Health released a health advisory stating that along with the CDC, it is investigating COVID-19 infections among people who are "appropriately vaccinated," also called vaccine breakthrough cases, according to the advisory.
News 6 checked and the Florida Department of Health in Volusia County has six documented breakthrough cases while Sumter County has six and Lake County has 26 cases, according to emails from each county's spokesperson.
Dr. Timothy Hendrix is with Advent Health and said it is possible for someone who is fully vaccinated to still contract the virus.
However, the vaccine can prevent more severe cases, including hospitalization and death. It is still important to get vaccinated from COVID-19. (ER: Would these people have had a severe case of Covid, regardless? Would they even have had ANY infection?)
"It is possible because no vaccine is perfect," Hendrix said.
Hendrix stressed that both Pfizer and Moderna vaccines are 95% effective, though.
"The good news is for that very small amount of people that might become infected, that less than 5%, the chances of severe disease is next to zero," Hendrix said.
Breakthrough cases are not specific to COVID-19 and can happen with any vaccine, according to experts.
Rewerts said three of her family members who were also fully vaccinated contracted it as well.
"One of my family members actually went to the hospital," Rewerts said. "I mean, that's pretty severe enough to be concerned about the vaccine."
Rewerts said the Florida Department of Health is testing to see whether she may have been infected by one of the COVID-19 variants that has made it to Florida.
She said for now, she and her family will continue social distancing and wearing masks.
"I don't think the public is aware that it doesn't mean you're not getting the virus, and it doesn't mean you're not getting sick. There is still a chance," Rewerts said.
Hendrix put it this way.
"The one thing you should know is every vaccine that's been approved at this point, is highly effective at preventing the one major endpoint: hospitalization and death," Hendrix said.
Researchers are still trying to figure out if people who are fully vaccinated and contract the virus can also spread it to other people, which is why they recommend still wearing masks even after you're vaccinated.
(ER: So, putting aside the as yet unknown risks of an untested genetic-therapy vaccine, the point of being vaccinated against Covid is ….?)
*************
'Breaking Through' — US States & Elsewhere Report Growing Number of COVID Cases Among Fully Vaccinated