A MUST-WATCH FULL OF FASCINATING INFO AND ANALYSES FROM 23RD APRIL 2021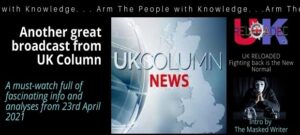 Intro by The Masked Writer
Another great broadcast from UK Column where every broadcast is a revelation.
No wonder the government are gunning for them.
They deserve our support not least because they are doing the job the MSM should be doing and would be doing had it not entered into collaboration with the enemies  of Man.
Below is their latest broadcast.
Here is a link to it on Bitchute.
Here is the embed code so you can embed it on your own website or blog:
<iframe width="640″ height="360″ scrolling="no" frameborder="0″ style="border: none;" src="https://www.bitchute.com/embed/EUqn2efa6HkT/"></iframe>
UK COLUMN WEBSITE
UK COLUMN CHANNEL ON BITCHUTE
---
The People's Media
Media of the People, by the People, for the People
UK RELOADED THE LIBERTYBEACON WE FIGHT BACK LIBERTY RISING
EUROPE RELOADED TELEGRA.PH DAILY SCARE WEBWIDE NEWS