TAP – This footage is worth seeing.  Crop Circles may be a mystery but you can see them being made, and you can see what's making them.  Without a slo-mo camera you would never see what's around you every day of your life..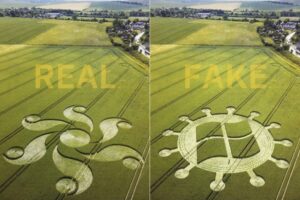 12,000 year old evidence of UFOs & Crop Circles, NASA astronauts discussing UFOs and EGYPTIAN ARTEFACTS discovered in Mexico…
These are the subjects covered in SECRET SPACE – a new three hour documentary film produced and directed by CHRIS EVERARD on the ENIGMA CHANNEL…
SECRET SPACE is the companion film to Chris Everard's book DEEP STATE. If you want to see HD FOOTAGE of UFOS flying at 3,000MPH in broad daylight over StoneHenge – then you must watch this new film by CHRIS EVERARD.
…We're not talking about just one, or two UFOs in a single frame of blurred footage – this new documentary shows DOZENS of UFOs all filmed in broad daylight in HD from all over the world.
If you thought UFOS were just a 'conspiracy theory' then think again – not only are they here – but they are here in HUGE NUMBERS…
SECRET SPACE Vol.4 is a new THREE HOUR in-depth documentary exposing the SECRET SPACE PROGRAM and shows clear evidence that planet Earth's atmosphere has been invaded by HUNDREDS OF THOUSANDS of UFOs.