Unvaccinated Vs. Vaccinated
Greg Glaser, Esq. Vaccine Rights Attorney is general counsel for the Physicians for Informed Consent and the lead counsel for the Pilot Study of Unvaccinated Americans, a cross-country group of 1,482 Americans. https://informedconsentdefense.org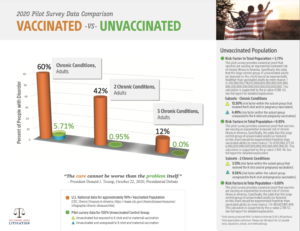 21 easy to read charts [evidence]. https://informedconsentdefense.files.wordpress.com/2020/12/pilot-survey-graphs-filed.pdf
Greg Glaser, J.D. is a vaccine rights attorney with a litigation and transactional law background. He is a graduate of UCLA and the University of San Francisco. As a lawyer, he is committed to protecting the fundamental right of informed consent, and is devoted to helping doctors write medical exemptions to vaccination, in compliance with SB277. More at
https://oneradionetwork.com/all-shows/greg-glaser-esq-the-vaccinated-vs-the-unvaccinated-who-is-healthier-march-9-2021/

The above evidence is vital, especially now, with the push to inject every human on the planet with a gene modifying agent. Please share, and include government, public health, etc. Thank you.
Without Prejudice and Without Recourse
Doreen A Agostino
https://ourgreaterdestiny.org/