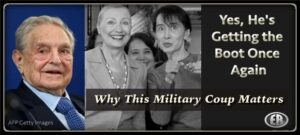 Pam Barker | Director of TLB Europe Reloaded Project
According to independent news sources, Myanmar's election on November 8, 2020 allegedly went the way of the recent US presidential one – falsified by vote-counting machines at minimum. Globalist ally Aung San Suu Kyi got re-elected, but was deposed in a military coup d'etat on February 1, 2021. Soros is believed to behind the public protests that have been taking place since February 1. Now the military is going after his funding sources and organization, as well as investigating Suu Kyi on corruption charges. But what's the real play here?
See the report we published a couple of days ago: Myanmar Regime Seizes Bank Accounts of Soros' Open Society Foundation
Now they are going after the staff of the OSF, according to Richard Abelson of Gateway Pundit – Military Junta Arrests Open Society Director and Staff.:
The military junta has arrested the executive director of the Open Society Foundations in Myanmar and issued warrants for the arrest 11 other OSF members, due to financial irregularities. which it blames for supporting election fraud and uprisings.

The Open Society Finance Officer Phyu Pa Pa Thaw was arrested March 12 over alleged finance irregularities and arrest warrants issued for OSF Executive Director Dr, Myo Myint Aung, Chairman U Sit Naing and 9 other OSF employees.

Local officials charge that OSF transferred US$ 5 million to the Small and Medium Enterprises Bank (SMED) in 2018 without seeking required permission from the Foreign Exchange Management Department (FEMD), among other financial charges, as the government-aligned Global New Light of Myanmar reported.

Open Society Foundation chairman George Soros has prioritized OSF Myanmar since 2015, as Gateway Pundit reported yesterday. Soros visited Myanmar four times from March 2014 to January 2017 and met with State Counselor Aung San Suu Kyi two times, the first time in the US and the second in Nay Pyi Taw, Global New Light reported. His son Alexander Soros, deputy chair of the Open Society Foundation, visited Myanmar seven times from January 2017 to January 2020 and met with Aung San Suu Kyi six times.

Following accusations of fraud in the Nov. 8 elections in Myanmar, which Human Rights Watch called "fundamentally flawed",  the military assumed power on Feb. 1. President Win Myint and State Counsellor Aung San Suu Kyi were detained, along with other ministers and members of Parliament.
Now Aung San Suu Kyi herself is under investigation. This from The Irrawaddy of March 18:
Myanmar's military regime is launching a second corruption probe against the country's ousted leader Daw Aung San Suu Kyi, accusing her of accepting more than US$500,000 (704.79 million kyats) from a local businessman.

Daw Aung San Suu Kyi has been detained by the military regime since the Feb. 1 coup. Since then, anti-regime protests have erupted across the country, calling for the release of Daw Aung San Suu Kyi and others arrested by the junta.

The latest accusation follows last week's allegation by the regime that Daw Aung San Suu Kyi accepted $600,000 and more than 11.43 kg of gold from detained Yangon Region Chief Minister U Phyo Min Thein between December 2017 and March 2018.

On Wednesday, the military and state-owned television channels announced that U Maung Waik, the owner of local developer Say Paing Company, gave the State Counselor a total of $550,000 from 2018 to 2020.

If found guilty on both counts, Daw Aung San Suu Kyi, 75, would face combined prison terms of 30 years—meaning she would spend the rest of her life behind bars.
Central Bankers
The military have also gone after the central bank in Myanmar, raising alarm not only in Japan. This from Nikkei Asia on February 13, 2021 titled Myanmar coup removes central bank chief, alarming global financiers:
TOKYO — As news of the military coup in Myanmar reached the halls of the Bank of Japan, staff raced to gather information about the ongoing developments.

"They have apparently kicked out the central bank governor as well." The shocking news was passed up the command chain at the head office in Tokyo's Nihonbashi district.

On Feb.1, Myanmar's military took control of the country's administrative, legislative and judicial branches, detaining de facto leader State Counselor Aung San Suu Kyi and several other democratically elected officials.

It is unclear what happened to former central bank chief Kyaw Kyaw Maung, but deputy governor Bo Bo Nge has been detained, according to media reports. Than Nyein, who served as central banker under the previous junta before the first free election in decades in 2015, has been reappointed to the role.

The Bank of Japan, like most central banks around the world, is watching carefully, to see how the military leaders could affect bilateral and regional cooperation on monetary policy and financial stability.
As central banks are truly notorious for being privately owned, not least for the fiat currency they create at will to serve their own purposes as they enslave the rest of us, who is the proprietor of Myanmar's central bank? We'll leave that as a rhetorical question.
We posted a Zerohedge piece yesterday on Poland seeking to beef up its gold reserves, a phenomenon we've been seeing over the last 2-3 years in several countries. See Poland Wants More Gold: "The 'Most Reserve' Of Reserve Currencies". Particularly noteworthy is the confident prediction Peter Schiff makes about returning to the gold standard, which can be found here in a 2019 interview. Of note:
The US went off the gold standard in 1971, but Peter said he thinks the world is going to go back on it.

The days where the dollar is the reserve currency are numbered and we're going back to basics. You know, everything old is new again. Gold was money in the past and it will be money again in the future, and central banks that are smart enough to read that writing on the wall are increasing their gold reserves now."

Sanchez said a gold standard would make it difficult to deal with future recessions or "sticky wickets" as he put it.

First of all, the only reason we get into those sticky wickets is because of the Federal Reserve. So, the Federal Reserve lights the fire and then pretends to put it out. If we go back on the gold standard, we take the matches away from the Fed so they can't light the fire and there's nothing to put out. Gold and economic freedom go hand-in-hand."

Peter pointed out that gold is the enemy of the welfare state and big government.

That's why governments don't like gold. They want paper. But eventually, the paper has no value. And we are headed to a currency crisis in the United States. And what's going to put the United States back on a gold standard is to try to stop the free-fall of the dollar."
What the military is trying to do in Myanmar seems to go far beyond merely booting out Soros to install a legitimate leader in response to an illegitimate election. It is also securing the country's wealth and economic control at the expense of fish far bigger than Soros.
Is this part of a play with global ramifications? Is Myanmar a test case for something much bigger overall?
***
According to this compilation piece from Covert Geopolitics from this week, titled Soros' Open Society Staff Arrested & Bank Accounts Seized in Myanmar, his interest in Myanmar goes way back to 1987 for all sorts of nefarious purposes. MSM who are bothering to cover Myanmar are predictably bleating about the military takeover of the country as of February, but it's not a stretch to accuse anyone affiliated with Soros and his ilk of treason against the country. Aung San Suu Kyi got catapulated to veritable stardom once she met Soros. Worth our time.
https://www.thelibertybeacon.com/more-on-soros-in-myanmar-and-why-it-matters/