From the family of Ian R Crane:
We're devastated to let you know that Ian passed away on Thursday February 25th. He fell asleep peacefully with his son and partner by his side, and he knew that he had the love, thoughts and prayers of those that couldn't be with him at the end.
A son, a brother, a father, a grandfather, a partner, a friend, a colleague, he played a role in the lives of hundreds, if not thousands, of others and will not be forgotten by anyone who met him. He will be dearly missed.
Founder of the incredibly popular Alternative View conferences, others will pick up this legacy and ensure it continues into the future.
His family and loved ones send their thanks to everyone who loved and supported Ian.
Details of the funeral will be posted when known.
From Dan, Nicola, Tristin, Erika, Kelly, Jasmine and John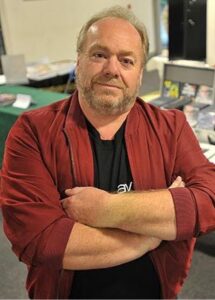 Tributes have been paid to the opponent of fracking, Ian R Crane, who died last week (25/2/2021) after a long illness.
The former oil industry executive campaigned against shale gas extraction through the courts, public meetings, broadcasts and livestream protest videos.
He joined or helped to establish protection camps across the UK, including those at Balcombe in West Sussex, Barton Moss in Salford, Upton in Cheshire, Misson in Nottinghamshire and Kirby Misperton in North Yorkshire.
He gave talks in towns and villages in potential shale gas areas, introducing some people to the process of fracking for the first time.
At the High Court, he challenged terms in injunctions against protests brought by Cuadrilla and IGas.
In the case against Cuadrilla, he represented himself, successfully opposing a proposed protest pen .
He also contested, unsuccessfully, attempts by Rathlin Energy to declare him bankrupt in a costs dispute over the occupation of land at the Crawberry Hill exploration site in East Yorkshire.
Ian Crane broadcast daily video updates from Kirby Misperton when Third Energy was preparing to frack in 2017-2018. His fortnightly online programme, Fracking Nightmare, became a voice piece for many in the anti-fracking movement.
He also produced and presented the documentary Voices from the Gasfields about the experiences of landowners in shale areas of southern Queensland in Australia. He campaigned on a wide range of other issues through the Alternative View conferences and his Humanity versus Insanity broadcasts.
Some in the anti-fracking movement disagreed with his views and tactics. But his supporters have described him as hugely influential, inspirational, courageous, determined and a great speaker.
Ben Dean, who contributed to the challenge against Cuadrilla, met Ian Crane in 2015 at the Upton Community Protection Camp:
"We went to the Camp after IGas delivered a seismic survey leaflet. We were immediately drawn into the anti-fracking movement.

"We attended one of Ian's presentations and Fracking Nightmares were compelling viewing.

"Ian had close friends all over the world. When we decided to challenge the Cuadrilla injunction, our strategy was to outline the harmful effects on fracking in the High Court. Ian was able to obtain Witness Statements from activists from Australia and the States and, as a litigant in person, Ian was permitted by the judge to speak for well over an hour.

"We knew Ian was not well a few years ago. Typical of Ian's determination, he continued living on camps and in great pain driving to Plymouth for his Fracking Nightmare and Humanity verses Insanity programmes."
More tributes
Joseph Boyd
I met Ian at Barton Moss where he was a beacon of hope, in showing the wider world the injustices that were taking place there daily in his live streams.

He became over the years a dear friend, who was always someone who had his tent first and then his caravan's door open for a morning or evening chat wherever we would be on the front line of the fight against fracking. His approach to working with the local community first and foremost at several camps I resided with him on, made Ian the least divisive for a decntralised approach, whilst controversial to those who wanted a centralised campaign.

His work on Cuadrilla pen injunction and those before, was the catalyst in taking the INEOS injunction on, which he played a pivotal role in the early legal team discussions. Therefore, Ian was also instrumental in my success in that case and in doing so leaves a legacy of protecting protests rights here in the UK and across the globe, because of the civil law that would have been precedent. He will be deeply missed and irreplaceable.
Bob Dennett
There isn't really very much that I can add to Joe Boyd's tribute which describes Ian and his contribution to the anti-fracking movement perfectly.

I first met Ian at one of his lectures at New Horizons in St Annes, Lancashire, then again at the Balcombe protest camp following which we became friends, a friendship which grew over the years as we took part in many anti-fracking demonstrations in various parts of the country.

Ian told me of his illness some time ago but he continued his campaigning, Fracking Nightmare and Humanity Vs Insanity broadcasts, contributions to UK Column, Alternative View conferences and travelling the country raising awareness in spite of the fact that he was inconsiderable pain which is testimony to his dedication to the future generations of his world.

He will be sadly missed by a great many people throughout the world. RIP my dear friend you will always be remembered.
Vera Scroggins
Grateful to Ian and his love of clean water and to preserve our Earth
from toxic fossil fuels. Love and blessings and Divine Light on your journey from here to there.
Carol Hutchinson
Thank you Ruth for this article. A fitting tribute to
This "titan" of the anti fracking movement.
RIP Ian and thank you.
Kenneth Lloyd
I am in a genuinely privileged position, in that I had the pleasure of interviewing Ian at Balcombe in 2013. Here is a link to that interview. We have lost a true hero. Roam in peace sweet brother xxx https://www.youtube.com/watch?v=2NvNzbhdKtg
Robert Poile
R.I.P. Ian , you won the fight , the war goes on, you will be a shining light , in the dark days to come .
David Cragg-James
What the frack-free movement has achieved over the last decade is, I feel, in no small measure attributable to Ian's commitment to the cause of educating his listeners in the facts of fracking and its effects on our environment in climate change and destruction of bio-diversity, and in the related cause of inspiring his listeners to activism and action through his passion and integrity. His contribution to the creation of community, of such fundamental importance to us now, must not be overlooked: many of us now involved in community building and action, no matter how small our contribution, have Ian to thank for inviting reflection on the fundamentals of community, and for igniting that spark which has given many the motivation to stand against that which really threatens our liberty, – inequality and the power of the few.
Phil C
It's awful news following Ian's long term fight to overcome his illness. Ian was always a fighter, and his determination and truth loving character always showed through no matter what the issue was.

I only met him once at a protest site, quite by accident, just before he became seriously ill. Ian was instantly open and friendly and we chatted for a brief while with myself and others on the protest and how the fossil fuel corporations were becoming so aggressive and abusive in spite of the peaceful state of the protests.

Ian will be sadly missed by many. My thoughts go out to his daughter and her husband and his family and all who knew and respected Ian for the amazing character he was.
Wandering Dutchman
Ian Crane was an influential person in the community fight against fracking and other major issues that threaten our health and environment.
Like others who have had to give up the fight in the last few years, he will be sorely missed.
Frances Ocean
I camped with Ian at Barton Moss and saw him talk so many times. His passion commitment knowledge and humanity was hugely inspiring. Ian if we had many more of you we would not have poisoned our water.

You are a shining light and your spirit will live on with us together with our Polly Higgins Ecocide and all the other warriors who put their lives on the line for the planet and her people and those to come.

Blessed be Ian I was so glad to have met you.
Brian Irving
I was briefly involved in the anti fracking having seen Ian online, Barton Moss etc, fracking nightmare, spent time at Crawberry hill, met other activists,
So sad to hear of his demise, after horrendous surgery, I survived, sadly Ian moved on, …
Much love to his Daughter, family,
Peter Rees
I attended quite a few of Ian's events. He organized some amazing seminars. The alternative view weekends were very informative and a lot of fun. It was great to meet up with like minded people and get the kind of up to date information on global issues and government and elite corruption that the mainstream media wouldn't touch. he attracted great speakers like Lord Monckton, David Bellamy and Johnny ball, to name just a few. Ian will will be very sadly missed. A great teacher and a great activist. Rest in peace ian, and thank you.