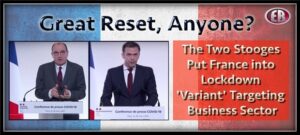 Pam Barker | Director of TLB Europe Reloaded Project
It is truly dystopian. Technocrat PM Jean Castex and technocrat 'Health' Minister Olivier Veran (see featured image) were on TV last night announcing new lockdown rules as cases allegedly rise. Living here as we do, we don't know anyone who is sick. This is nothing like March 2020, when we did know a handful of people complaining of genuinely unpleasant respiratory symptoms that the government characterized as 'Covid-19'. (Who knows what it really was.)
Rumours online, with alleged documentary evidence, showed some time back that a third lockdown (or version thereof) was planned. We have no reason to doubt that as there is simply no obvious reason for it now.
If there is a genuine rise in sickness, however, could this be due to the vaccines being dished out?
The issuance of rules from Castex last night was stunning (don't look for logic):
The nightly curfew will start at 7pm instead of 6pm. (Why?)
16 regions in the north of the country, and especially Paris, will be subject to the new rules.
You can't travel beyond 10kms (6.2 miles) from your home. You need to carry an official justification for why you're out.
Schools and libraries won't be closed. (That's a lot of people mingling … Presumbly on public transport, too, with masks that we know don't work.)
Working from home ('teletravail') is encouraged throughout the country (Great Reset anyone?)
Non-essential businesses and non-essential aisles of stores will be closed. And that's the killer. Targeting business is being regarded as the central theme of this new 'confinement'. (Again, Great Reset?)
They seemed to be setting these new restrictions against the lack of hospital beds, but it's been government policy to severely restrict hospital beds over the last few years, as well as slim-down health services. It's a nonsensical justification, reverting to the 'hospitals will be overwhelmed' nonsense (see Twitter user Alain Houpert's tweet below).
***
Here's Le Libre Penseur (dentist-surgeon Salim Laibi) on this today:
Covid-1984: Sentinel data show an incidence rate of 24/100,000 in week 10!
Salim Laïbi
Here are the latest results from the Sentinelles network (711 general practitioners and 70 pediatricians): the incidence rate of SARS-CoV-2 in the 10th week of 2021 is 24 cases/100.000, and not 700 (Alpes Maritimes) or 900 (Dunkerque) as the government claims, terrorizing everyone! The trend has been rather stable since mid-November in all age groups, according to this report, which is consolidated data for the past 4 months.
This figure corresponds to 16,177 new cases for the whole of week 10, which represents 2,311 per day throughout France and not the 40,000 cases announced!
Let's remember that the Sentinelles rate corresponds to real symptomatic patients encountered in 772 medical practices in the territory and tested; they are not positive PCR tests that do not correspond to any clinical reality.
However, some unconscious and irresponsible morticians continue to talk all day long on TV about 3rd lockdown…! What is the point of this media circus with the complicit endorsement of health professionals?
****
We tip our hats to right-of-centre EU politician Nadine Morano, who let rip against the government on TV immediately after, railing against the destruction of 'fundamental freedoms' and the plight of business people, in addition to other things. Mainstream politicians anywhere close to power are usually silent.
Translation: They're always wrong about everything", on the government's anti-Covid measures
Translation: Île de France/Greater Paris: 12 million inhabitants. 1,200 people in ICU, i.e. 0.0001% of the population, and already saturated. The PM calmly explains to us that the people of Ile-de-France will still pay for the elimination of 800 beds since March 2020.
Translation: To fight the epidemic in Ile de France/Greater Paris, you can walk for hours within a 10 km radius, go to school and to the office, buy books and tins of food, but not go to the hairdresser's or the restaurant.
It's confirmed, they want to kill some and not others
Translation: The circus goes on, we're enjoying it! A journalist from Sud Radio who was just in the intensive care unit of a Parisian hospital: "It's very calm, many ICU beds are free and the nurses are "waiting", they know it's going to happen, they're ready (laughing icons)
And these fools expect to get re-elected next year … ?
************
Published to The Liberty Beacon from EuropeReloaded.com
French Govt Puts Half of Country in Lockdown No.3 Risking Backlash