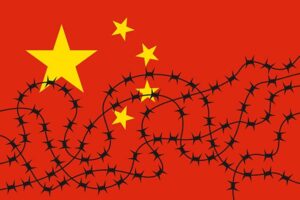 (Natural News) On Thursday, Feb. 25, a spokesperson for the Department of State confirmed that American diplomats stationed in China were forced to take humiliating and invasive Wuhan coronavirus (COVID-19) anal swab tests.
The State Department made the announcement after several diplomatic staff in the communist nation complained to higher-ups in Washington, D.C. about being forced to undergo the intrusive procedure. Chinese authorities have long claimed that the anal swab tests are much more accurate than nasal or throat-based testing methods.
"The State Department never agreed to this kind of testing, and protested directly to the [Chinese Ministry of Foreign Affairs] when we learned that some staff were subject to it," said a State Department spokesperson in an email to alternative news outlet The Epoch Times.
"The Department is committed to guaranteeing the safety and security of American diplomats and their families while preserving their dignity, consistent with the Vienna Convention on Diplomatic Relations, as well as other relevant diplomatic law provisions," added the spokesperson.
Chinese health officials claim anal swab tests more accurate
Anal swab tests were first deployed in Beijing in early January when medical authorities first gave them to people in quarantine sites who were in contact with confirmed coronavirus patients. After its supposed success in the Chinese capital, it was also rolled out in virus hotspots around the country, like Hebei, Shandong and Liaoning provinces.
The test involves inserting a cotton swab soaked in saline solution about two to three centimeters into the anus and twisting slightly before retracting it.
Chinese state media outlets have been vigorously promoting the new testing method by quoting supposed medical specialists, including one Dr. Li Tongzeng, a Beijing doctor specializing in respiratory diseases. Li gave television interviews in late January where he claimed that traces of the virus could remain in fecal matter for longer periods of time than virus traces in the respiratory tract.
The National Health Commission, China's executive department responsible for formulating health policies, claimed that anal swabs can detect the coronavirus earlier than nasal swabs.
"And there are a small number of patients whose rectal swabs continue to test positive after their nasal swab has turned negative towards the end of their treatment," wrote the commission on its official WeChat account. "Therefore, adding rectal tests can improve the detection rate, reduce false-negative results and avoid misdiagnoses."
The Health Commission has not recommended anal swab tests for mass deployment because of people's "low acceptance" of it. It said the test will not be rolled out nationwide and will not be made mandatory.
Health officials also quoted a study done by the Chinese University of Hong Kong published last year that suggested stool tests may be more effective in detecting coronavirus infections in children and infants because their waste carries higher viral loads than adults.
But the process has caused alarm among both Chinese citizens and foreign tourists because health workers would often violate patient privacy by performing the tests in front of other people. Many visitors have remarked that they would rather travel to other countries than be forced to receive an anal swab test in China.
Chinese news portals have quoted several visitors from South Korea who were shocked that they were required to take the test upon entering the country.
"The children were no exception," said one tourist quoted by South Korean newspaper Kukmin Ilboi. The tourists said they were given the choice of either getting an anal swab or providing a stool sample to health authorities for examination.
China says tests were given "in error"
The Chinese foreign ministry has denied requiring the anal swab tests. The ministry did not dispute that the tests were given to American diplomats.
"To my knowledge … China has never required U.S. diplomatic staff stationed in China to conduct anal swab tests," said foreign ministry spokesman Zhao Lijian during a daily news briefing in Beijing. (Related: IT'S A SCAM: Communist China is collecting American DNA through coronavirus testing.)
Zhao later told reporters that the tests were given "in error" and that diplomatic staff were exempted from taking them. Chinese authorities have since informed American diplomats to decline the test if healthcare workers asked them to take it.
A diplomat from a European country who is based in Beijing and wished to remain anonymous told the South China Morning Post that embassy and consulate workers in the country were asked by Chinese health workers during their quarantine periods if they wanted to take the anal swab test. The diplomat said they had the option to refuse.
Relations between China and the U.S. have grown increasingly strained ever since President Donald Trump took office and immediately criticized the communist nation over issues such as trade, its handling of the coronavirus pandemic and its treatment of its own people, such as the pro-democracy protesters in Hong Kong and the indigenous Uyghur Muslim ethnic minority in the northwestern province of Xinjiang.
Newly-inaugurated President Joe Biden recently spoke with his Chinese counterpart, President Xi Jinping, by phone earlier this month.
According to the White House, Biden raised "fundamental concerns" regarding China's "coercive and unfair economic practices, crackdown in Hong Kong, human rights abuses in Xinjiang and increasingly assertive actions in the region, including toward Taiwan."
Learn more about the coronavirus pandemic in China and the policies employed by the communist state to try and fight it by reading the latest articles at Pandemic.news.
https://www.naturalnews.com/2021-03-02-american-diplomats-china-coronavirus-anal-swab-tests.html