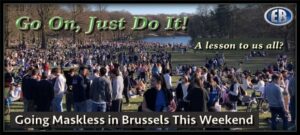 The inhabitants of Brussels lower the mask… The police give up!
PIERRE ALAIN DEPAUW
The number does not make the Truth. But numbers can prove to be very valuable in influencing certain iniquitous practices. The lesson was given to us this weekend in Brussels and should be valid for France and for the rest of Europe subjected to Covidian hysteria.
With the good weather, all the green spaces in Brussels, and in particular the Parc du Cinquantenaire and the Bois de la Cambre, were very busy on Sunday. And a very large proportion of the walkers lowered their masks in a spontaneous movement of liberation and this without any respect for the famous social distancing.
Faced with the extent of the phenomenon, the police have given up on fining the many people who no longer respect the sanitary restrictions.
"Observation: many people without masks. The police are watching but cannot be everywhere despite the deployment of extra patrols", laconically declared Ilse Van de Keere, spokesperson of the Brussels-Capitale/Ixelles police. And the confession: "It was impossible to fine all those who did not respect the measures".
The Inhabitants of Brussels Lower Their Masks – The Police Just Give Up