NEBULIZED STEROIDS (BUDESONIDE) COMBINED WITH EARLY TREATMENT HAS HAD ZERO MORTALITY.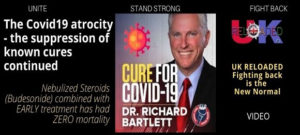 he biggest, cruelest scandal of the whole Covid hoax has been the suppression of safe, workable cures – the withholding of them from people who need them, which has resulted in the needless loss of hundreds of thousands of lives.
Here, a US doctor, Dr Richard Bartlett, discusses his success with YET ANOTHER such cure with a phenomenal success rate. This one is the use of a drug commonly used to treat asthma in children:
Nebulized Steroids (Budesonide) combined with EARLY treatment has had ZERO mortality.
ZERO.
This has been known about since July last year – and STUDIOUSLY IGNORED BY GOVERNMENTS AND THE MEDIA.
Had it not been ignored, this hoax pandemic would have long since been over. And hundred of thousands of parents, grand parents, aunts, uncles, wives, husbands, friends and loved-ones who died would still be alive today.
The seriousness of what has been done here by the government and the media in suppressing and withholding information that people desperately needed to know about highly successful and safe cures cannot be understated.
Covid 19 is and always has been a highly treatable bug that should never have caused the panic and terror it was hyped up to cause, never should have justified the economic slaughter of lockdowns and never should have been permitted, for political reasons, to kill the hundreds of thousands it killed.
This is actually a HIGHLY INFORMATIVE video and well worth spending the time to watch all the way through.
If the video does not play, click here
---
The Covid19 atrocity – the suppression of known cures continued