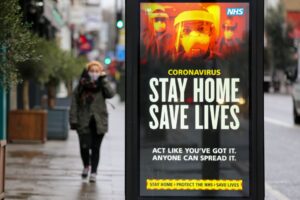 Every single one of the 246 prosecutions launched so far under a draconian coronavirus law has been done so incorrectly, the latest figures show.
The Coronavirus Act was introduced by the government in March last year, at the start of the pandemic. It contains emergency powers, such as banning mass gatherings and enforced screening for people deemed infectious, to restrict the spread of the virus.
The latest Crown Prosecution Service (CPS) figures for January, which showed all 14 people accused of breaching the Act last month had been wrongly charged, means there have now been 246 incorrect prosecutions since it was introduced.
On Wednesday, human rights barrister Kirsty Brimelow cited this data as she suggested the Act should be repealed.
She told Parliament's human rights committee: "One hundred per cent of prosecutions under the Coronavirus Act to date have been wrong. That shows to me there is a very strong case to repeal that section, that has continually been used wrongly and unlawfully against members of the public.
"The statistics aren't usual within a criminal justice context, to repeatedly see the law being unlawfully applied.
"What it does demonstrate is that the safeguards are not working within the criminal justice system, and it also demonstrates that where there are no safeguards which apply where fixed penalty notices are applied, where there is no lawyer overseeing them, it's highly likely there are thousands of those [fines] that have been unlawfully issued."
The Act also gives public officials, such as police officers, the power to issue fixed penalty notices.
Following the release of January's statistics, Gregor McGill, CPS director of legal services, said: "We remain committed to reviewing all of these cases for as long as necessary to ensure the right people are charged with the right offences."
Read more:
https://uk.news.yahoo.com/every-single-coronavirus-prosecution-overturned-174116157.html?guccounter=1&guce_referrer=aHR0cHM6Ly90LmNvLw&guce_referrer_sig=AQAAACO53uz6uzvbYzOkHZKWKvqRYWQMMKBCUSrVCTMlvSP6kaidB-0cS9cAtKXwBETElN6TZibKU9ONp4VXtlLrD7y3TV-7Z6SRflzRqhgMCqwUXS70Ny2Ke_mqAn1QW_eldVqxXDEzwPcs7hgBAHg4L2cwuis8leHBQcAd-D2FF8zY