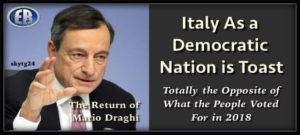 ER Editor: There had been strange goings-on during January around the Vatican, with the Italian government suddenly in trouble for no apparent reason. Giuseppe Conte resigned before he had to, with the intention apparently of returning. Now he's out definitively, and former ECB head, Mario Draghi, is back, with just about everyone decrying the return of this globalist, neoliberal Establishment figure. Another nail has been put in Italy's coffin as an independent nation, it is felt by many. Alexander Mercouris outlines below why the phrase 'democratic deficit' can be shown to apply in Italy's case.
Here are some main points of Alexander Mercouris' commentary:
'Democratic deficit', a common term used in relation to the EU, has returned. Italy is a founding member of both the EU and the euro. It also has the 3rd largest economy in the EU, although it has been battered over 20 years with euro membership. What happens in Italy is important for the EU and an indicator of the state of politics and democracy.
May 2018: an election took place with 5 Stars (left) and Northern League (right) forming a government. They shared scepticism toward the EU and euro membership, despite their differences. Euro membership and mounting debt were recognized as critical problems for Italy, as well as unemployment in southern Italy.
This euro-sceptic coalition has morphed into something else. 1) Italian presidency (a political appointment, not elected) was used to block its most important decision. Within days of 2018 election, President Mattarella blocked the appointment of a euro-sceptic finance minister (Savona) and appointed somebody else who followed the pro-euro line.
2) Then in 2019, after some intrigues in the newly-elected govt, Salvini was persuaded to resign believing new elections would be called. But Matarella and the govt moved to prevent that, producing a new pro-EU movement with 5 Stars and the left-globalist, pro-EU Democrats, normally the centre-mainstream choice. But 5 Stars were supposed to be euro-sceptic! So Italy went from a eurosceptic to a pro-EU government between 2018 and 2019. But this government was also unstable. 5 Stars were never trusted by the Establishment.
So a few weeks ago, a new govt crisis took place, provoked by pro-EU, integrationist/globalist Matteo Renzi. He undermined the existing govt by pulling out of it. A further crisis has led to the resignation of Giuseppe Conte. Now Mattarella has appointed the ultimate pro-EU technocrat, pro-globalist figure of Mario Draghi who used to head the ECB. So we have gone, WITHOUT ELECTIONS, from the spring of 2018 where the Italian people elected a euro-sceptic government, to the present, where there is a now a man in charge who epitomizes precisely the opposite of what the Italian people wanted.
Meanwhile, Salvini – who appeared to be anti-EU – is enmeshed in a criminal case meant to keep him out of power.
Renzi's machinations have been carefully co-ordinated with Brussels and Berlin most likely, with the intention of arriving at this outcome. It was always curious why Renzi took his party out of the coalition to bring down Conte. With Draghi's appointment, it is not hard to see why.
This embodies the phrase 'democratic deficit'.
Historically, the Christian Democrats and Communists had roots among the Italian people. Even Berlusconi had popular support. Now, the political class exercises power without any grass roots support at all. It is an ominous development that cannot end well.
As a footnote, some sharp commentators like Cesare Sacchetti have noted how anti-EU Salvini has also endorsed the leadership of Mario Draghi … ? Go figure.
********
Italian Democracy Cancelled: "Mr. Euro" Draghi Appointed Italy's PM
ALEXANDER MERCOURIS
News Topic 39
Italian Democracy Cancelled: "Mr. Euro" Draghi Appointed Italy's PM