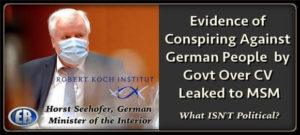 ER Editor: This is definitely a textbook example, well illustrating the political use of scientists and their infamous modelling, followed by the necessary collusion of the MSM to enable government to repress us.
********
Germany's Federal Ministry of the Interior Colluded With Scientists to Frighten the Public
LOCKDOWN SCEPTICS
There was an interesting story in yesterday's Welt am Sonntag based on 200 pages of internal correspondence seen by the paper and obtained by lawyers in the course of an ongoing legal dispute involving the Robert Koch Institute.
In March 2020, during the first wave of the pandemic, the Federal Ministry of the Interior Ministry enlisted scientists from multiple research institutes and universities for political purposes. It commissioned researchers from the Robert Koch Institute and other institutions to create a model, upon which basis the Minister of the Interior Horst Seehofer (CSU) wanted to justify tough Corona measures.

This has emerged from more than 200 pages of internal correspondence between the management of the Ministry and the researchers, which is available to the Welt Am Sonntag…

In an email exchange, Markus Kerber, Permanent Secretary in the Ministry of the Interior, asks a researcher to prepare a model upon the basis of which "measures of a preventative and repressive nature" could be planned.

According to the correspondence, the scientists, in close coordination with the Ministry, compiled the contents for a secret paper in just four days. It was then released over various media in the days that followed.

The paper included a "worst case scenario" according to which more than one million people could die from coronavirus in Germany, if social life were to continue as before the pandemic.
Worth reading in full.
Germany's Federal Ministry of Interior Colluded With Scientists to Frighten the Public