HIGHLY INFORMATIVE PODCAST TO LEARN FROM AND SHARE WITH OTHERS -ARM YOURSELF AND THEM WITH KNOWLEDGE!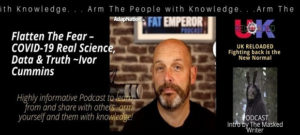 Intro by The Masked Writer
This Podcast featuring the precision engineering mind of Ivor Cummins was recorded and broadcast in May last year.
The subsequent nine miserable months of fruitless nation-wrecking on the part of the Covid Terror Faction entrenched at Suppression Central have demonstrated very clearly:
He was right on all counts
We should have listened to him and the countless other experts like him – we would not now be in the current mess if we had
The government should have listened to him instead of the largely anonymous bozos it defers to as "experts " and the subversive mass psychology/psychological warfare lunatics.
Natural law of governance:
A government that listens to and follows the instruction of subversive factions becomes itself a subversive faction.
The Podcast
I
It's time to blow the barn doors off of this COVID-19 mainstream hysteria, anti-science and fear-inducing messaging. Enough's enough, it's time to bring in the real science, data and truth to this discussion. It's time to #FlattenTheFear. Recorded 29th May 2020. 
To do so, we have the brilliant Irish engineering mind Ivor Cummins on the mics, who will stop you in your tracks with the avalanche of logic, scientific analysis, and damning conclusions from experts all around the globe. 
Ivor Cummins, who spent 30 years managing large-scale complex medical engineering projects, has dedicated the last eight years to the science of nutrition and health. Through his tireless efforts online, at talks, producing movies, and leading charities, he is helping people worldwide reclaim their health through simple dietary interventions. 
As the COVID-19 Pandemic hit in January, he quickly dropped his diet and heart health advocation to commit all his engineering and biology brainpower to better understand the crisis, and how we as people and governments should be responding. Diving into the data and science, he's been on mission to counter the mainstream fear-based hysteria with the more tempered reality. 
Ivor has quickly become a leading mind globally in best understanding the dynamics of this virus and its health impact across the world. 
This is not about conspiracies. It's 100% about the science, data and evidence. If you want to be honestly brought up to speed on the realities of COVID-19, and how you should be thinking and feeling about the risks, this is an absolute MUST-LISTEN. 
Don't just listen – share this evidence-based episode to those in your life you care about. They deserve the truth too. Unless we change the public sentiment, we'll have our civil liberties suppressed for an awfully long time… 
Here's what we discuss
Ivor Cummins – his career and health background & driving force behind his work
Obsessed with COVID-19 Lockdown – Why has Ivor dropped everything to focus on this?
Have Lockdowns added value? – Have they saved lives? What does the analysis show?
Is Antibody testing informative? – with only ~6% of UK testing positive, does that mean 94% have not been exposed? (see insightful video)
Surely Government know best? – The must have the worlds best scientific advisors? Truth must be their priority, right?
Are we dropping like flies? – As we look across UK and Europe, how does 2020 compare to prior years?
R Number & Grocery Workers – How does our R number compare to non-locked countries? What about our at-risk grocery workers?
But the Lockdown Worked! – The graphs prove that deaths dropped because of Lockdown. Or do they?
Why have we not seen a Second Peak yet? – It was a dead cert. What's happening? Were the shaming memes in vain?
What about Sweden? – How are they doing? Are they really struggling because the lack fo lockdown (see En vs Swe compare)?
Some US data – How have super strict and early states compared to states who resisted lockdown measures?
What else is effecting Country Deaths? – Are death tolls due to bad country responses, or underlying health factors? E.g Italy, UK, Japan.
Only 1 in 1,000 can grasp the science – Is it our fault that we are fearful and believe in weak mainstream media science?
Should we get excited about a Vaccine? – Are influenza vaccines effective? What has 30 years of coronavirus vaccine research amounted to? Any downsides?
What would Ivor do with Prime Minister? – Would he have locked down?
Why does everyone want more Lockdown? – What has happened over 2 months to change peoples worldview?
What about the long term effects? – is COVID-19 acting differently to other diseased states?
Is the Epidemic over? – Is SARS CoV2 going to hang around for a long time? Should we have a winter lockdown?
What are the real relative risks? – Based on age and health status?
If you are 80, Obese and with Diabetes, what should you do? – Continue to shield until a vaccine? Can you reduce you risk?
How should YOU prepare for the Winter? – What can you do from a lifestyle and nutrition standpoint to significantly reduce susceptibility to serious COVID-19 outcomes?
Where to find IVOR CUMMINS and his work:
Referenced Content:
Flatten The Fear – COVID-19 Real Science, Data & Truth ~Ivor Cummins