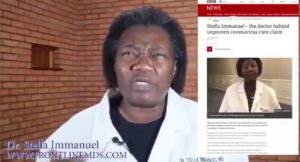 by Brian Shilhavy
Editor, Health Impact News
Dr. Stella Immanuel, a medical doctor from Houston who has cured hundreds of her patients with COVID symptoms by using hydroxychloroquine (HCQ), was one of a group of doctors who went to Washington D.C. last summer to tell the nation that there was a cure for COVID, which included the older, already FDA-approved drug, hydroxychloroquine.
See our previous coverage on Dr. Immanuel:
Many other doctors, some with very prestigious credentials, from around the world were seeing the same results with early treatment of COVID patients, and a near 100% success rate with no deaths.
But the FDA and Anthony Fauci refused to endorse an emergency use authorization to let hospitals use the drug, stating that their clinical experiences were not enough, and that there was a lack of peer-reviewed literature.
They allowed this lack of published studies to be used as an excuse to prevent patients from receiving this treatment, leading to hundreds of thousands of deaths, while TRILLIONS of dollars were poured into new vaccines and drugs instead.
This is one of the real crimes committed during the Plandemic.
To learn more about this scandal, see our page on hydroxychloroquine.
Now, at the beginning of 2021, many studies have been published documenting the effectiveness of HCQ, and Facebook has announced they will stop censoring information related to HCQ, and the American Journal of Medicine has also admitted that their stand on HCQ was wrong. (Source.)
Dr. Stella Immanuel is now demanding an apology from the Pharma-controlled media, and the government health agencies who attacked her and her character for recommending HCQ, stating that someone "has to be accountable" for all these needless deaths.
This is from our Rumble channel, and it is also on our Bitchute channel.
https://vaccineimpact.com/2021/dr-stella-demands-an-apology-after-studies-prove-she-was-right-on-hcq-vaccines-not-needed/