VIDEO BRIEFING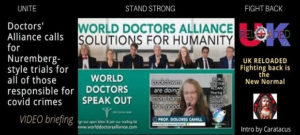 Introduction
by Caratacus
We fully support these brave doctors of the World Doctors Alliance.
Their call is for justice and the bringing to account all of those responsible for engineering of the Covid 19 hoax.
This must included all those who assisted and collaborated with this psychological warfare attack upon the People and who furthered the agenda of mankind's oppressors.
The crimes that have been committed in pursuit of the agenda driving the Covid 19 hoax are egregious.They include the destruction of the lives and livelihoods of hundreds of thousands of citizens, the confiscation of the liberty and human rights of millions, a parasitic "redistribution" of wealth and, through the sickness and death caused by the experimental biochemical agents disingenuously touted as vaccines, outright mass murder.
For more info and to connect up and give your support:
Doctors' Alliance calls for Nuremberg-style trials for all of those responsible for covid crimes