URGENT! IMPORTANT! VAX BRIEFING FROM DR SHERRI TENPENNY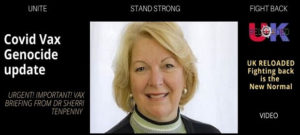 You really need to watch this video. Dr. Sherri Tenpenny gives VERY important information!
PEOPLE ARE GOING TO START DYING.
Hyper-immune response in test animals for previous attempts at coronavirus vaccines, like SARS and MERS, has been a persistent problem. All is well for a while, until the animals are exposed to the wild mutated virus.
So it is for humans. The experimental biochemical agents being touted as "vaccines" present many dangers and health risks for the human guinea pigs injected with them, not just in the immediate terms (we have all seen the extraordinary numbers of serious adverse reactions and deaths that have occurred within hours or days of injection) And in the long term where the consequences are going to be dreadful for many.
Dr. Tenpenny and other scientists have forecast that millions may die, and it will be blamed on a new strain of COVID.
This in turn will provide the "justification" for even more deadly (and profitable) vaccines.
The groundwork is already being laid for this deception with Bill Gates' recent "prediction" that the planet will be hit by a new virus "ten times worse" than Covid 19.
See "The Coming Genocide of Adverse COVID Vax Reactions, and Who to Blame for It" https://coronanews123.wordpress.com/2021/01/25/the-coming-genocide-of-adverse-covid-vax-reactions-and-who-to-blame-for-it/
Dr Tenpenny is very good at explaining these things in layman's terms and so for greater understanding of the humanitarian crimes being committed against their own people by the vicious cabal that has hijacked our government, this video is highly recommended.
---