SCIENCE IS BEING SUPPRESSED BY JOHNSON'S FACTION FOR POLITICAL AND FINANCIAL GAIN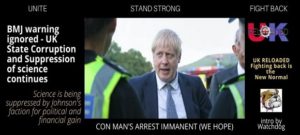 Intro by Watchdog
The following somewhat prophetic article from last November went unheeded. As a result, the country's governance has slid deeper into a cesspit of corruption and criminal mismanagement that has brought us to the brink of ruin.
BMJ lashes out at 'state corruption' and 'suppression of science' in UK
ONE of the world's oldest and most respected medical journals has published a damning attack on the UK Government, saying "science is being suppressed for political and financial gain" in the mold of "some of history's worst autocrats and dictators".
The journal argued that Covid-19 had "unleashed state corruption on a grand scale", and that politicians and industry are guilty of "opportunistic embezzlement".
The British Medical Journal (officially the BMJ since 1988) published the article, entitled "Covid-19: politicisation, 'corruption,' and suppression of science", in its most recent edition.
Written by executive editor Kamran Abbasi, the article highlights "at least four examples of suppression of science or scientists" from the English Government's pandemic response.
The first of these is the initial secrecy of the Government's SAGE advice, which was only made public after a press leak.
The revelation that Dominic Cummings was allowed to sit in on these meetings while "public health, clinical care, women, and ethnic minorities" were under-represented is highlighted in the BMJ piece.
Abbasi points to scientists being told not to speak to the media, and the suppression of key paragraphs from Public Health England (PHE) reports, before accusing PHE of attempting to block the publication of a scientific report into the efficacy of antibody tests procured by Westminster.
The BMJ said the science shows that in the "real world" these tests' performance "falls well short of claims made by its manufacturers", something that the Government and PHE were trying to suppress.
The BMJ goes on to highlight that this suppression of science is "not new or a peculiarly British phenomenon", comparing Boris Johnson's Government's actions with that of Donald Trump's in the USA.
"Globally," it adds, "people, policies, and procurement are being corrupted by political and commercial agendas".
In a thinly veiled attack on Johnson's Tories, Abbasi finishes: "Politicisation of science was enthusiastically deployed by some of history's worst autocrats and dictators, and it is now regrettably commonplace in democracies.
"The medical-political complex tends towards suppression of science to aggrandise and enrich those in power. And, as the powerful become more successful, richer, and further intoxicated with power, the inconvenient truths of science are suppressed.
"When good science is suppressed, people die."
The article comes at a time when the UK Government is under intense fire for "cronyism" and corruption.
The Tories hired Kate Bingham, the wife of a Treasury minister and cousin by marriage to Boris Johnson's sister, as a head of a "vaccines taskforce" despite her having no experience in the field.
They have also hired Mike Coupe as "director of Covid testing", and Dido Harding as head of test and trace, neither of whom had any previous related experience.
The lobbyist was allowed to sit in on top-level UK Government coronavirus strategy meetings and leak sensitive information to his clients, despite never having a publicly announced role.
The Tory Government have handed contracts worth at least £526.3 million to firms linked to their party for the supply of PPE alone. Many of these contracts were awarded without due process and sometimes to firms which had no prior experience in the field.
The SNP have written to the Prime Minister to demand an investigation into this "rampant Tory cronyism at the heart of the UK Government".
Commenting on the BMJ editorial, a Government spokesperson said: "It is deliberately inflammatory to suggest government has been anything other than supportive of our world-beating science and research sector during the Covid-19 pandemic.
"Our pandemic response will continue to be guided by the best available scientific advice, and we remain committed to being transparent."
They added that the antibody tests were "never intended for" widespread use but only in surveillance studies, and that it was "inaccurate" to say the Government had delayed publication of the PHE report into the tests.
"The department replied, 'Yes everyone is aligned as far as I know. No 10 now aligned.'"
Related Articles
Scots Tory donor wins £93 million UK Government contract for PPE
£1bn of government contracts given to Tory 'friends and donors' during crisis
SNP demand inquiry into 'rampant cronyism' at heart of Tory Government
BMJ warning ignored – UK State Corruption and Suppression of science continues