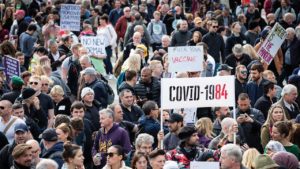 The low down
The UK has the highest Covid-19 death rate of any European country, and the extraordinary challenge of the virus demands an extraordinary response. That response presents an enormous test for the rule of law. Civil liberties are curtailed, scrutiny of executive power is confined, and enforcement is based on a muddled understanding of guidance, regulations and laws. Can we police the suppression of viral transmission while ensuring the law is clear, fair and accessible? Guidance that changed every 4.5 days last year presents a challenge in this regard. Assessing the impact of a criminal law response to a public health crisis will need to fall within the ambit of the inquiry that must follow.
In January, prominent human rights lawyer Adam Wagner tweeted: 'Never in my wildest imaginings did I think I would find myself interviewed on Good Morning Britain about whether it is illegal to sit on a park bench.'
Wagner is among the lawyers most sought out to decipher the coronavirus regulations. These set out the criminal laws touching on nearly every aspect of daily life since the first national lockdown was imposed on 24 March 2020. The UK has had two more – the latest in place since 6 January.
Kirsty Brimelow QC tells the Gazette: 'I am regularly advising people who are worried about being arrested if they sit on a park bench or walk their dog more than once a day.' According to Brimelow, 'the police have put too many resources into stopping those who would be unlikely to be presenting a danger in spreading the virus… [they] often lose sight of the purpose of the regulations – they aren't to stop people walking on their own or in pairs or having a rest distanced from others.'
The police have put too many resources into stopping those who would be unlikely to be presenting a danger in spreading the virus

Kirsty Brimelow QC, Doughty Street Chambers
Brimelow criticises the 'casual approach to criminalisation of people for behaviour which only a year ago would have been normal social interaction'.
Also critical is Silkie Carlo, director of Big Brother Watch, a UK civil liberties campaign group, who disagrees with 'taking a criminal justice approach to what is a public health issue'.
Muddying the waters is the discrepancy between the government guidance issued to the public and the actual law. 'There appears to be a great deal of confusion between regulatory law and guidance,' Robin Murray, criminal defence partner at Tuckers Solicitors, notes. 'Some police officers are interpreting guidance as law and exercising their discretion excessively.'
In his written evidence to the House of Lords Constitution Committee inquiry into the constitutional implications of Covid-19 in November, Trinity Chambers' Charles Holland said: 'Guidance frequently makes assertions for which there is no basis in regulations. This has happened throughout.'
For example, contrary to what the current guidance says, there is no legal requirement for people to limit exercise to once a day or to remain in their local area.
'Democracy has obviously been side-stepped,' Holland tells the Gazette. 'The rule of law survives, although it is being significantly undermined by over-stated guidance and government's "clarification" of matters that are the role of the courts.'
Brimelow talks of a 'systemic failure in the implementation of the emergency laws. Politicians repeatedly get them wrong and flip flop between guidance and law and rules; police mix up law and guidance and reach for enforcement as a first instead of a last resort. The result is unlawful arrests and wrongful prosecutions.
'This is damaging to the rule of law and to democracy. This isn't just about setting aside convictions and fines but about recovering people's trust that they live in a country run in accordance with clear, accessible and fair laws,' says Brimelow. She has worked with journalists, Big Brother Watch and fellow lawyers to set aside 'obviously wrong prosecutions and unlawful convictions and unlawful penalty notices' through representations to the police forces.
In December, in its response to a report of the Joint Committee on Human Rights (JCHR), the government said it 'does not feel that police are confused (in general) about what is guidance and what is law as they will only enforce what is in regulation. For example, the police never enforced the two-metre rule as that is guidance.'
Yet in January, two women were stopped by police and fined £200 after driving five miles to take a countryside walk. 'If the police continue to surround people on walks in the countryside, I don't see that trust returning any time soon,' Brimelow says.
According to Wagner, in England the lockdown regulations (including movement restrictions, face covering and self-isolation rules) changed every 4.5 days on average between 26 March when the first lockdown was brought into force and 6 January – a total of 64 revisions in 292 days. 'There is an argument that the law has changed too many times, become too complex and diverged too often from guidance,' he tells the Gazette.
'In an emergency such as a pandemic people are willing to accept restrictions to their liberty to a limited extent,' Murray observes. 'They will not object to egregious breaches resulting in fines… But in other cases would prefer a lighter touch. There should be more emphasis on explanation and persuasion rather than criminal enforcement. It is surely more of a health issue rather than a matter for criminal law, which should be held in reserve as a last resort.'
Brimelow says: 'Unfortunately, when the police have been involved enforcement has not always been a last resort and many people have been criminalised wrongly.'
Criminal laws
Tom Hickman QC, of Blackstone Chambers, notes that the government stated in June that it intended to proceed by guidance only, without criminal laws. 'That was quickly abandoned,' he says. 'I am not aware of any studies that show the relative compliance with guidance versus law to assess whether or not a guidance-based regime could have worked. You should not have criminal laws intruding deep into personal relationships and family life unless it is indispensable, and nor should you have laws that are unenforceable or unenforced. That points to an approach more heavily based on guidance than law. But we are where we are.'
Wagner, whose tweets and 'Better Human' podcast help the public understand lockdown laws, argues that from a human rights perspective, a balance must be struck between protecting the right to life and other liberties, such as the right to family and private life. 'However, this does not exclude the possibility of measures such as those we have seen through the regulations being put in place in extreme circumstances, and we are currently experiencing such circumstances,' he says.
There are also serious concerns about the way in which the regulations dealing with the pandemic have been introduced. In England and Wales, powers have mostly been exercised under the Public Health (Control of Disease) Act 1984, as amended.
In its report on the human rights implications of the government's response to Covid-19, published in September, the JCHR said that it was 'unfortunate' that the government had decided to use the 1984 act instead of the Civil Contingencies Act 2004 or the Coronavirus Act 2020 to legislate.
'These pieces of legislation,' the committee said, 'were designed to be used in emergencies, and contain safeguards to ensure that while the government can act, its actions are subject to parliamentary monitoring and approval. These safeguards, along with the opportunity for parliamentary scrutiny, are particularly important when human rights are engaged on such a massive scale.' The JCHR described the lockdown regulations as imposing 'the most wide-ranging restrictions on individual liberties, affecting the greatest number of people since the defence regulations made during the second world war'.
The JCHR also counselled that the use of emergency procedures such as fast-track legislation and affirmative statutory instruments (SIs) 'must be limited to what is absolutely necessary'. The various Health Protection (Coronavirus, Restrictions) Regulations 2020 are SIs made under the affirmative procedure using the urgent powers conferred to ministers under the 1984 act. They do not need prior parliamentary approval; they become law when they are first made, but lapse if not approved by parliament in a set time limit, which excludes periods when parliament is dissolved, prorogued or in recess.
On 26 January, the Hansard Society noted that of the 355 coronavirus-related SIs laid before parliament to date, 26% were subject to the 'made affirmative' procedure and 69% (including the health protection regulations restricting international travel) were subject to the 'made negative' procedure, whereby they continue in force unless parliament votes against them.
Francis Hoar of Field Court Chambers says 'the 1984 act provides for minimal parliamentary protection. Once a minister declares there to be an emergency, regulations can be imposed that need not be debated for 28 days in which parliament is sitting; and neither house can amend the regulations. Under the Civil Contingencies Act, on the other hand, both houses must debate any regulations within seven actual days (even if parliament is prorogued), both have the power to amend and both must vote on the regulations every 30 days.'
Wagner, who assisted the JCHR as a specialist adviser to its Covid-19 inquiry, says: 'My view is that either the Civil Contingencies Act should have been used so that votes were necessary within seven rather than 28 days, or, preferably in my view, a special parliamentary procedure developed to scrutinise and pass Covid-19 criminal laws within, say, 14 days.'
Wagner says there are several ways this could have been achieved – for example, through a Covid-19 joint committee or the existing secondary legislation scrutiny committee. 'The problem has been that because parliament has in effect relinquished its scrutinising role, the government has been free to make new laws in an opaque fashion, often at the very last minute and without effective democratic accountability,' he says.
For Hickman, the CCA 'was not a complete solution and could not have been used for all of the measures that were needed. What the government ought to have done, either when it passed the Coronavirus Act or when parliament started sitting again, is introduced a bill to address the specific context of the pandemic. Parliament could then have chosen the oversight that it considered appropriate to the regulations to be made under that piece of legislation.'
Instead, under the 1984 act the government has been able to present parliament with regulations for approval so long after the event that they have changed, or in circumstances in which they have to be accepted, argues Hickman. 'Parliament should have the power to change the law if it wishes to do so, by amendments to the legislation; but that power has been denied it. It has been pushed into a reactive, toothless and largely docile position.'
On 30 September, Matt Hancock, secretary of state for health and social care, told the Commons that 'for significant national measures with effect in the whole of England or UK-wide, we will consult parliament; wherever possible, we will hold votes before regulations come into force'.
Asked if this promise has been fulfilled, Wagner says: 'To an extent. The three tiers were voted on. However, Tier 4 was passed during recess. Bringing large parts of England into Tier 4 has not been debated prior to it happening. More problematically, the current available procedure under the 1984 act is too blunt. It allows for debate and a vote but no amendments so it is hardly scrutiny at all. It is unsurprising that it has become a largely a tick-box exercise.'
'A binary yes/no vote is clearly inappropriate for regulations of such significance,' maintains Carlo, who describes the parliamentary process as 'infotainment'.
On 6 January, MPs were recalled to the Commons to vote retrospectively on the new lockdown laws, announced two days before, which they approved 524 to 16.
According to Carlo, the government had known about the novel coronavirus since the end of 2019. Therefore, the government reasoned that it did not use the CCA because Covid did not qualify as an emergency.
'Yet, they are using the most extraordinary emergency procedure in the form of statutory instruments enforced by ministers,' she says, pointing out that leader of the house Jacob Rees-Mogg told the Commons on 19 March 2020 that the CCA could not be used as 'the problem was known about early enough for it not to qualify as an emergency under the terms of that act'.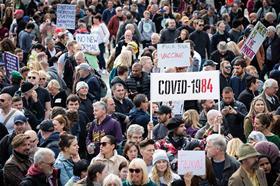 No right to protest
Concerns have been raised about the necessity and proportionality of rights infringements imposed through the measures taken to control the pandemic. The right to protest is one. It has been taken out of the 'Tier 4 Plus' regulations issued on 6 January, although 'picketing' is permitted.
'This is a time when the government has accumulated more power than ever in modern history over citizens' lives and yet we can't actually protest against that in any meaningful way,' Silkie Carlo, director of civil liberties group Big Brother Watch, tells the Gazette.
According to a Big Brother Watch December briefing for MPs on the lockdown regulations: 'Protests against the Coronavirus Act and lockdown measures have consistently faced aggressive police interventions and vast fines.'
Piers Corbyn, a prominent anti-lockdown campaigner and brother of former Labour leader Jeremy Corbyn, has faced multiple £10,000 fines. Extinction Rebellion is among a number of organisations which have also faced enforcement action. Trans Rights Collective UK, meanwhile, was forced to cancel its planned protest on 5 September 2020 after the Metropolitan Police informed the group that there was a likelihood that participants, stewards and even British Sign Language interpreters would be arrested.
Fast-tracked
The coronavirus bill was subject to the fast-track emergency procedure whereby MPs only had three days to consider it, yet Hancock said on the floor of the house on 23 March that 'the bill has been drafted over a long period, because it started on the basis of the pandemic flu plan that was standard before coronavirus existed and has been worked on over the past three months'.
For Hickman, 'it remains something of a mystery why the government introduced national lockdown measures under the 1984 act when the act says nothing at all about national lockdown measures and it was at precisely the same time rushing the Coronavirus Act through parliament.'
Wedlake Bell partner Michael Gardner, who acted for businessman Simon Dolan in two unsuccessful judicial reviews against the first and second lockdowns, remains highly critical of the government's use of the 1984 act. 'The act was never contemplated for this purpose,' he tells the Gazette.
In the summer, when the level of urgency dropped, we continued to see government by decree. That never changed

Michael Gardner, Wedlake Bell
One possible explanation was that it was 'following its playbook', says Hickman. 'The problem is that the playbook did not countenance restrictions on movements or national or even regional lockdowns. Indeed, received scientific wisdom at the start of 2020 was that these, like mask-wearing, were pointless and possibly counter-productive.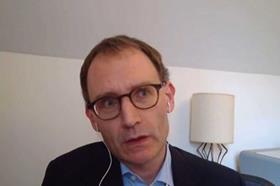 'It was only China's experience and probably then Italy's that moved the goalposts,' says Hickman, pointing to an interview in The Times in which Professor Neil Ferguson said: 'People's sense of what is possible in terms of control changed dramatically between January and March.' The Imperial College epidemiologist, whose advice to the UK government led to the first lockdown, said: 'It's a communist one-party state, we said. We couldn't get away with it in Europe, we thought… and then Italy did it. And we realised we could.'
Hoar contends that 'the idea of lockdown is unprecedented in modern democracies' and 'as an idea inimical to a free society, it is hardly surprising it has been implemented in an undemocratic way. Before 2020, not one article, let alone precedent, had suggested that the 1984 act could be used to impose regulations on non-infected people, still less on the whole country without exception.
'Consequently, parliament and the country were unprepared for a government minister imposing legislation putting it under virtual house arrest and closing much of its economy without a single debate in parliament. The minimal opposition raised to this assault on democratic norms was deeply concerning; and the acquiescence of parliament to its neutering has been shameful.'
In its response to the JCHR report, the government said that the 1984 act, in particular section 45, 'was created specifically with the express intention of giving ministers the power to make regulations to combat a disease outbreak such as the current Covid-19 one. The Coronavirus Act 2020 contains very few such powers; and these have been used but sparingly.' Furthermore, the 'CCA is designed to be used only as a last resort'.
So to what extent has Covid law-making corroded democracy and the rule of law? 'Drastically,' says Carlo. 'We are now in a seemingly permanent state of exceptionalism. The problem with this political strategy of rule by decree is that our country now has a kind of authoritarian muscle memory.'
'The way government has used emergency powers during the pandemic has been, in my view, corrosive of democracy,' adds Wagner.
'It's very tempting to have a strong man making decisions,' Gardner says. The result, he notes, is 'you have a very small group of people' making key judgement calls. 'The idea that, with 600-plus MPs, you couldn't have a small group reporting and making recommendations [is wrong]. In the first lockdown, you could say this is unprecedented. But in the summer, when the level of urgency dropped, we continued to see government by decree. That never changed.'
'Certainly, it has exposed just how fragile parliament's supposedly supreme constitutional position can be, with the government bypassing it with ease,' says Hickman. 'Also, it has shown us just how quickly and easily power can be concentrated in the hands of a very few.'
Few dangers
Constitutional expert Vernon Bogdanor, professor of government at King's College London, is less perturbed: 'People are very frightened. There are no precedents to follow. We have been in wars and military actions before, but this is nothing like a war. It is a totally new type of virus that you do not know how to get rid of and I can understand the government's position.
'They are saying that taking the advice of the scientists has not proved as helpful as one might have thought because the scientists disagree and there are many things they don't know, and so it is very difficult to balance health concerns and the perfectly legitimate concern to avoid a massive slump with businesses collapsing.'
But Bogdanor does criticise the government for 'looking the wrong way by questioning the need for judicial review and reviewing the Human Rights Act'.
Just as Covid-19 is curtailing individual rights, the government is considering how to reform JR, including which grounds and remedies should be available in claims brought against the government; and also how to amend the HRA.
'I don't want the judiciary weakened, indeed I want it strengthened, both in the fields of administrative law and human rights,' says Bogdanor, adding: 'Our judiciary have actually less power than the judiciary in most other countries because they can't strike down legislation under the HRA. All they can do is issue a declaration of incompatibility that has no legal effect.'
Covid-19 regulations have been tested in the courts but 'mostly unsuccessfully', notes Wagner. 'The judiciary has been conservative to date, which isn't surprising given that the lockdown regulations involve socio-economic decisions of profound difficulty and complexity, which, in the most part, are best left to democratically elected governments, rather than courts.'
'Courts aren't there to second guess government policy. It is not for the courts to say our judgement on policy is better than that of the government,' agrees Bogdanor.
Hoar, who appeared for Dolan in both his judicial reviews, says: 'The finding that the [1984] act gives a minister almost unlimited power to restrict or even prevent the day-to-day functioning of society was deeply regrettable, particularly as it relied on a mistaken construction of the purpose of parliament in passing the amendments to the act in 2008. The International Health Regulations 2005 were referred to in the explanatory note to the 2008 amendments and by the court as expressing parliament's intention. Yet they did not contemplate restrictions on economic activity of the entire retail and hospitality industry, let alone the ability of any person to socialise.'
Dolan was refused permission to appeal to the Supreme Court, on which Gardner observes: 'For the Supreme Court to support the idea that that is not arguable is perplexing.' He suggests there is a risk that the acceptance of authoritarian measures, referenced by Carlo, 'has permeated to the judiciary'.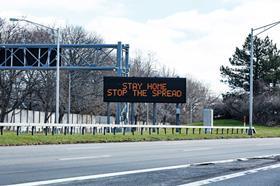 Hoar says: 'It is troubling that the court was not willing even to cite the Bank Mellat principles [Bank Mellat v HMT (No 2)[2013] UKSC 39], in particular the last: whether, having regard to these matters and to the severity of the consequences, a fair balance has been struck between the rights of the individual and the interests of the community.'
Hoar contends the courts do not always defer to policymakers.'The judiciary has been willing to make decisions with deep political ramifications in recent years, not least in the two Miller cases concerning Article 50 and the prorogation of parliament,' he says.
'They were right to find in [R (Miller) v Prime Minister [2019] UKSC 41] that "the courts have a duty to give effect to the law, irrespective of the minister's political accountability to parliament. The fact that the minister is politically accountable to parliament does not mean that he is therefore immune from legal accountability to the courts…"
'How can this principle be set aside in the face of the most fundamental impositions on freedom in English history? What does the judiciary think will be the consequences of this abdication of responsibility?'
The end and the means
Brimelow, who represented Big Brother Watch seeking to intervene, unsuccessfully, in the Dolan case, says: 'Overall, we have seen a "the end justifies the means" approach to law making.
'While the Dolan case did not reach the Supreme Court, my view is that the regulations require a full review by the courts, acting as they do under the common law constitution as mediator between citizen and state.'
Hickman concludes: 'The slow-moving and deliberate process of judicial review is not suited to the fast pace of a pandemic. For this reason, as well as understandable judicial reluctance to make life more difficult for the government, I anticipate that the role of judges will remain marginal.'

Marialuisa Taddia is a freelance journalist
https://www.lawgazette.co.uk/features/restrictive-practices/5107293.article