MORE SMOKE AND MIRRORS FROM THE GREATEST CON JOB IN HISTORY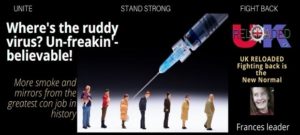 Explosive information from Frances Leader, avid researcher, investigator, and writer, who questioned the UK MHRA and confirmed from them that the RNA genome sequences for the supposed SARS-COV-2 virus being used in the COVID vaccines comes from a string of computer-generated codes, not a real virus.
There is no fact no real virus: no virus has been isolated, grown in a petri dish, reinfected anyone, or been spread to anyone–Koch's postulates for defining existence of a virus.
What the PCR test is finding is genetic material related to Human Chromosome 8 and found to be common to all living beings; in other words, not a deadly SARS virus but aspects of the living genome shared by all organisms,. . .
The importance of knowing there is no specific organic virus that has been isolated and that is being used in the vaccine cannot be underestimated.
What it implies is that synthetically-manufactured proteins using gene sequencing technology are being injected into human cells, with the intention of altering the human genome and having no connection whatsoever with a putative virus they are supposed to be protecting from.
It also means nobody needs this vaccine–why does anyone need to be injected with computer-generated protein codes formulated synthetically in a lab?
Please share this information widely, and look for added commentary on this finding from medical journalists and doctors, moving forward.