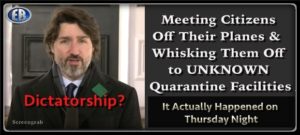 Trudeau Administration to Face Legal Challenge on Travellers' Quarantine
LOCKDOWN SCEPTICS
Much like other Governments around the world, the Trudeau administration announced last week that travellers coming into Canada will be subject to mandatory quarantines.
The National Post has the story.
Travellers coming into Canada will be forced into mandatory hotel quarantines, part of a suite of measures designed to keep Canadians at home as the Government grows increasingly concerned about the risk of new Covid variants that appear to be more transmissible.

Prime Minister Justin Trudeau announced the quarantines and several other restrictions on Friday outside Rideau Cottage.

Trudeau said travelers will pay for their hotel stay of up to 72 hours while waiting for a negative Covid test. He estimated the cost at approximately $2,000 as they will have to pay for lodging, food, Covid tests and security ensuring they remain inside.

Anyone testing positive for the virus will have to finish their quarantine in a designated quarantine facility, where the Government will cover the costs.

Travellers testing negative will be able to finish their 14-day quarantine at home, but Trudeau said the Government would step up surveillance of those quarantines. Private security firms have been hired to knock on doors of returning travellers to ensure they're staying at home, and the Government will be making regular phone calls as well.

Starting Sunday and extending to the end of April, Air Canada, WestJet, Sunwing and Air Transat will cancel trips to sun destinations in Mexico and the Caribbean. All international passenger flights arriving in Canada must land at only four airports, in Vancouver, Toronto, Calgary, and Montreal, as part of this stepped up screening.

Trudeau thanked the airlines for taking the steps to help limit the spread of the virus.

"We all agree that now is just not the time to be flying," he said. "By putting in place these tough measures now, we can look forward to a better time when we can all plan those vacations."
Though the announcement was made on Friday, the impact of the new law was already kicking in on Thursday evening, as an Edmonton pastor found out when his wife touched down in Calgary.
The Western Standard has the details.
An Edmonton pastor may have found out the hard way Thursday night about Prime Minister Justin Trudeau's new travel restrictions during the COVID-19 pandemic…

The new rules weren't even announced yet Thursday night, but it appears officials at YYC Calgary International were ready.

"(My wife Nikki) arrived in Calgary tonight and when she got there she was greeted by a Police Officer and an AHS official," wrote Pastor Chris Mathis on his Facebook page.

"They rejected her results and told her she needed to go immediately to an isolation facility. She was told if she resisted she would be arrested. She called me, and I immediately asked to talk with the officer. I talked with both a police officer and the AHS official, they reiterated what she had said to me. I asked for the address of where she would be, they said they could not give me the location address as it was confidential."

"I asked for their names, again they would not give me any information or their names. I pushed, I questioned, I tried to fight but they said they would arrest her if she resisted. They would not give me any information on where they were taking my wife."

"She was not allowed to get her vehicle from the airport, she was immediately put in a white van surrounded by police escorts and taken to an unknown facility that is under full surveillance and has security at every entrance and exit. You can imagine I am barely keeping myself together wondering what in the world has happened in our country in what seems to be overnight."
ER: The update on this story is that Pastor Chris Mathis' wife was announced to be home on Saturday as per his Facebook page:
Unlike other Governments, this administration is facing an immediate legal challenge (not directly related to the incident described above) from the Justice Centre for Constitutional Freedoms. The letter (pdf) providing notice to the Transport Minister the Honourable Omar Alghabra states:
Your Government has increasingly shown a disturbing and even aggressive opposition to the constitutional rights and freedoms of Canadians.

It has come to our attention that the Federal Government is now arresting Canadians at the border and transporting them to secret federal locations even when they possess a negative PCR test. The citizens you are holding have not been convicted of an offence, have not had access to a lawyer, and have not appeared before a judge. Your officers are even refusing to inform family members of where their loved ones are being held. This policy aligns with practices of repressive regimes and undemocratic regimes, and is completely unacceptable.

Your arrest and detention of Canadians in this regard is unlawful and unconstitutional and we hereby demand their immediate release, such that they may continue with any necessary isolation protocols in their personal residences.

This is not China or Cuba, or Chile under Pinochet, or Spain under Franco, or theocratic Iran. We are not prepared to permit you and your Government to turn Canada into a repressive replica of countries that have no respect for human rights and civil liberties…

The Order further mandates that, regardless of a negative Covid test result, any person entering Canada must quarantine for 14 days upon arrival…

Quarantining all citizens re-entering Canada, in addition to mandating negative test results, impairs liberty in a manner that is arbitrary, disproportionate, and over broad, and therefore violates the principles of fundamental justice…

The mandatory quarantining of all Canadians, merely because they exercised their Charter (ER: Canadian Charters of Rights and Freedoms) right to leave or enter Canada, is not rationally connected to any legitimate public health objective. It is not rational to impose a 14 day quarantine upon asymptomatic individuals who are able to provide negative test results confirming their lack of infection.
Stop Press: On the subject of travel restrictions, it is worth reading Lord Blunkett's rather libertarian letter to the editor of the Telegraph
The announcement by Priti Patel relating to quarantine rules and subsequent media interviews with Michael Gove raise several issues.

First, it is clear that the detail and practical arrangements had not been thought through. No plans appear to exist to save the aviation industry or to retain the capacity of our airports for freight and passengers in the future.

Secondly, making it "illegal", in Ms Patel's words, for British citizens to leave the country without permission is unprecedented. While measures such as withdrawing British passports have been taken in the past for very specific counter-terrorism or policing reasons, we have never in peacetime forbidden our own people to travel.

Strict requirements on their return may well be justified but historically only autocratic and totalitarian regimes have banned their own citizens from leaving the country.

Lord Blunkett (Lab), London SW1
Stop Press 2: Health Passports continue to gather momentum, though it doesn't seem likely they'll help much when it comes to escaping Gulag Britain. Travel Weekly reports that British Airways is to trial a new travel health app called VeriFlY on flights between London and the USA from February 4th. With both countries having closed their border to residents of the other, it is hard to imagine that there will be many people available to give the app a try.
Trudeau Govt to Face Legal Challenge on Travellers' Quarantine