6th January, 2021
The House judiciary committee is attempting to invoke the 25th and have Trump ousted IMMEDIATELY. They have made a formal, detailed appeal to Pence.
Pelosi controls the DC police who allowed Antifa in.
They had Antifa stage an attack so they could shut down the proceedings, and now they are going to attempt to eject Trump. They were obviously going to lose, so they are pulling out all the stops and trying to get rid of Trump. Gosh, his twitter is shut down. HOW CONVENIENT. COUP IS ON
The military is not going to be there for us. Today we finally got a complete look at the corruption, and it included the DC police, Rand Paul, Pence, and now the military. We cannot overcome that, it is OVER. Trump never had a chance. Now is when we finally found out just how bad it really was. Pence was a rattlesnake planted in Trump's heel the entire 4 years.
Update: The bastards are back in session. Yippee. This is NOT AN AMERICAN SESSION.
IMPORTANT UPDATE: I have edited this page now that it is known that Antifa crisis actors "stormed the capitol" with the full permission of the police, who shot only a pregnant woman who was not an actor they could be sure of. THAT'S RIGHT, THE PREGNANT WOMAN WAS NOT APPROVED IN THE CROWD THAT "STORMED THE CAPITOL" SO THEY SHOT HER IN THE NECK.
The electoral college was stormed BY ANTIFA. The DC police let them right in and they nuked Trump's twitter over this video.
CONFIRMED. WORST FEARS REALIZED. NO PATRIOTS STORMED THE CAPITOL EXCEPT FOR ONE PREGNANT WOMAN THE DC POLICE WERE NOT SURE WAS AN ACTOR, SO THEY SHOT HER. THIS VIDEO PROVES IT. THE DC POLICE SIMPLY LET THE PEOPLE IN AND THE GUY WHO WENT INTO THE CHAMBER AND SAT BEHIND THE PODIUM IS RIGHT HERE, IN THIS VIDEO.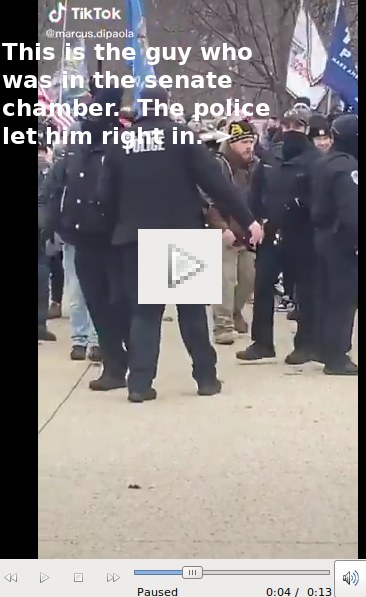 Update: There is, in addition to the video to the left, Another video that shows the police resisting in a different location. The linked tweet says this was the "exact moment" but there was more than one location. Not all of the police were corrupt, just the ones that let Antifa in.
The two videos do not match. The sidewalks do not match. In one, they resisted. In another, they let them in willingly. So not all the police were corrupt, only enough to do the job I guess.
Also, Twitter absolutely HATED this Trump tweet and it probably contributed to the nuking of his account, along with this video to the left here.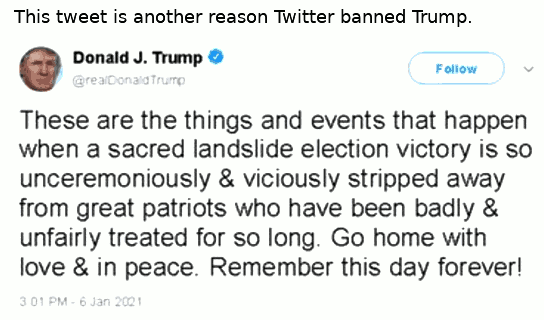 I am serving this video from this site because it obviously won't survive the wild, I fact checked this and Antifa was let in through the western barricade at the capitol building. This video is confirmed to be legit and actually what happened.
When this got re-tweeted on Trump's account, they nuked it.
We now know that today's storming of the senate was planned executed and staged to make Trump supporters look bad (to the leftists, I don't think any real patriots would have been against this), however, as a psy op it detracts from how horrible the steal was. It will also be used against him to censor him and slander him. I guess his approach today to "go home peacefully" was the only card he had to play.
Trump told everyone to be peaceful and go home. If he won't now initialize the military it is over.
Pence was a traitor through all 4 years of Trump's presidency.
Want to know who the leaker was that Trump could never seem to root out? It was Pence. Pence was a traitor from start to finish and Trump never figured it out. And an interesting thing happened today. When the capitol was stormed Pence ordered the activation of troops, NOT TRUMP, and the Pentagon said NO. We had damn well better hope that means they are on our side and will follow Trump's orders or we are doomed, that is IF Trump gives the orders and after his lilly limp wristed response to the storming of the capitol it is hard to discern whether or not even he is a troll. That response was the WORST thing that could have ever happened to the country. We will know if even Trump is compromised by whether or not he at least tries to have the military save us.
Pence IS THE TRAITOR we feared.
Check out Twitter's treasonous claim on this tweet:

THERE TWITTER. I "RETWEETED IT".
Electoral college progress:
UPDATE: GEORGIA WAS ALSO STORMED AND KANSAS LET THEM IN BEFORE THEY DID.
ANTIFA GOONS HAVE BREACHED THE SENATE. UPDATE: IT WAS BAD. THEY PHYSICALLY SMASHED THE DOORS.
UPDATE: At first, it looked like Republicans got in. Now it is proven they were all CIA backed antifa that were sent to disrupt the proceedings that the nation was vomiting over. So it was done to bash Trump. I don't think it worked, too many people supported it, including me (until I found out with 100 percent certainty that it was a setup. The people they sent in enabled ridiculous photo ops that made Trump supporters look like crap, especially "viking guy".
In the subsequent portion of the "capitol storming psy op" You'll no doubt hear "we are saddened. This is not who we are as a nation" on repeat DAY AND NIGHT. THAT WILL BE A COMMUNIST CON JOB.
This is what happened before the CIA pulled the plug on the electoral college:
Arizona was objected. Alaska and Alabama were not objected. The show will now begin. This has to proceed alphabetically. Ought to be an interesting day.
Pitch a bitch Mitch has claimed NO FRAUD. He's swinging for Biden now. Hopefully he'll swing from something else later.
Interesting tidbit: This really can be stopped if fraud is suspected. Early on, fraud was suspected and Aaron Burr got rejected after "winning". Who took office instead? Thomas Jefferson.
Schiff accused Trump of attempting a coup. We are watching whether or not America lives or dies today. There are so many traitors present it is almost impossible to watch.
Trolls are out in abundance saying "You'll have another chance to vote in 4 years". Which will also be stolen. THIS. IS. IT. if the fraud is not successfully contested today, it is OVER.
Newsmax and Fox business cut Cruz, but let the commie traitors have their FULL SAY. I said right from the beginning Newsmax was a limited hangout Jewish front and am still nothing but RIGHT. People know by now the Fox is in the hen house . . .
It does not appear anyone is going to be able to save Trump or this nation today. Trump's head is not on a platter today, OURS IS. Trump can just fly off to anywhere and do OK, this is not a fight for Trump, it is a fight for the survival of the country.
It is beginning to appear like we will need the military to arrest Biden and Harris for treason, the normal processes are so corrupt they clearly don't function.
The people stealing this nation are going to be afraid of the American gun owner after they do so. And I'll once again say that outside of Arlington, the target gun owners must seek out is right in their own town, it is not a huge drive, it is RIGHT NEXT DOOR, over there by the synagogue.
Interesting: Even after being totally exposed for massive vote fraud, Georgia locked poll watchers out when they stole the runoffs! This system is beyond comically corrupt.
VERY GOOD AWARENESS BUILDING: Israel training American police
This is what we are up against folks: Police who have been directly trained by Bolsheviks to believe Christians are the enemy, and that America's founding fathers are terrorists. They are NOT LOYAL TO AMERICA.

Alex had this in his video 911 the road to tyranny but that was not the original source. This was captured by an officer in training in Utah.
Trump supporters are posting on various venues that the police are TOTALLY favoring Antifa in DC, while they bash law abiding Trump supporters. And this is causing America's best patriots to turn against the police forces, which are clearly, without question, completely pro-communist. Remember the Israeli training an enormous pile of the American police got? That is the problem, and GEE, it all started with Israel! BOLSHEVIK CENTRAL. Who would guess?
FACT: If a communist revolution is to be squelched, these worthless cops (and that means ALL OF THEM, including those that give tickets to raise revenue and follow orders they KNOW are wrong, (THEY KNOW IT IS WRONG) but they do it anyway, and that is ALL OF THEM in EVERY CITY AND TOWN NATIONWIDE, – these cops need to IMMEDIATELY lose all public support at this time and be considered enemy combatants by the American gun owner because that's precisely what they are.
THE ONLY LEGITIMATE LAW ENFORCEMENT IS THE SHERIFF. THE REST ARE PAID GOONS. IT WILL NOT BE THE SHERIFFS FILLING THE CAMPS.
Various online polls, even the conservative ones, do not believe Pence will pull through today at a rate of about 75/25.
The deep state is SO BAD that a super majority of the public, even including leftists, don't think Pence will save the election today. That means practically everyone, both left and right know the corruption is too deep to stop. Leftists are OK with that.
TRUMP KNOWS PENCE IS A TRAITOR, THERE IS NOW PROOF
Take a look at this tweet. Why on earth would Trump need to tell Pence to do it if they were on good terms and on the same team? If Pence was with Trump, it would be assumed! Trump is applying pressure here, where he should not have to.

www.jimstone.is
http://82.221.129.208/.uw2.html