WHAT ARE WE NOT BEING TOLD?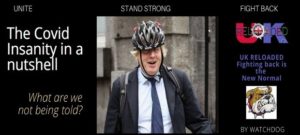 by Watchdog
REPEAT: "THERE IS NO GUARANTEE THAT COVID19 VACCINES WILL PREVENT PEOPLE FROM BEING INFECTED WITH THE SARS-COV-2 VIRUS AND TRANSMITTING IT TO OTHER PEOPLE. [according to WHO officials]
So what is the ruddy point? Can someone please explain to us why the government is in such a tearing hurry to inject the populace with these experimental biochemical products?
In a New Year's Day interview with Newsweek, Dr. Anthony Fauci, director of the National Institute of Allergy and Infectious Diseases in the U.S., reinforced the WHO's admission that health officials do not know if COVID-19 vaccines prevent infection or if people can spread the virus to others after getting vaccinated. [https://www.newsweek.com/coronavirus-anthony-fauci-covid-vaccine-passport-mandatory-vaccinations-travel-1558303]
When BoJo's office was asked in an FOI request to disclose the definition of 'vaccine' that the government is using when it says "vaccine", the Cabinet Office replied thus:
"I am writing to advise you that following a search of our paper and electronic records, I have established that the information you requested is not held by the Cabinet Office."
It would be good to know what definition of "vaccine" the PM is using (if he actually knows) because at least two of the rushed experimental biochemical agents he is so keen to inject the populace with are not actually vaccines (the Pfizer and the Moderna ones) [https://pocketnet.app/libertyrising?report=post&mt=aec033f6e9bea6e0b975138a090da59edd5be7b82db07b776712d622c0544cf6]
"The actual Covid19 virus has to his day never been isolated. In other words NO-ONE ANYWHERE has ever gotten hold of the actual virus and fully identified and mapped its DNA [https://ukreloaded.com/covid19-yet-another-smoking-gun-and-this-one-is-more-like-a-howitzer]
SUMMARY
THE GOVERNMENT IS PULLING OUT ALL THE STOPS TO INJECT THE POPULATION WITH EXPERIMENTAL BIOCHEMICAL PRODUCTS WHOSE LONG TERM EFFECTS ARE UNKNOWN AND WHICH THE MANUFACTURERS CANNOT EVEN GUARANTEE WILL ACTUALLY RENDER A PERSON IMMUNE OR STOP THEM SPREADING THE INFECTION.
IN OTHER WORDS, WE ARE BEING CONVINCED WE SHOULD BE INJECTED WITH EXPERIMENTAL BIOCHEMICAL PRODUCTS THAT DON'T WORK IN TERMS OF WHY WE ARE BEING TOLD WE SHOULD TAKE THEM!
So what do they do? They must do something that has gotten the government all fired up and eager, it is just that protecting us from a virus that is of no great threat to the majority of us isn't it.
IF I AM GOING TO TAKE AN EXPERIMENTAL VACCINE, I WANT TO KNOW
(A) THAT THE RUDDY THING WORKS
(B) ITS HEALTH IMPACT IS NOT WORSE THAT THE VIRUS AND
(C) THE VIRUS IS DANGEROUS ENOUGH TO ME TO WARRANT TAKING THE RISK.
NONE OF THESE CRITERIA HAVE BEEN FULFILLED – NOT EVEN CLOSE.
TWO OF THESE CHEMICALS (THE PFIZER AND MODERNA ONES) ARE NOT ACTUALLY VACCINES PER THE USUAL DEFINITION OF VACCINES, ALTHOUGH THE PRIME MINISTER'S OFFICE DOES NOT HAVE A DEFINITION FOR THE WORD VACCINE.
AS THE VACCINES AND PSEUDO VACCINES HAVE NOT BEEN TRIALED, MILLIONS OF PEOPLE HAVE ALREADY BEEN DUPED INTO BEING THE UNPAID GUINEA PIGS. WE WILL ONLY FIND OUT HOW GOOD OR BAD THE LONG TERM CONSEQUENCES ARE BY WATCHING WHAT HAPPENS OVER THE ENSUING MONTHS AND YEARS TO THE HEALTH, FERTILITY AND LONGEVITY OF THOSE WHO HAVE RISKED BEING INJECTED.
THIS IS A TREMENDOUS AND MIND-BOGGLINGLY RECKLESS GAMBLE WITH THE HEALTH OF MILLIONS.
WE MIGHT "GET AWAY WITH IT" IF WE ARE LUCKY. BUT THE POINT IS NOBODY KNOWS HOW THIS WILL PAN OUT.
IF WE ARE NOT LUCKY (AND THE EARLY SIGNS ARE THAT WE ARE NOT GOING TO BE) WE ARE FACING A POSSIBLE HEALTH CATASTROPHE OF IMMENSE PROPORTIONS AND AN OVERWHELM OF THE HEALTH SERVICE THAT WILL MAKE COV19 LOOK LIKE A PICNIC
THIS WILL BE ON TOP OF THE MOTHER OF ALL RECESSIONS BROUGHT ABOUT BY THE CRUSHING BURDEN OF LOCKDOWNS THAT DON'T WORK.
THE "EMERGENCY" THAT IS SUPPOSED TO JUSTIFY THIS HEADLONG LEAP INTO THE ABYSS IS THE APPEARANCE OF A FLU-LIKE BUG WHICH HAS (A) NO, (B) MILD OR (C) MODERATE SYMPTOMS ON A PAR WITH (A) GOOD HEALTH (B) A COLD OR (C) THE FLU AND IS A MORE SERIOUS THREAT ONLY TO A SMALL PERCENTAGE OF THE POPULACE ALREADY VULNERABLE DUE TO OLD AGE AND/OR SERIOUS ILLNESS.
AND EVEN FOR THIS LATTER AT-RISK CATEGORY, MOST SURVIVE.
THE ALREADY HIGH SURVIVAL RATE (AVERAGE AGE OF DEATH FROM COVID IS 82 – A YEAR OLDER THAN THE AVERAGE FOR ALL CAUSES) WOULD BE EVEN HIGHER HAD AT LEAST TWO HIGHLY WORKABLE, CHEAP AND SAFE REMEDIES NOT BEEN SUPPRESSED.
THESE REMEDIES HAVE BEEN AROUND FOR DECADES AND YEARS AND YEARS OF EXTENSIVE USE ALL OVER THE WORLD HAS SHOWN THEM TO BE RELATIVELY SAFE. THEIR SAFETY AND EFFCICACY HAS BEEN TESTED AND VERIFIED IN PRACTICE ON THE FRONT LINES FAR MORE THAN THE RUSHED VACCINES AND PSEUDO VACCINES.
WE REALLY DO NEED TO START ASKING:
(1) WHY THIS RECKLESS HEADLONG RUSH INTO INJECTING THE POPULATION AND THE TAKING OF A GAMBLE NOT EVEN REMOTEDLY JUSTIFIED BY THE ACTUAL NATURE OF THE EMERGENCY THAT IS SUPPOSED TO "JUSTIFY IT"?
(2) IF THESE EXPERIMENTAL VACCINES AND PSEUDO VACCINES ARE SAFE, WHY ARE THE MANUFACTURERS PROTECTED FROM LEGAL CONSEQUENCES IF THEIR PRODUCTS CAUSE INJURY, ILLNESS OR DEATH? (IF THE MANUFACTURER OF A CAR ADMITTED HE COULD NOT GUARANTEE THAT THE BRAKES AND STEERING WORK AND IF AT THE SAME TIME HE WENT OUT OF HIS WAY TO GET HIS PALS IN GOVERNMENT TO ENACT LAWS THAT PROTECTED HIM FROM PROSECUTION SHOULD HIS CAR KILL ANYBODY, WOULD YOU JUMP IN IT AND DRIVE IT AT 70MPH DOWN THE M25?)
(3) WHAT IS SO URGENT THAT THE GOVERNMENT THINKS IT IS PERFECTLY ALL RIGHT TO GAMBLE SO RECKLESSLY WITH THE HEALTH OF ITS CITIZENS?<
THERE IS SOMETHING ABOUT ALL THIS WE ARE NOT BEING TOLD BECAUSE IT JUST DOES NOT MAKE RATIONAL SENSE.
WHAT WE ARE NOT BEING TOLD IS THE TRUTH