False flag at the Capitol: it's all about the effects and after-shocks
False flag: an event staged to make it appear one's opponent caused the event and is the guilty party, thus justifying an all-out response.
This is a follow-up to my article about the engineering of a false flag assault on the Capitol building Wednesday—possibly led by Antifa actors.
For more information on that, I recommend Michael Snyder's article, "Questions about the chaos at the capitol that desperately need to be answered."
The events of Wednesday at the Capitol achieved a Jackpot for the Political Left.
The televised discussion and debate, in the Joint Session of Congress, about vote fraud, was derailed.
When Congress reconvened, at night, no one had the stomach to vigorously assert that Trump won the election. No one cared anymore. The viewing audience, if there was one, couldn't have cared, either. 100% of the attention was on the Capitol break-in.
Trump himself was welded to the "shocking assault" on the Capitol. The media made sure of that. "January 6th, 2021, is a day that will live in infamy forever…" "The day Trump betrayed America." "He whipped up his supporters in a frenzy, and then they invaded The People's House…"
The media will play this tune for the next 20 years. One aim? To destroy any chance Trump can come back in 2024 to run for the presidency. To completely snuff out his future—or the future of his son, Donald, Jr.—in politics.
Another aim? To discredit all Trump supporters and cast them as violent lunatics.
Even the shooting death of a Trump supporter inside the Capitol, by the police, is subliminally implied as "a necessary action to stop a revolution-in-progress."
There is more. Efforts to protest the COVID lockdowns will be equated, by the media and the government, with the Capitol assault. "It's all the same thing, the same unhinged people, the crazed deplorables and the dangerous anti-vaxxers…"
New rounds of brutal COVID lockdowns will be justified on the basis that "there are violent groups in our country who don't care about infecting other people with the virus. You know who they are. Many of them wear MAGA hats. There is only one way to defeat this pandemic. Shelter in place long enough, until it's over…"
Media, of course, conveniently ignore the months of violent Antifa-led riots, violence, and crime. Media will continue to bury those events behind a wall of outrage against the Capitol break-in.
Crackdowns on "dissenting behavior" are now on the table as a National Security issue. "We must approach certain kinds of dissent as acts of war. Look at the attack on the very core of our Republic, the Congress of the People, at the Capitol building. That began as simple angry rhetoric, but it built into an attempt at 'violent overthrow'…"
What's happening now has parallels to the Oklahoma City Bombing of 1995. At the time, I wrote about that false flag extensively. There had been a great deal of anti-government sentiment in the country. There was talk of secession. On both the Left and the Right, decentralization of power was a prominent issue. Media were focused on "the dangers of right-wing militia groups."
Then, after the explosion—which was far more sophisticated than an ANFO truck bomb—President Bill Clinton gave a key speech in which he basically said, "Come home to the federal government. We will protect you."
Aided by an outpouring of media praise for the speech, Clinton won the day.
Biden will now try the same thing. He has no rhetorical skills, but he will play the peacemaker and the unifier. "It's time to heal wounds. The nation can't survive in this climate of divisiveness and hatred. We must make peace with our brothers and sisters. Come home to the government…"
However, the level of government surveillance and tracking will escalate—not only because of COVID, but (we'll be told) in order to make sure another "January 6th" does not occur again.
Translation: we need to copy the Chinese model of control.
The Capitol break-in is a MAJOR covert op. And like all such staged events, the planned after-effects are the most important pieces.
Think of these effects as a gigantic "equals sign" planted in the public mind. The CAPITOL BREAK-IN equals dissent equals protests against the lockdowns equals Trump the betrayer equals anti-vaxxers equals MAGA equals nationalism equals outrage against lockdown governors equals people who don't wear masks equals racism…
That's how propaganda is done. By connecting one reaction to other reactions, across the board.
Imagine a Trump supporter who lives in a blue state. He looks in his closet today, and sees his MAGA hat and American flag…and wonders what will happen if he puts on that hat and walks down the street…
(The link to this article posted on my blog 
is here
 — with sources.)
Jim Stone writes –
TOP ITEMS on this page:
These are the important items on this page that you should scroll down to if you have not seen them yet.
1. Nancy's son in law led the raid on the capitol.
2. VP Chief of Staff Marc Short was likely the one who shot Ashley in the capitol
3. Trump surrendered. UPDATE: There is good reason to believe he was seized physically and is in custody.
______________________________________________
"Trump" tweeted he won't be at the inauguration. HOW CONVENIENT. They probably really did already get rid of him.
I suspect Trump is not in control of his twitter, and his account will now be used as a psych warfare weapon.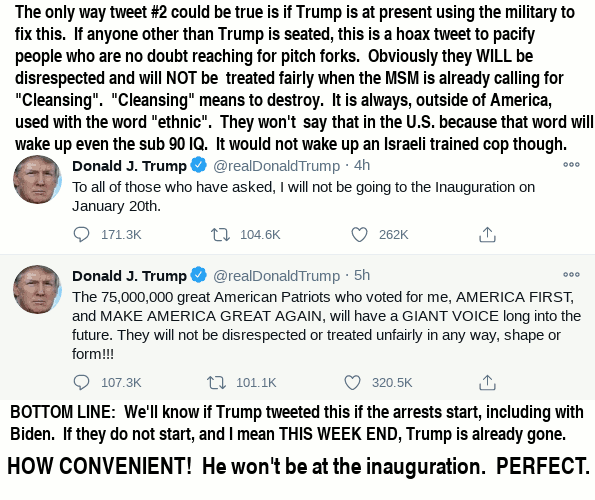 Tweet #2 is an impossible tweet. It says patriots will not be disrespected or treated unfairly in any way. HOW CAN THAT HAPPEN WHEN THE PEOPLE WHO "WON" ARE ALREADY TREATING PATRIOTS UNFAIRLY AND WITH HATRED THAT GOES FAR BEYOND DISRESPECT TO SUCH AN EXTENT THEY ARE CALLING FOR "CLEANSING"? TRUMP IS NOT STUPID. HE DID NOT TWEET THAT.
Very suspicious circumstances surrounding Trump
1. Nancy led a fake raid on the capitol that she did not inform everyone about beforehand and this is guaranteed because her son in law was one of the organizers.
2. As fallout from the raid, Twitter suspended Trump's account only to have what may be a deep fake of him speaking be the only thing posted since "he was allowed access" It is a good deep fake but it lacks the clarity of original video. People have dissected this quite well, and have found where the video repeats the exact same facial expression with the body in two different positions. It does indeed look sketchy and it would be expected during a communist coup.
The following shows two different frames from his "concession video" that were spaced about a minute apart and I agree, this does not look right.
Please note: I did not create this gif, it was posted anonymously by "trumpy" to makeagif.com. However, so many people are screaming deep fake that I don't think this is going to be debunked.
We all wondered how we'd spot a deep fake once they started doing it for real. Answer: they are easier to bust than faked photos. If there was a screw up like this when it really mattered, deep fakes are simply not there yet, and likely never will be.
3. At the exact same time Trump got suspended, his entire family went silent on social media. This would match having the communists seize everyone simultaneously so no one could get the word out. It is how they do it.
There are rumors Trump went into hiding and is safe with the military, plotting a way to save the country. But those are only rumors, what I believe this matches is the bolshevik revolution, where everyone was flagged bagged and tagged, and seized at the exact same moment so no one could warn anyone about what was going on. They'll probably release a few more deep fakes and attempt to let the entire topic of Trump fade into obscurity.
To summarize the above: Nancy led the raid. It was not a secret to her. Trump posted a twitter video condemning the raid and calling for peace. I saw it, and at the time believed the raid was real and ridiculed Trump for what he said. Twitter deleted that video, called Trump violent which was an abject lie, and suspended his account. Simultaneously Trump's entire family went silent. A supreme court case scheduled for the 7th never happened and Trump would have had to have been there. And then the deep fake video of Trump "conceding" got posted.
One of two scenarios is possible: 1. Trump and family went into military protection all at the same time, or 2. They are captured the way communists always do it, and could already be fish food. Time will tell. ONLY time will tell.
UPDATE: NOW TROLLS ARE SAYING IT HAD TO BE TRUMP POSTING THIS BECAUSE NO ONE HAS THE PASSWORDS TO HIS ACCOUNT. THAT IS STUPID, THE SITE OWNER ALWAYS HAS ADMINISTRATOR PRIVILEGE AND IS ALWAYS, WITHOUT EXCEPTION, COMPLETELY CAPABLE OF HIJACKING ANY ACCOUNT. DO YOU REALLY THINK DORSEY WOULD NOT DO THAT???
That's pretty weak trollage when Twitter can delete tweets! OBVIOUS: If they can delete them, they can add them!
The communists are ALREADY calling for ethnic cleansing in the United States
They are minimizing Trump supporters by only counting the votes they claim he had. But even with that said, there were only about 150 million votes, which means Trump, at a minimum, took 47 percent of the country. That's over 160 million. We all know it was rigged, so Trump in fact has at least 230 million supporters. 
Trump is not even "technically" out of office, and ABC news has already said this: