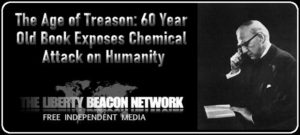 The Age of Treason: 60 Year Old Book Exposes Chemical Attack on Humanity
Preface article by: Roger Landry (TLB)
As I have stated on several occasions, we at TLB find it eminently rewarding to comb through historical articles and periodicals for overlooked Gems of wisdom, and signs of the seeds of tyranny being sewn. We in the modern independent media pride ourselves on our ability to acquire and propagate information critical to our followers and all of humanity in general.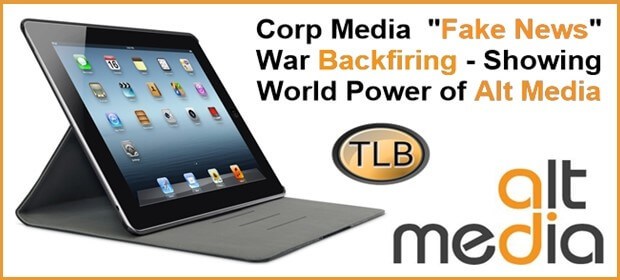 Today we are being bombarded and attacked with multiple mechanisms of biological destruction including random DNA alteration being caused by the food we eat, the water we drink and the medicine we take. Today we suffer rapidly rising levels of infertility/sterility, massive rises in autism, dementia, out of control autoimmune diseases, numerous cancers, etc…, etc…, etc…. Humanity has reached a new level of technological wonders … so please tell me why America (and to some extent all of humanity) … the most technological society on this planet … is dying !!!
America has been transformed from the healthiest to the sickest (FACT) society on this planet in less than three generations, and our once world-renowned healthcare system is now a global joke. But where and when did this all start. What were the first recognizable signs of an elitist goal to seriously and intentionally reduce the worlds population to a more controllable level … starting with the worlds cowboys … America? We have seen a lot of guesses and some conjecture … but we now present you with a piece of history.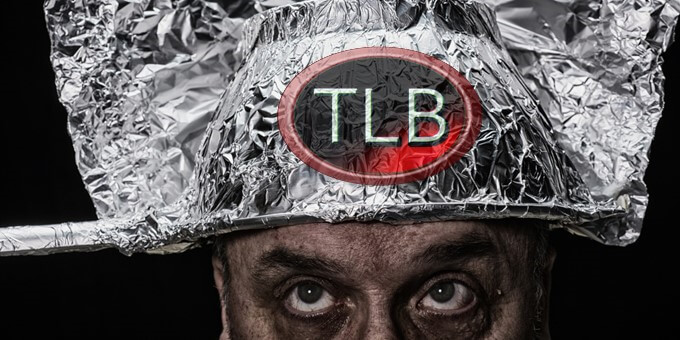 The article below is presented to help educate you on one of the issues that so many have deemed "Tin Foil Hat" issues. There is so much hard evidence available to prove unequivocally the reality and seriousness of all of these accusations of tyranny brought forth in the article below. As stated, humanity is being attacked in a concerted effort, from all directions imaginable, legally and with the blessing and support of the very governments sworn to protect us! It is incumbent on organizations like TLB to make any and all pertinent information available to you.
If it catches our eye … we will attempt to catch your mind …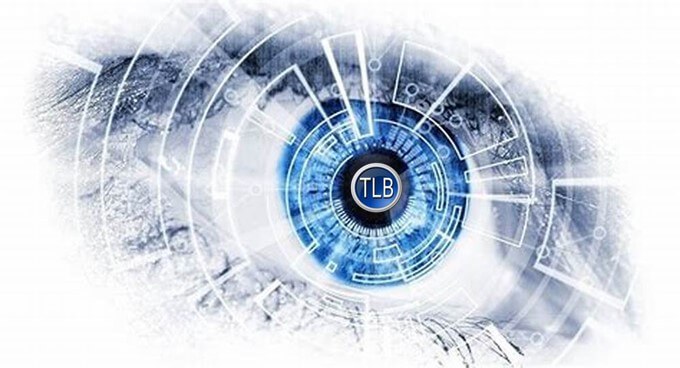 Please allow me to set the stage for another one of those Gems …
… When you come across an almost decade old article,

… based on a 60 year old book,

… describing the choreographed genocide of present day,

… from food additives, fluoride, Biotoxins, etc…,

… by a doctor/researcher, 

… and not only in retrospect,

… but also as warnings for the future,

… the one we live in today,

… about who the true enemies of humanity are,

… and their intentions for the cattle (We The People) …
… yea, this is a must read for all truly wishing to understand the beginnings of what has intentionally resulted in the most chronically ill and stifled by programmed ignorance, society on the planet …
… America,

… and it's still playing out and accelerating today,

… WARNING: This is NOT a (60 year old) Bedtime Story … !!!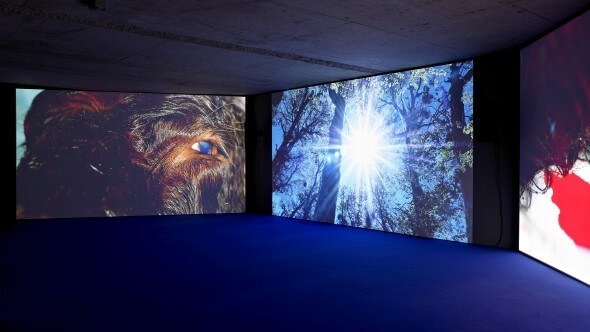 ••••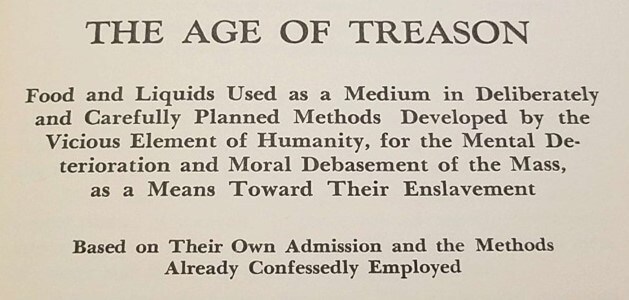 The Age of Treason: 1958 Book Exposes Chemical Attack on Humanity
By: Daniel Taylor (Originally published in early 2010)
Dr. R. Swinburne Clymer was in many ways a man ahead of his time, and most certainly controversial. He was attacked by the medical establishment for connecting diet with disease and mental health in his 1917 book Dietetics. Dr. Clymer received his medical degree in 1902 from the College of Medicine and Surgery in Chicago and began practicing Osteopathy. Accusations of fraud surround Dr. Clymer's career, including this 1923 edition of the Journal of the American Medical Association which claims that, "Our records fail to show that this man was ever regularly graduated by any reputable medical college." What Clymer had to say more than likely had something to do with the denouncement that he received from the medical establishment.
Though Dr. Clymer may be surrounded with controversy, his 1958 book Your Health and Sanity in the Age of Treason exposes toxic food additives and fluoride with documentation – the majority of which are mainstream scientific studies – that can be verified many times over. What makes this book unique is the fact that Dr. Clymer was one of the first to point out that …
… statements by the elite indicated that these toxins were to be deliberately released "…for the mental deterioration and moral debasement of the mass…"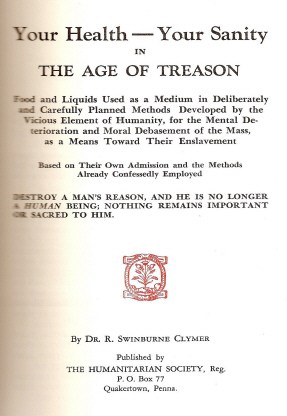 The book is appropriately subtitled; "Food and Liquids Used as a Medium in Deliberately and Carefully Planned Methods Developed by the Vicious Element of Humanity, for the Mental Deterioration and Moral Debasement of the Mass, as a Means Toward Their Enslavement."
Dr. Clymer introduces readers with a stark warning for the future, writing, "Imagine yourself if you can, becoming conscious that you are gradually losing your manhood; that your mind is rapidly deteriorating so that you are no longer capable of thinking clearly; unable to plan your future actions. Your resistance is becoming so weakened that you are no longer master of yourself. In short, your developing into a moron, a robot, a zombie, subject to the dictates of others…"
Bertrand Russell's 1953 book The Impact of Science on Society is cited by Clymer as one example of the elite's desire to dominate the masses. Russell stated that under scientific tyranny, "Diet, injections, and injunctions will combine, from a very early age, to produce the sort of character and the sort of beliefs that the authorities consider desirable, and any serious criticism of the powers that be will become psychologically impossible."
Diethylstilbestrol – Endocrine Disruption
Dr. Clymer identified the synthetic estrogen Diethylstilbestrol – developed in 1938 – as a means to achieve the aims of the elite. Clymer explains that some of the toxic additives discussed in the book may not have been employed for the express purpose outlined by the elite, but "…they served their purpose admirably…" Dr. Clymer elaborates,
"The employment of Stilbestrol by the laity with absolutely no knowledge of the dangerous agent they are employing, in conditioning chickens and meats, is mass medication without license, with a dangerous toxic drug that may have universal disastrous results on all who eat such adulterated foods. This is especially true as it concerns children, youths, young women and men, resulting as it may, in their sterilization or cancer – something fervently hoped for by the enemies of mankind."
Because Stilbestrol is a synthetic chemical, "…the natural protective activity of the bodily organs are ineffective in prohibiting harmful results. Natural Estrogen, on the other hand, is decomposed, and any of its possible harmful effects may be more or less made ineffective," writes Dr. Clymer. Stilbestrol was used as a treatment for various types of cancer and menopausal symptoms, but as Dr. Clymer states, "Physicians versed in the use of Endocrines agree generally that Stilbestrol is a dangerous drug in all except experienced hands."
Dr. E. Malcolm Stokes, in an article published in the Western Journal of Surgery, Obstetrics and Gynecology, September 1948, wrote: "Single large doses of [natural] estrogen substances are quickly excreted… long continued, repeated administration in relatively small doses [as in daily consumption of meats permeated with stilbestrol] may intensify tissue response to the hormone."
Dr. Clymer warns that such chemicals are to feminize men,
"Every vigilant human being should be concerned with several important factors involved: The methods or means by which it is possible to change man's characteristics as easily as the animal's. Man is a warrior by nature, the protector of his family, and his own rights and privileges; an individual, a free man… A being who has wrought great things and who, if not interfered with, will do even greater things. This being is to be turned into a lesser female; unable, even unwilling, to defend himself, much less his family or country; becoming a slave…"
Dr. Clymer's concerns over Stilbestrol have been vindicated over time, as the chemical has been phased out of use as a growth hormone in the late 1970's due to concerns over cancer. Additionally, in 1971 the FDA advised physicians to stop prescribing Stilbestrol to pregnant women due to high cancer risk. The drug is no longer being manufactured as of 1997.
Flashforward – Bisphenol A
Today there are continuing concerns as substantial levels of Bisphenol A (BPA) have been found in a large percentage of the western world's population. Like Diethylstilbestrol, BPA is a synthetic estrogen with similar to identical effects on the human body. BPA is perhaps a much larger threat due to the fact that unlike Stilbestrol – which was primarily consumed in meats – it is found in many household products, including the food we eat. A recent study from the Canadian Health Measures Survey found that over 90% of Canadians have detectable concentrations of BPA in their urine. Studies conducted by the CDC found Bisphenol A in the urine of 95% of adults sampled in 1988–1994 and in 93% of children and adults tested in 2003–04. Other studies have shown that Bisphenol A causes feminization of males and reduced sperm count.
As Dr. Frederick vom Saal states in this local Fox News report, levels of BPA below a trillionth of a gram have been found to alter cell function and growth. Additionally, BPA was found to feed cancer cell growth and impact the reproductive system of rats.
Fluoride
Yet another danger to human health and well being identified by Dr. Clymer is Sodium Fluoride. Fluoride, we are told, is placed in the water supply to help protect our teeth from decay. Today some are proposing that fluoride and other forms of mass medication will serve as a means of "Cognitive Enhancement." In his expose of fluoride, Dr. Clymer quotes Rene M. Vale, a former Communist and party worker in her book Red Court, published in 1952. She writes,
"In regions of the country where resistance was most apt to develop we saw to it that virus diseases struck, and when antibiotics threatened our program, we devised other means of vitiating the populace. Fluoridation of drinking water was found to be about the most successful…"
Dr. Charles E. Perkins, who Dr. R. Swinburne Clymer was in personal contact with, was, "… sent by the United States Government to help take charge of the I. G. Farben chemical plants in Germany at the end of the second world war. What follows are quotations from a letter which Mr. Perkins wrote to the Lee Foundation for Nutritional Research, Milwaukee, Wisconsin, dated October 2, 1954."
Mr. Perkins letter states,
"The German chemists worked out a very ingenious and far-reaching plan of mass control which was submitted to and adopted by the German General Staff. This plan was to control the population in any given area through mass medication of drinking water supplies. By this method they could control the population of whole areas, reduce population by water medication that would produce sterility in women and so on. In this scheme of mass control, sodium fluoride occupied a prominent place.
"We are told by the ideologists who are advocating the fluorination of water supplies in this country that their purpose is to reduce the incidence of tooth decay in children, and it is the plausibility of this excuse, plus the prominence of those who are responsible for the present spread of artificial water fluoridation in this country.
"However – and I want to make this very definite and very positive – the real reason behind fluorination is not to benefit children's teeth. If this were the real reason there are many ways in which it could be done that are much easier, cheaper and far more effective. The real purpose behind water fluoridation is to reduce the resistance of the masses to domination and control and loss of liberty…
"I was told of this entire scheme by a German chemist who was an official of the great Farben chemical industries and was also prominent in the Nazi movement at the time…"
Dr. Clymer additionally cites a 1956 letter written by the then New York Water Commissioner Arthur C. Ford (available in full here). In the letter, Ford speaks out openly against fluorides as "…extremely toxic substances…" Ford writes,
"We are aware that the fluorides are extremely toxic substances, and evidence exists to show that even at the recommended level of one part per million of fluoride in drinking water, people in fluoridated communities have been harmed.
We know of reputable, independent medical authorities throughout the United States and in the local area who have found evidence of fluoride damage to persons living in fluoridated communities. These medical authorities disagree with the fluoride hypothesis, and they have raised grave questions with respect to the safety of the procedure for an entire population which includes the young, the old, the susceptible and the infirm as well as the healthy.
Fluoride, besides being a toxic substance, is not all excreted when taken into the system, a significant percentage remaining cumulatively. Fluoridation of the drinking water at any level of concentration is a very indiscriminate procedure, since children drink widely varying amounts of water…"
Australian television recently reported on fluoride's harmful impact on human health and efforts to expand water fluoridation on the continent.
As sperm counts continue to fall world-wide and GMO crops escape into the environment, exposure to untold numbers of environmental toxins like BPA is a continuing threat. In the United States, several EPA scientists have denounced fluoridation, calling for a national moratorium on the fluoridation of water supplies. Citizens in Wichita Kansas are becoming active in raising awareness of fluoride, drawing attacks from the local media. Awareness of these issues is essential not just for those living today, but for future generations. Open admissions of the intent to chemically alter humanity should leave us with nothing but a sense of duty to warn others of the grave threat that we face.