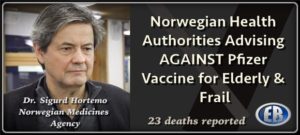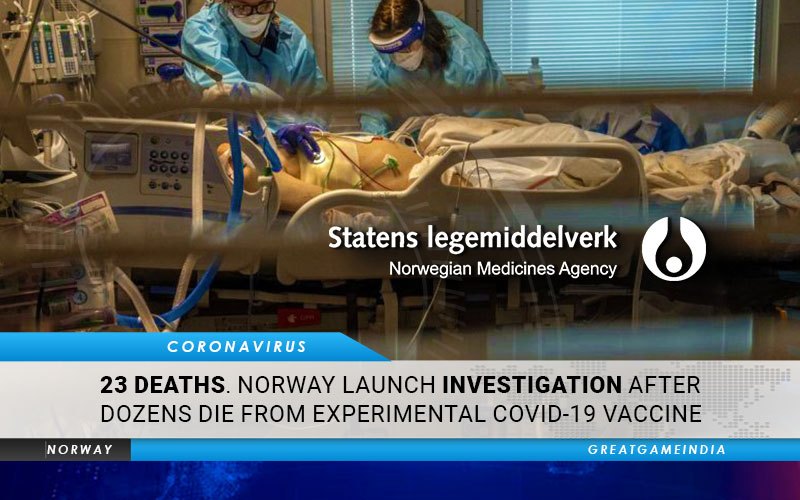 Four days before the New Year's Eve, Norway began mass vaccination program in the country with Pfizer/BioNTech experimental COVID-19 vaccine.
It was announced in advance that the vaccine may cause side effects of varying severity, and now the Norwegian Medicines Agency has mapped which ones have occurred in the country.
A total of 23 deaths have been reported in connection with the coronavirus vaccination.
So far, 13 of these have been assessed and found to be directly linked to the COVID-19 vaccine side-effects.
"Of these, there are 13 deaths, nine serious side effects and seven less serious side effects. It seems that some of these patients get such severe side effects in the form of fever and malaise that it can lead to a very serious illness even, an more serious one, which may lead to death", medical director of the Norwegian Medicines Agency Steinar Madsen told national broadcaster NRK.
The nine patients who have had serious side effects complained of allergic reactions, strong malaise and severe fever. The seven less serious side effects included severe pain at the injection site.
The Norwegian Medicines Agency and the National Institute of Public Health (FHI) jointly assess all side effects reports.
********
Norway Says Very Frail People Should Not Receive Covid Vaccine: "Side Effects May Have Led to Deaths"
LOCKDOWN SCEPTICS
Norway has determined that vaccinations may be contributing to deaths in the very frail elderly and changed its advice. Trondheim24 has the story (via Google translate, H/T Alex Berenson).
More than 25,000 Norwegians have been vaccinated with the first dose of the coronary vaccine from Pfizer and BioNtech since Christmas. On Friday, the first dose of the new Moderna vaccine will be given.

So far, the Norwegian Medicines Agency has assessed 29 adverse reaction reports after the COVID-19 vaccination. 13 of these had a fatal outcome, shows a new report from the Norwegian Medicines Agency.

A total of 23 deaths have been reported in connection with vaccination, but so far only 13 of these have been assessed. The other deaths are under examination. Common side effects may have contributed to a serious course in frail elderly people, the Norwegian Medicines Agency reports.

All the deaths have occurred in frail, old patients in nursing homes. All are over 80 years old and some of them over 90, according to NRK.

The reports may indicate that common side effects from mRNA vaccines, such as fever and nausea, may have led to deaths in some frail patients, says chief physician Sigurd Hortemo in the Norwegian Medicines Agency.

As a result, both the National Institute of Public Health and the Norwegian Medicines Agency have changed the corona vaccination guide with new advice for this group.

If you are very frail, you should probably not be vaccinated, said subject director Steinar Madsen in the Norwegian Medicines Agency at a webinar on coronary vaccine for journalists on Thursday.

He emphasises that these cases are rare, and that many thousands of frail people have been vaccinated without a fatal outcome.
This side-effect of possible hastening of death among the very frail is not welcome news when the Government is relying on vaccination to reduce the death toll from the virus, which is concentrated amongst the frail elderly. It will be interesting to see whether any other health agencies come to similar conclusions and their governments follow suit.
Stop Press: Initial data from vaccination frontrunner Israel suggests that the Pfizer vaccine reduces infections by around 50% 14 days after the first shot. The Times of Israel has more.
Initial data from Israel's vaccination campaign shows that Pfizer's coronavirus vaccine curbs infections by some 50% 14 days after the first of two shots is administered, a top Health Ministry official said Tuesday, as the country's serious COVID-19 cases, daily infections and total active cases all reach all-time peaks.

Sharon Alroy-Preis, head of the Health Ministry's Public Health Department, told Channel 12 News that the data was preliminary, and based on the results of coronavirus tests among both those who've received the vaccine and those who haven't.

Other, somewhat contrary data was released by Israeli health maintenance organizations Tuesday evening. Channel 13 News said that according to figures released by Clalit, Israel's largest health provider, the chance of a person being infected with the coronavirus dropped by 33% 14 days after they were vaccinated. Separate figures recorded by the Maccabi health provider and aired by Channel 12 showed the vaccine caused a 60% drop in the chances for infection 14 days after taking the first shot.

Each of the HMOs compiled the data from some 400,000 patients they treated (800,000 in total).

The cause for the discrepancy between the studies was not immediately clear.

With Pfizer's phase 3 trials only checking some 40,000 people, and given Israel's world-leading vaccination campaign, the data could be some of the best on-the-ground indication yet of the vaccine's efficacy.
Stop Press 2: The Guardian reports that Pimlico Plumbers, a large London plumbing firm, plans to rewrite all of its workers' contracts to require them to be vaccinated against coronavirus. There may be legal issues, some lawyers have said.
Norway Launches Investigation After 29 Deaths from Experimental Covid-19 Vaccine