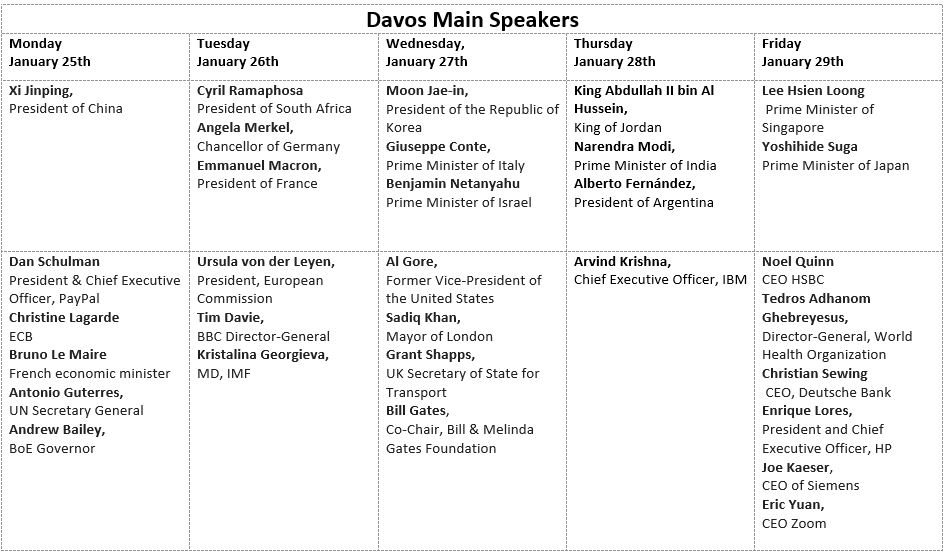 Like so much else these days, next week's DAVOS summit will take place on Zoom. Deutsche Welle has the story:
It's that time of the year again when a sleepy Alpine town in Switzerland usually comes alive as the global elite descends on its snow-clad slopes to debate global challenges. This year, however, Davos has been left undisturbed with its eponymous annual jamboree moving online amid a still raging COVID-19 pandemic…

The more than 50-year-old annual event attended by global political and business leaders, celebrities and prominent social activists is taking place amid the worst economic crisis in living memory that has rendered millions jobless and deepened global inequalities.

An annual risks survey published by the World Economic Forum (WEF) on Tuesday warned that economic and social fallout from the COVID-19 pandemic could lead to "social unrest, political fragmentation and geopolitical tensions".

We need an economic recovery that is "more resilient, more inclusive and more sustainable", WEF founder Klaus Schwab told reporters…

The pandemic and the uneven responses to the crisis unleashed by it have stoked geopolitical tensions. Governments have chosen to put national interests ahead of others, unilaterally shutting down borders and hoarding food and medical supplies.

We need to restore trust in our world, Schwab said. "We have to substantially reinforce global cooperation again and engage all stakeholders into the solution of the problems we face, and here we have to engage particularly business."

Nowhere has this me-first approach been more apparent than on the vaccine front where rich nations have secured billions of doses – many times the size of their populations – while poor nations struggle for supplies. The head of the World Health Organization, Tedros Adhanom Ghebreyesus, who is also one of the speakers, cautioned that the world was on the brink of "catastrophic moral failure".

The global scramble for vaccines, or vaccine nationalism, risks prolonging the pandemic and delaying the easing of global travel restrictions.

"COVID-19 anywhere is COVID-19 everywhere," WEF President Borge Brende told reporters. "We all are in the same boat and we would have to collaborate to really make progress."
It is interesting to note that the WEF has a date in mind for when it may be able to meet in person:
A virtual summit doesn't mean that Davos regulars, many of them without official badges, would be robbed of their opportunity to hobnob and strike deals at glamorous receptions that take place on the side lines of the main event.

The WEF has said it would hold its marquee event in person in Singapore from May 13th-16th later this year.
Worth reading in full.
https://lockdownsceptics.org/