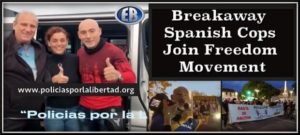 ER Editor: We're posting here the video from the Police for Freedom website (Manifesto page). You don't need Spanish to appreciate the atmosphere of this. According to their website, they've put on 3 peaceful protest marches through November and December in different Spanish cities. The featured meme is drawn from the video below:
In the 3-minute video below, the young woman presenting the movement is a bilingual English-Spanish speaker. She is right to point out that freedom movements have a much higher chance of success in dismantling tyrannical governments if the police and military are on board. Kudos to her and the brave police officers who have made that break with orthodoxy on our behalf. Let's hope others follow – and soon!
********
Lockdown Awakening! Police In Spain Join The Freedom Protest
JOHN O'SULLIVAN
In a stunning development in Spain, a breakaway group of police officers has formed 'Policias por La Libertad' (Police Officers for Freedom).
New video from Spain shows police officers joining lockdown protestors asserting their basic human rights to reclaim their freedoms and refuse to comply with draconian and unscientific pandemic measures.
Viewers can see a joyous presenter declare:
"Human dignity, human rights, and fundamental freedoms are to be fully respected in terms of medical practice. The interests and welfare of the individual should have priority over the sole interests of science or society. You see, society can NEVER override the rights of an individual. So they do not have the authority to force any masking any testing or any vaccinations on us. We are free."
More at www.youtube.com
The new organisation sets out its manifesto under the banner of "We are HUMAN BEINGS protecting and serving other HUMAN BEINGS ." Crucially, this appears to be a well-planned and large initiative as the body's website declares:
"We are many colleagues from the different Corps who want to continue to carry out our work based on our personal and professional ethics." 
The body astutely asserts a mandate under EU law by citing:
"Art 104 of the EC "The State Security Forces and Bodies, under the dependence of the Government, will have the mission of protecting the free exercise of rights and freedoms and guaranteeing citizen security."
In addition, the website then cites RESOLUTION 34/169, of 1979, of the General Assembly of the United Nations: Codes of Conduct for Officials in Charge of Law Enforcement (December 17, 1979) which lays out the following canons:
Article 1.
Law enforcement officials shall at all times fulfill their duties under the law, serving their community and protecting all persons against illegal acts, consistent with the high degree of responsibility required by their profession.
Article 2.
In the performance of their duties, law enforcement officials shall respect and protect human dignity and uphold and defend the human rights of all persons.
Article 3.
Law enforcement officials may use force only when strictly necessary and to the extent required for the performance of their tasks.
Article 4.
Confidential matters of which law enforcement officials are aware shall be kept secret, unless the fulfillment of duty or the needs of justice strictly require otherwise.
Article 5.
No law enforcement official may inflict, instigate or tolerate any act of torture or other cruel, inhuman or degrading treatment or punishment, or invoke the order of his superior or special circumstances, such as a state of war or threat of war, threat to national security, internal political instability or any other public emergency as a justification for torture or other cruel, inhuman or degrading treatment or punishment.
Article 6.
Law enforcement officials shall ensure full protection of the health of the persons in their custody and, in particular, shall take immediate measures to provide medical care when required.
Article 7 .
Law enforcement officials will not commit any act of corruption. They will also rigorously oppose and combat all such acts.
Article 8 .
Law enforcement officials will respect the law and this Code. It will also do when in its power to prevent any violation of them and to vigorously oppose such violation.
The officials in charge who have reason to believe that a violation of this code has occurred or will occur shall report the matter to their superiors and, if necessary, to any other appropriate authority or body that has control or corrective powers
United Nations POLICE CODE OF ETHICS 
Read more here: https://www.policiasporlalibertad.org/
Lockdown Awakening! Police In Spain Join The Freedom Protest [VIDEOS]