Introduction – Jan 8, 2021
If you believed everything the media and the government said about the Covid-19 "pandemic" you would think we were in the midst of a health crisis that rivalled the worst of the medieval plague.
Just look at these recent headlines:
Covid-19: UK sees highest daily toll of 1,325 deaths
'The worst by a cataclysmic margin': the race to save the NHS from Covid
Number of new cases of Covid up 27% in a week to 70,000 a day
"The worst-hit areas continue to be Wales, London and the South East."
On the face of it Britain faces an unprecedented health crisis. However, these alarmist headlines aren't just confined to the UK.
French restaurants have been battered by the Covid-19 pandemic
Germany reports record COVID-19 deaths, concerns about new variant grow
LATEST: Germany logs new record number of Covid-19 deaths as more vaccines rolled out
Truly this makes for grim reading and it's not just confined to Europe:
India's COVID-19 tally rises to 10,413,417, Philippines logs 1,776 new cases
South Africa records 'grim' Covid milestone as humanitarian crisis unfolds at border with Zimbabwe
However, like they say every picture tells a story and the following picture, or more precisely the following mortality statistics for the past thirty years speak volumes. True these statistics are for the UK only but I suspect that they reflect a similar story worldwide.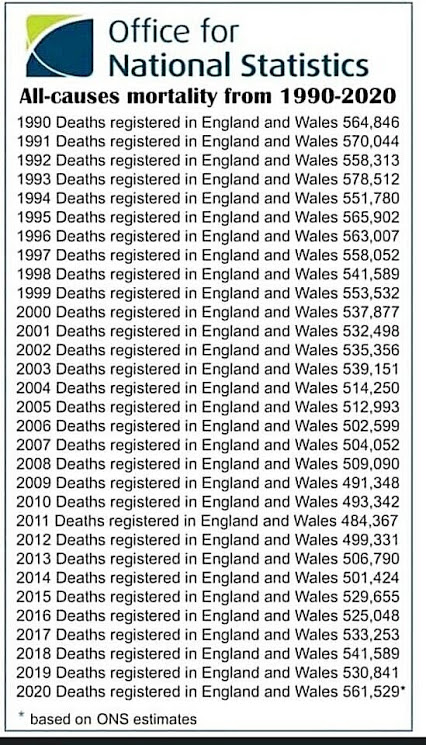 Although the UK is supposedly in the grip of a deadly "pandemic" there were more deaths in 1990 than last year, the start of the Covid-19 "pandemic". This isn't speculation. It is official, these figures are from The Office for National Statistics.
In other words Covid-19 is largely a media created "pandemic". This is not to say that Covid-19 is not real. It's just that the scale and severity of its impact is being greatly over-exaggerated. Possibly in an attempt to stampede the masses into getting vaccinated.