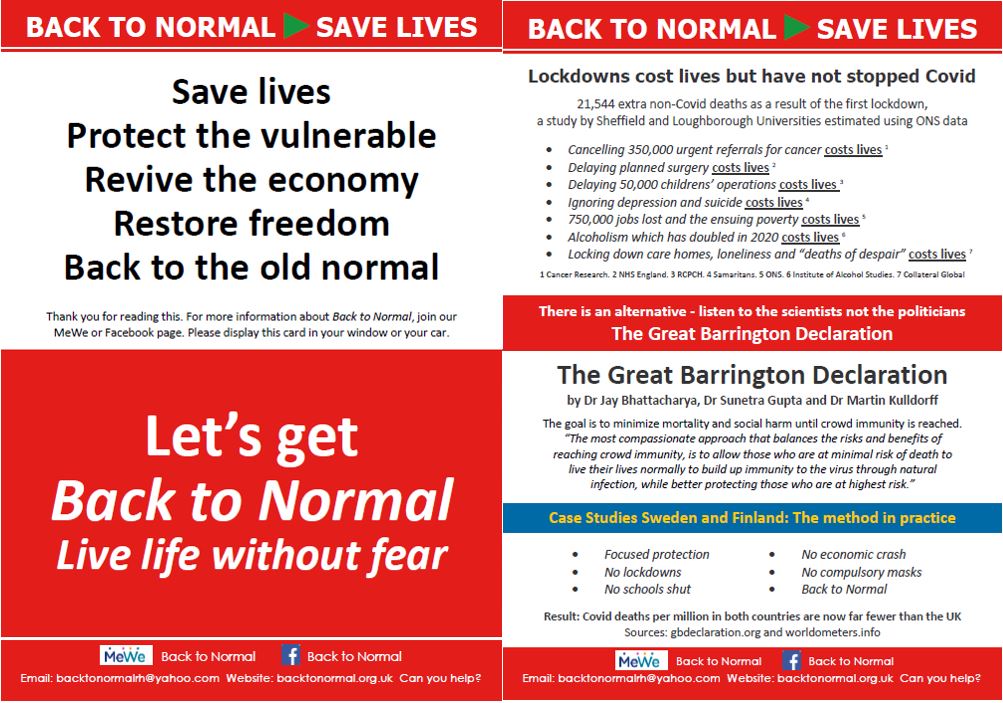 Back to Normal, is a public-facing, grass roots group, campaigning to end the lockdown and they are looking for volunteers. It's spokesman, Geoff Cox, has written the guest post below.
Back to Normal is a growing band of lockdown sceptics from all walks of life who are determined to counter the tidal wave of hysterical pronouncements from the Government and the media. Through small groups of sceptics across the UK, we are delivering our message outside the control of the Government or Twitter or the BBC.
Although we have a website and a presence on social media, we have a deliberately low tech operation and have produced a simple, well worded postcard-sized leaflet, to be hand-delivered by volunteers. Our aim is to distribute one million to houses all over the country. We are on our way and at the last count had reached 235,000.
Currently we also have 100 small, loosely affiliated groups operating at constituency level. We've chosen to work in constituencies, mainly because they are well defined and a manageable size, but also because they are the heart of the political process. In time, our volunteers may choose to take a more active role politically – a letter writing campaign to the local press or perhaps supporting one of the new political parties who are making sceptic noises; even possibly standing for election as independents.
Doing something is better than doing nothing: it raises our morale and annoys the Government. Please become a postman and deliver some postcards and let's get Back to Normal.
You can follow us on Facebook here, on MeWe here, or get in touch by email.
https://lockdownsceptics.org/