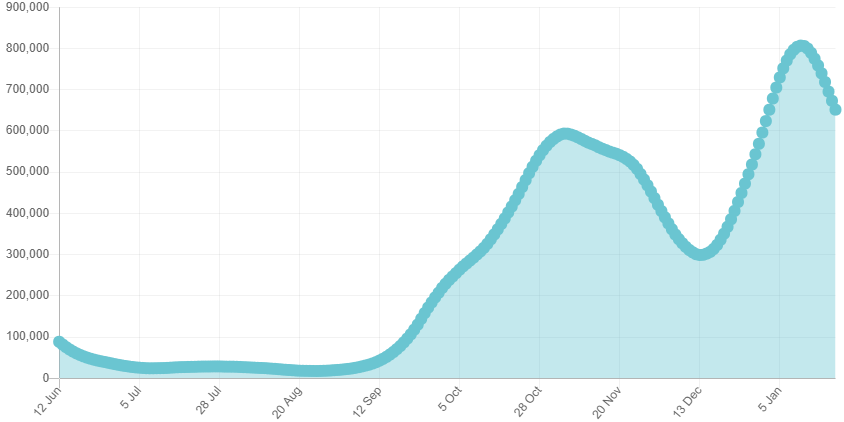 Many news outlets yesterday reported claims from the latest React study at Imperial College London that COVID-19 infections may be rising, despite the Government dashboard and ZOE Covid Symptom Study App showing new infections falling since the start of the year.
Ross Clark in the Spectator tries to get to the bottom of this discrepancy.
The React study… is based on testing a randomised sample of the population. Between January 6th and January 15th, it tested 142,909 people across the country, of which 1,962 were positive. That figure was then used to estimate that 1.58% of the population had the virus between those dates.

But React has a major weakness in that it is not a continuous survey; rather it is carried out in rounds, the last of which was between November 25th and December 3rd. It can tell us that prevalence grew between that period (when 0.91% of the population was estimated to be infected) but there is no data for the intervening period.

How, then, does it come to the conclusion that cases may have risen since the beginning of the third lockdown, which began on January 6th? Interestingly, the Office for National Statistics' summary of the React study does not make this claim. It merely states there is "no strong evidence for either growth or decay in prevalence across the period January 6th and January 15th". It is only when you go to the paper itself, published by Imperial, that it makes the assertion that infection levels "may have started to rise" at the end of the period – a claim it says it makes on the strength of analyses using "P-splines" – an analytical technique which seeks to smooth out lines generated from limited amounts of data.
A flimsy basis for such an alarming claim then. But it does make for an eye-catching headline…
https://lockdownsceptics.org/