YET MORE LIES FROM THE COVID DEATH CULT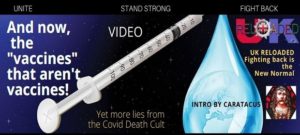 Introduction
by Caratacus
This is another important video that explains:
WHY THE PFIZER AND MODERNA EXPERIMENTAL BIOCHEMICAL AGENTS THAT THE GOVERNMENT HAS JUST ENTHUSIASTICALLY – AND IN FULL AWARENESS OF THE RISKS – HAD INJECTED INTO 4 MILLION BRITS, FOR CHRIST'S SAKE,  IS NOT, REPEAT NOT,  A VACCINE.
IT IS A BIOCHEMICAL DEVICE THAT STIMULATES THE CELLS TO PRODUCE PATHOGENS (IE, MAKE YOU SICK) WITH VARIOUS AUTO-IMMUNE ILLNESSES INCLUDIG ALZHEIMERS, MULTIPLE SCLEROSIS, ACCELERATED CANCERS ETC  AND – AS DISCUSSED ELSEWHERE – A VIRULENT REACTION TO ANY CORONAVIRUSES THE VACCINATED PERSON COMES INTO CONTACT WITH.
IF THESE EXPERTS ARE CORRECT OR EVEN HALF CORRECT, WE ARE WITNESSING THE REAL-TIME EXECUTION OF HUMANITARIAN CRIMES ON A MASSIVE SCALE AND, QUITE POSSIBLY IN OUR OPINION, THE BEGINNINGS OF A POPULATION CULL.
For the technically minded, here is a more "sciency" explanation:
"You are genetically modified by this synthetic molecular package. The consequences are potentially horrendous.

Biologically, messenger RNA is transcribed from DNA and travels into a cell's cytoplasm where it's translated by ribosomes into proteins.

For the Pfizer/BioNTech and Moderna vaccines, the synthesized mRNA is cloaked in a lipid nanoparticle in order to evade the immune system when it's injected. Once it's inside a cell, the ribosomes will get to work pumping out the spike protein of SARS-CoV-2.

The immune system then mounts a response to that protein, conferring immunity to the virus without ever having been infected by it.

Essentially, instead of pharma producing the proteins via an expensive and difficult process, mRNA enlists the body to do the work."
And back to a layman's explanation:
In essence then, your cells will be reprogrammed to produce the COVID19 virus – instead of waiting for the virus to arrive and attack it – so that it can then mount an immune response.
This is comparable in lunacy with inventing a therapy that (maybe) handles cancer and giving it to people who don't have cancer so that it can stimulate their cells to manufacture cancer so that it can handle the cancer!
The government are very sure sure that nothing could possibly go wrong with this brilliant plan.
They are so sure that nothing can go wrong they have not even bothered to wait for the things to be tested so as to confirm nothing could go wrong, even though what could go wrong could wind up condemning to lifelong illnesses or early death millions of unsuspecting Brits.  They have  gone right ahead and injected four million people with them!
The manufacturers are not so confident that nothing can go wrong – mainly because not enough research and testing has yet been done. Indeed, they were so not sure, they would only release these biochemical agents for use (and profit of course) if the government would first absolve them of any responsibility and guarantee them protection from prosecution if their experiental products killed anyone.
Several flaws are:
As explained here, the body can wind up in a perpetual immune response if the production of the Covid19 spike protein by the cells will not switch off.
It is difficult to know how the cells can be programmed to produce a spike proten that has never yet been actually identified, isolated and had its DNA mapped and all we have in fact are computer simulations of what the virus probably is.
Calling these products vaccines is actually fraud. Marketing them as vaccines is fraud, insisting people take them as part of a vaccination program is fraud.
It is worth noting too that of the various vaccines now allegedly in existence, the gov is enthiastically working to get everybody injected with the two that are (a) the most dangerous and (b) not vaccines.
Related Article
Moderna and Pfizer "vaccine" lie exposed
---