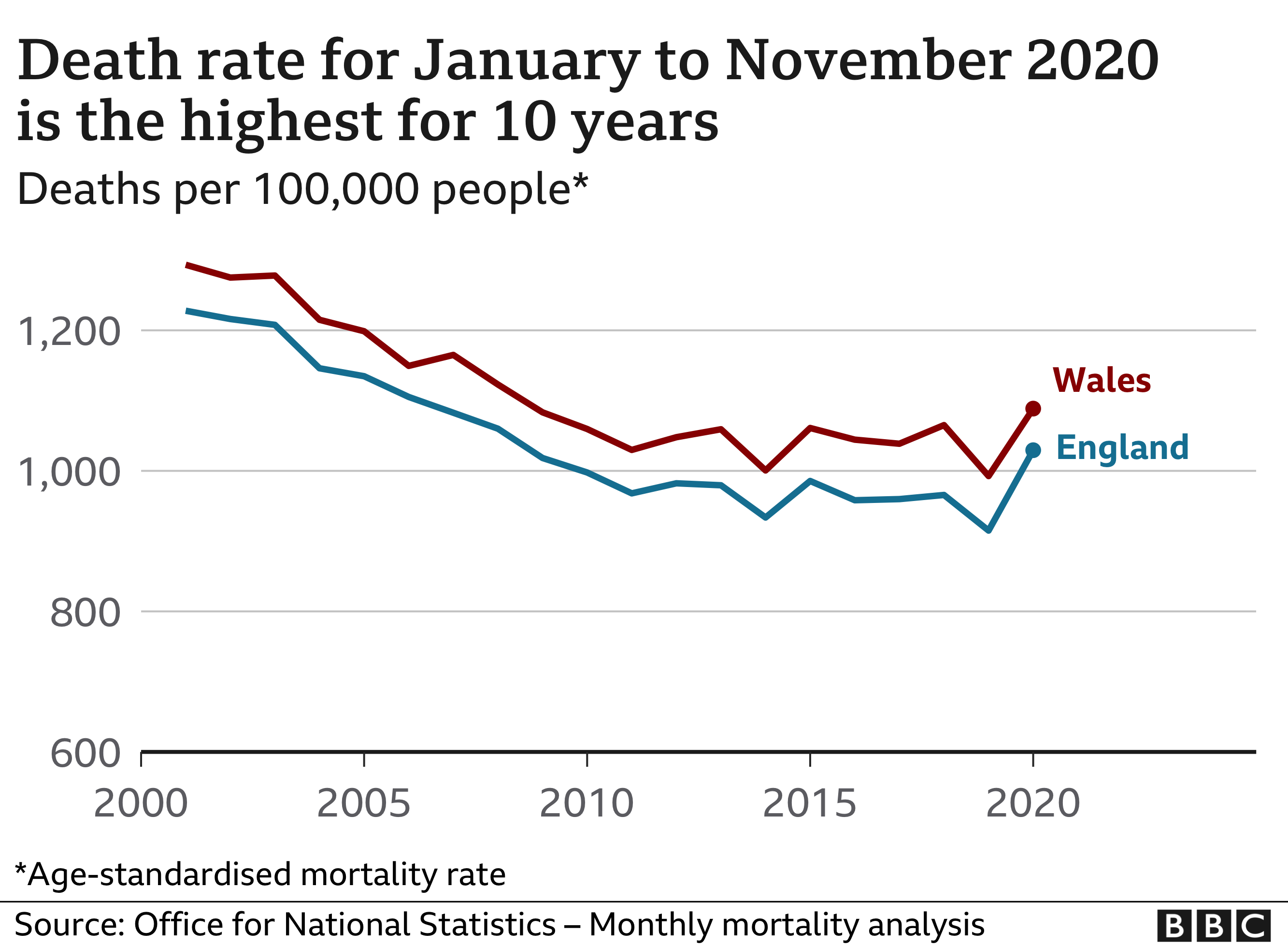 Many outlets including the BBC ran with the headline: "2020 saw most excess deaths since World War Two". The Guardian went even further: "2020 was deadliest year in a century in England and Wales, says ONS." This, of course, is just one way of presenting the figures published yesterday, but for some reason it's the one most of our crisis-loving media put front and centre.
In fact, as Lockdown Sceptics has previously reported, last year was less deadly than 2008 and most years before that. The BBC actually reported this fact, but made sure it was buried beneath the hysteria.
The Covid pandemic has caused excess deaths to rise to their highest level in the UK since World War Two.

There were close to 697,000 deaths in 2020 – nearly 85,000 more than would be expected based on the average in the previous five years.

This represents an increase of 14% – making it the largest rise in excess deaths for more than 75 years.

When the age and size of the population is taken into account, 2020 saw the worst death rates since the 2000s.

This measure – known as age-standardised mortality – takes into account population growth and age.

The data is only available until November – so the impact of deaths in December have not yet been taken into account – but it shows the death rate at that stage was at its highest in England since 2008.
Lockdown Sceptics reader Mark Ellse rewrote this report for the BBC to show what it should have said.
When the age and size of the population is taken into account, despite Covid, the death rate in 2020 is below average for the last 20 years.

This measure – known as age-standardised mortality – takes into account population growth and age.

On one hand, excess deaths are at their highest since World War Two, but once age and size of population are taken into account, 2020 death rates are similar to those in the last 10 years.

Raw death rates, with 697,000 deaths in 2020 seem alarming but our population is larger and older on average and death rates continue to be much less than they were only a decade or so ago.

Death rates fluctuate significantly from year to year. With 2019 having an unusually low rate, a significant increase in 2020 was expected. The ONS figures help put the Covid death toll over the past 12 months in a wider context.

What is clear is that 2020 was not a year in which the death rate was exceptionally large and that public panic over Covid has been misplaced.
The (real) BBC went for comment to King's Fund Chief Executive Richard Murray:
The UK has one of the highest rates of excess deaths in the world, with more excess deaths per million people than most other European countries or the US. It will take a public inquiry to determine exactly what went wrong, but mistakes have been made. In a pandemic, mistakes cost lives. Decisions to enter lockdown have consistently come late, with the Government failing to learn from past mistakes or the experiences of other countries. The promised 'protective ring' around social care in the first wave was slow to materialise and often inadequate, a contributing factor to the excess deaths among care home residents last year. Like many countries, the UK was poorly prepared for this type of pandemic.
Mr Murray appears to be unaware of the peer-reviewed research published in the Lancet showing that lockdown timing was "not associated with COVID-19 mortality per million people". As for learning from other countries, perhaps we should have learned from hard lockdown countries such as Italy, France and Spain, with Covid mortality scarcely better than ours? Or alternatively from Sweden, which didn't lock down and kept restaurants, bars, shops, leisure facilities and most schools open throughout the year.
As Lockdown Sceptics reported yesterday, 2020 in Sweden was scarcely more deadly than 2017 or 2018. Furthermore, 2019 was so mild that 2019 and 2020 added together had fewer deaths than 2017 and 2018 added together – and this is before any adjustments for age or population size. In other words, no real excess deaths at all, as this study from the University of Oslo concluded, putting the 2020 extra deaths primarily down to "mortality displacement" or "dry tinder" from 2019.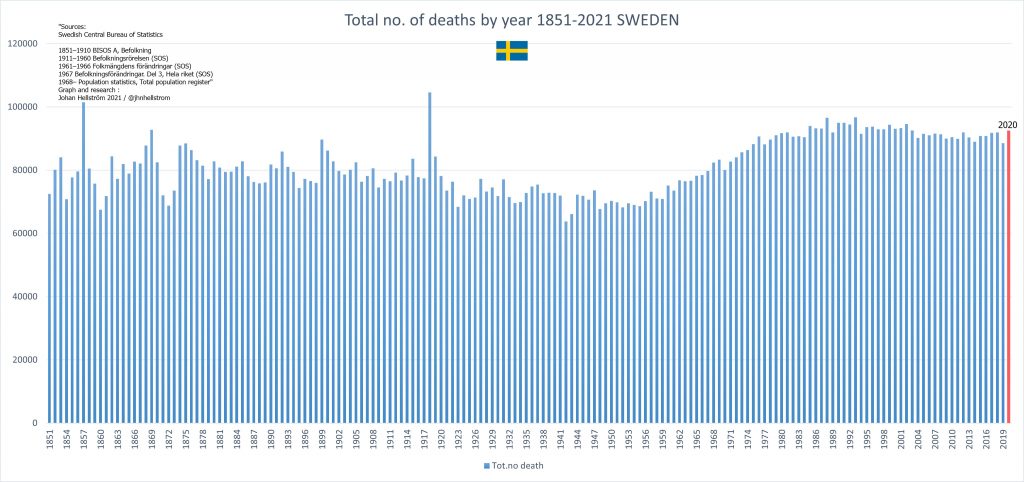 How can this be when Sweden remained largely open while the UK can't kick its lockdown habit? Perhaps the answer is that lockdown itself kills people, as Recovery explained yesterday in a press release.
Recovery has been warning of this tsunami of excess deaths from Covid policies for months. It's caused a deadly cocktail of fear, mental health problems, and the denial of vital services to patients in urgent need of life-saving care. For example:
One in three cancer patients says their treatment has been affected and 70% say their mental health has suffered in consequence. Cancer Research UK says cancer screening was cancelled for three million people and there has been a 39% drop in the seven key diagnostic tests for cancer between March and July – equivalent to 3.2m fewer tests in England alone.
British Heart Foundation says that excess death from heart disease has risen with a disturbing 13% rise amongst those under 60 even as Covid was declining in May and June. "We believe that delays in people seeking care, coupled with a reduced access to routine tests and treatments during the pandemic, have likely contributed to the rise in excess deaths."
A Yonder poll in December revealed that seven out of 10 people in the UK are now seriously worried about the mental health of themselves or someone close. Problem drinking – a killer – has doubled and now affects around 9 million people. Experts report that suicide amongst young people is rising. Rising domestic abuse during the Spring lockdown offences rise by 18,000 between March and June 2020 (ONS 24.11.20).
Bristol University's risk experts say that the lockdowns of 2020 will cost 560,000 lives in the UK "because of the deep and prolonged recession they will cause". The Government's own prediction last summer was that more than 200,000 will die as a result of the first lockdown alone (ONS July 2020). It has refused to provide an update showing the additional impact of the tiers and lockdowns since.
Government figures show that even during the Spring peak, restrictions played a huge role in excess deaths. Covid killed 25,000 people but restrictions caused at least 16,000 unnecessary deaths, as 6,000 people died because they didn't attend A&E through fear and 10,000 people died in care homes because they could not access critical care in hospitals (ONS, August 2020).
The UN World Food Programme has warned that 270,000,000 people face starvation as a result of the global impact of lockdowns and restrictions. This alone makes the response to Covid the single most lethal policy that Governments have ever adopted, potentially killing many times more than Mao, Stalin and Hitler combined.
Now we can see the combined impact of all this: it's clear in the figures today and it's a timebomb – the excess death from fear and restrictions will only grow while current policies continue.
Before the lockdowns, 9,000 people had waited more than a year for operations. Now it's close to 200,000. These are not life-threatening conditions, but cause huge pain and misery. Worse, routine problems become life-threatening if left untreated. The problems we already have mean that the NHS will be in crisis for years.
Each of these people is suffering: so many are in pain, misery, and worse. For many, there is no hope to an end: no indication of a way out. The spiralling backlog of undiagnosed and untreated conditions will see the NHS in crisis for years.
Recovery Campaign Director Jon Dobinson warned that tougher lockdowns, as many are calling for, would only make things worse:
The shocking excess death figures released today have seen hysterical calls for even tougher lockdowns. But that would only make these problems worse. As experts have been warning from the outset, these toxic lockdowns merely kick the can down the road – they postpone problems, they don't fix them. By prolonging the crisis and extending the period over which deaths take place, they are creating a disaster. We'll see another easing over the summer, but that will be blamed for worse problems in the NHS by the autumn. As Government experts are already warning, vaccination will not end this – new strains and new pressures will see the deadly cycle continue for years unless we find a better way. Even now, the problems are getting worse. We have to recognise the issue and take urgent action before it spirals even further out of control. The latest NHS data shows even fewer non-Covid patients are now being treated. We're spending billions on failed policies which have only made the pandemic worse. It's time for our leaders to acknowledge and address the timebomb of untreated conditions and economic devastation. They are now a terrifying threat to the health and welfare of the UK in themselves. Otherwise, the excess deaths of 2021 and beyond will dwarf even these.

https://lockdownsceptics.org/