by: Ethan Huff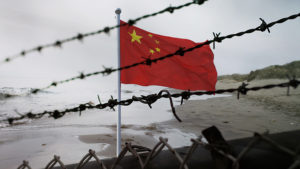 (Natural News) Less than a month before the election, a Swiss bank that is 75 percent owned by communist China forked over $400 million in cash to Staple Street Capital, the parent company of Dominion Voting Systems.
Dominion, which operates electronic voting machines in 28 states, has been the subject of election fraud inquiries and lawsuits alleging that the machines and their software switched, altered and deleted votes on behalf of Joe Biden.
As first reported by Infowars, an SEC (Securities and Exchange Commission) filing from Oct. 8 shows that Staple Street Capital received $400 million "with the Sales Compensation Recipient identified as UBS Securities." Back in Dec. 2014, $200 million was received by Staple Street Capital from the same source.
"UBS Securities is a Swiss investment bank which owns 24.99% of UBS Securities Co LTD, a Chinese Investment Bank," reports explain. "The remaining 75% of UBS Securities Co LTD is owned by the Chinese government."
Beijing Guoxiang owns 33 percent of UBS Securities Co LTD; UBS owns that 24.99 percent previously mentioned; Guangdong Comm Group [zh] owns 14.01 percent; China Guodian owns 14 percent; and the COFCO Group owns 14 percent.
In other words, UBS Securities is a 100 percent Chinese-owned corporation, and it gave nearly half a billion dollars to a company that runs most of America's elections, just days before the most contested and obviously fraudulent election in American history.
To help Sidney Powell, one of the attorneys working to pursue justice against election fraud, be sure to visit her website.
Where is AG Bill Barr, and why hasn't he done anything to fight against this?
To be clear, Beijing Guoxiang, Guangdong Comm. Group, China Guodian, and the COFCO Group are all communist Chinese front groups. This means that communist China is pulling the strings by funneling money to Dominion, which evidence shows rigged the 2020 election.
"Beijing Guoxiang is a state owned asset," reports The National Pulse, as relayed by The Gateway Pundit.
"Guangdong Comm. Group 100% stakeholder is the Guangdong Provincial Government. China Guodian is state owned enterprise administered for the SASAC for the state Council. COFCO Group is a state owned enterprise under the direct supervision of the SASAC."
As for SASAC, which stands for the State-owned Assets Supervision and Administration Commission of the State Council, this is a special commission of the People's Republic of China, which operates directly under the State Council.
One must ask himself why communist China would be willing to pay an elections company that operates in America such a large sum of money just before an election that was riddled with clear and unequivocal fraud? And why on earth has Attorney General Bill Barr done absolutely nothing about it?
Barr, as you may have seen, is actually now saying that there is no evidence of election fraud, just like CNN. Does this revelation about UBS and the communist Chinese regime, among all the other evidence we have been reporting on, not count for anything?
"How is it possible that attorneys Lin Wood and Sidney Powell always seem to know what is going on with respect to the most massive fraud scheme in U.S. history that happened on or about Nov. 3, 2020, and yet there is still no Attorney General Bill Barr and / or the United States Department of Justice?" asked one commenter at The Gateway Pundit. "How does that work?"
"The media is blatantly part of this," responded another, further suggesting that it is time for a declaration of limited martial law to fix the problem. "We need the military to stop the propaganda right now."
You will find more of the latest news about the fraudulent 2020 election at Trump.news.
https://www.naturalnews.com/2020-12-03-swiss-bank-communist-china-paid-dominion-400-million.html#