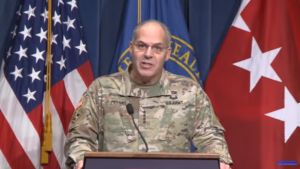 (Natural News) Highlights of today's Situation Update for Dec. 13th, 2020: (full podcast below)
CIA assassination squads are active in America, taking out election fraud witnesses.
We are all now living on an active battlefield (CONUS).
Millions of Americans being held as Prisoners of War (POWs) by Democrat governor lockdowns.
Media hit pieces and smears have morphed into acts of journo-terrorism.
Censorship by big tech has now reached the level of domestic terrorism.
Trucker blockades coming. Siege warfare against blue cities will begin.
New executive order alters chain of succession at DoD in case Secretary of Defense is killed.
Biden, Harris to be named in DNI Ratcliffe's Dec. 18th report… huge implications, Trump can leverage against Biden to try to force Biden to concede.
Gen. Perna Operation Warp Speed / Vaccine D-Day briefing: Perna says "vaccine D-Day" is "the beginning of the end."
China is surrounding the United States via Canada and the Caribbean, and plans a combined land invasion and missile attack in the future.
Forensic audit of Dominion voting machines confirms their algorithms alter votes. Absolute proof now exists that the election was stolen via rigged tabulation software.
Sidney Powell readies criminal RICO / Racketeering case against Dominion conspirators.
Listen to the full Situation Update podcast here (1 hour, 20 minutes), and see more detailed notes and sources below.
Brighteon.com/fc65632e-e3c2-4b04-a686-3fe0a274cdae
Hear all Situation Updates (one posted each day) at the Health Ranger Report channel on Brighteon.com.
Sources and notes from the Situation Update
CIA assassination squads ACTIVE. "Key witnesses are being taken out. Fourth one this morning. MSM hiding everything."
Gen. Perna Operation Warp Speed / Vaccine D-Day briefing:
Perna: "D-day… is the beginning of the end, and that's where we are today."
Censorship has become domestic terrorism: YouTube just deplatformed Scott Adams – Washington Times
Scott Adams hit by YouTube for 'deceptive' content: 'They'll come for the other videos soon.'
Extreme censorship / coercion of public for political cover-up purposes meets definition of domestic terrorism by Big Tech.
Dem Governor lockdowns are domestic terrorism
Title 18, Section 2331(5) of the US Criminal Code, that defines "domestic terrorism" as: "activities that appear to be intended to intimidate or coerce a civilian population and influence the policy of a government by intimidation or coercion"
https://www.law.cornell.edu/uscode/text/18/2331
the term "domestic terrorism" means activities that
(B)appear to be intended—
(i)to intimidate or coerce a civilian population;
(ii)to influence the policy of a government by intimidation or coercion; or
(iii)to affect the conduct of a government by mass destruction, assassination, or kidnapping; and
(C)occur primarily within the territorial jurisdiction of the United States;
Dec. 11th Executive Order giving government employees a vacation day for Christmas Eve
Section 1.  All executive departments and agencies of the Federal Government shall be closed and their employees excused from duty on Thursday, December 24, 2020, the day before Christmas Day.
Sec. 2.  The heads of executive departments and agencies may determine that certain offices and installations of their organizations, or parts thereof, must remain open and that certain employees must report for duty on December 24, 2020, for reasons of national security, defense, or other public need.
Dec. 10th EO: Executive Order on Providing an Order of Succession within the Department of Defense
…the following officials of the Department of Defense, in the order listed, shall act as and perform the functions and duties of the office of the Secretary of Defense (Secretary) during any period in which the Secretary has died, resigned, or otherwise become unable to perform the functions and duties of the office of the Secretary, until such time as the Secretary is able to perform the functions and duties of that office:
(i) Deputy Secretary of Defense; (David L. Norquist was sworn in as the 34th Deputy Secretary of Defense on July 31, 2019), he was BYPASSED by the appointment of Chris Miller. Which means Trump trusts Miller more than Norquist.
(ii) Secretaries of the Military Departments;
(iii) Under Secretary of Defense for Policy;
(iv) Under Secretary of Defense for Intelligence and Security;
(v) Chief Management Officer of the Department of Defense;
(vi) Under Secretary of Defense for Acquisition and Sustainment;
(vii) Under Secretary of Defense for Research and Engineering;
(viii) Under Secretary of Defense (Comptroller);
… (continues)
China surrounding the USA: Ezra Levant on Tucker Carlson Show: "Trudeau Trained Chinese Troops in Canada"
Ezra Levant: "Canada is training one and two start Chinese generals in our war colleges, training lieutenants and majors, commanders."
The biggest scoop I've ever had in my life. Trudeau invited Chinese troops to learn winter warfare tactics at the Canadian Forces Base @GarrisonPet. 34 unredacted pages of cowardice and appeasement towards China, hostility towards America.
'Top secret' government documents have revealed that Canadian Prime Minister Justin Trudeau invited China's People's Liberation Army (PLA) to send its troops to Ontario for cold weather training and was unhappy when it was canceled, according to two Canadian media outlets.
The Canadian government's bombshell secret 34-page file was obtained by Rebel News and The Globe and Mail.
Chinese Military Bases in The Caribbean? – Gatestone Institute
Of more concern to US security interests is the ongoing seaport expansion project in the already commercially important port at Kingston, Jamaica, as well as the port at Freeport, Bahamas, China's possible new base of operations 90 miles off the US coast.
China's Communist Party (CCP) seems to be implementing a multidimensional strategy in the Caribbean, reaping economic, political and potentially military gains a few miles offshore the United States. China's ultimate objective of its Caribbean strategy may well be to confront the US, not only with its presence near the mainland US, but also with a situation analogous to America's military presence in the region of the South China Sea. There, China created new islands in the sea, pledged not to militarize them, then went and militarized them.
Sidney Powell's cases have standing with SCOTUS – 100PercentFedUp.com
Pay attention! We made emergency filings in Supreme Court tonight for Georgia & Michigan. Will be filing Arizona Wisconsin shortly. These cases raise constitutional issues and prove massive fraud.
Our plaintiffs have standing.
We The People will not allow rigged elections.
The forensic analysis of Dominion machines has found proof of algorithmic alterations of election outcomes
Attorney: Michigan Vote Flip Happened Due to Computer Program, Not Human Error – The Epoch Times
An attorney in a Michigan election case on Friday said that an infamous vote flip happened because of a computer program, not human error.
"Secretary of State Jocelyn Benson said it happened by human error. We discovered that's not true, that's a lie. It didn't happen by human error. It happened by a computer program called Dominion Voting System[s]," Matthew DePerno said on Newsmax.
DePerno is representing plaintiff William Bailey in a lawsuit against Antrim County. Bailey noted that the county initially reported Democratic presidential nominee Joe Biden winning the county by more than 2,000 votes over President Donald Trump, but later changed the results to show Trump received nearly 4,000 more votes than Biden.
DePerno said that through the lawsuit, his team was able to get access to the Dominion Voting Systems program. They went earlier this month and retrieved 16 thumb drives and 16 data cards, as well as the forensic image of the actual tabulation machine in the Antrim County clerk office.
While the information they gathered is subject to a court-issued protective order…
"My team has been running analysis through that forensic image since Sunday," he said.
Assistant Attorney General Heather Meingast told The Detroit News that the imaging was done by the Allied Security Operations Group and a resident of the Village of Central Lake. Allied, based in Washington, didn't respond to a query.
Sidney Powel Names Four Co-Conspirators, Prepares Massive Rico Case Against Smartmatic, Dominion – WeLoveTrump.com
The Kraken is in fact, being released.
Sidney Powell just released the names of four alleged co-conspirators who led the effort to rig the election.
Powell is planning a massive RICO case against both Smartmatic and Dominion.
She went on "Lou Dobbs Tonight," where she released more information on the voting software, and this "Cyber Pearl Harbor."
According to Powell, her team has "reams and reams of actual documents" showing that Smartmatic and Dominion executed this entire coup.
"Sidney Powell points out that George Soros, Lord Malloch Brown, the names you see below – and many more were involved in the "Cyber Pearl Harbor" attack against our nation on NOV. 3-4 and after.  LISTEN:"
From FreedomNewsUSA.com:
They designed and developed the Smartmatic and Dominion programs and machines that include a controller module that allows people to log in and manipulate the vote even as its happening," Powell said. "We are finding more and more evidence of this."
Powell claims that she and her legal team have compiled "reams and reams of actual documents" from the firms showing that Dominion and Smartmatic "planned and executed all of this."
"We know that 400 million dollars of money came into Smartmatic from China only a few weeks before the election, that there are George Soros connections to the entire endeavor," Powell said – bringing up Eric Coomer and Mark Malloch Brown as two individuals she believes are involved with the entire scheme.
Powell explained that the documents are still being reviewed but investigators are getting a clear picture of who the major players are. Some of these individuals reportedly include former Venezuelan communications director Jorge Rodriguez, Hezbollah liaison Khalil Majid Mazoub, software designer Gustavo Reyes Zumeta, and Smartmatic CEO Antonio Mujica.
"Frankly, our national security agency and defense intelligence agency need to be all over this immediately. The evidence is overwhelming and extremely troubling that this has been going on and didn't just start this year," Powell said.
Game-Changing Video Shows Blank GA Ballots Turned Into Votes Using Dominion Machine – WesternJournal.com
Two recently released videos seem to reveal a possible method of voter fraud using Dominion Voting System software.
Filmed by a Georgia county election supervisor, the videos demonstrate serious security flaws within Dominion's adjudication process. The company's machines were used in Georgia and other states during the still-contested November general election.
In the videos, Misty Martin, elections director of Coffee County, gives a step-by-step demonstration of how this fraud could have taken place.
In the first video, Martin walks through the process, which involves election supervisors analyzing ballots that were unable to be scanned into the Dominion machines.
Martin seemingly demonstrated in the video, however, that an election official can simply use Dominion's software to process any ballot however he or she sees fit.
Completing this poll entitles you to The Western Journal news updates free of charge. You may opt out at anytime. You also agree to our Privacy Policy and Terms of Use.
Trump votes could be turned into votes for his Democratic opponent, Joe Biden, or vice versa. Blank ballots could be attributed to any candidate.
Essentially, election supervisors would have the power to use this system to create votes from nothing.
https://www.naturalnews.com/2020-12-13-situation-update-dec-13th-gen-perna-announces-vaccine-d-day-beginning-of-the-end.html