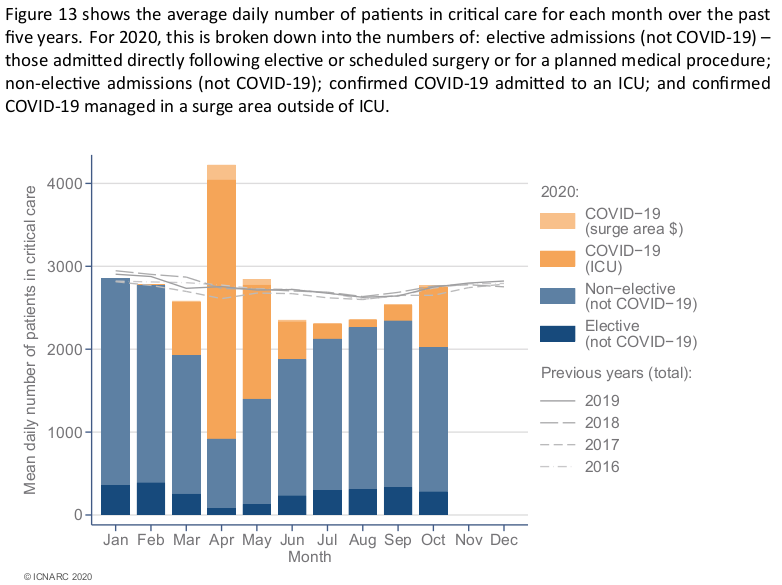 We're publishing an original piece today by Neville Hodgkinson, former medical and science correspondent of the Daily Mail and Sunday Times and a sharper, more clear-eyed analyst of the Covid fiasco than many of his present-day counterparts. He has spotted that the number of critical care patients in hospitals was no higher in October than it has been for the previous five years (see above). Odd, when October was supposedly the peak of the "second wave", when, according to Witless and Unbalanced, NHS trusts were so close to being overwhelmed that if we didn't lock down immediately Covid deaths would climb to 4,000 a day. I'll let Neville take it from here.
The October figure shows an increase in patients in critical care whose illness was attributed to Covid, but nowhere near that of the April peak. And it hasn't continued to rise: latest figures show a decline in both admissions and deaths where Covid was involved.

Total deaths are running at about a fifth higher than the five-year average, though how much of that is attributable to the massive disruption of people's lives caused by the lockdown, or to the virus, is questionable.

About 1,800 people die each day in England and Wales currently, and out of those about 430 are said to involve Covid. This is a far cry from the prediction of up to 4,000 deaths a day by this month, made in one of the slides shown by Chief Scientific Adviser Sir Patrick Vallance and Chief medical Officer Chris Whitty when they explained the necessity for a second national lockdown.

The figures have immense implications for Government policy. They call into question the value of the restrictions that are still in place, which are continuing to damage the wellbeing of millions.
Worth reading in full.
https://lockdownsceptics.org/