Kathy Gyngell has written a cracking piece in Conservative Woman responding to the threat of Tier 3 restrictions for London (a decision on which is expected next Wednesday, though it is being trailed as inevitable) on the basis that an "expert", Professor John Ashton, said they were needed.
The growing body of evidence on the shortcomings of the super-labs set up to process hundreds of thousands of PCR (polymerase chain reaction) tests every day must have passed him by. Even the BBC was forced to report 'Hundreds get wrong results due to Covid test error' in the week preceding this latest round of Covid scaremongering.

That report is but the tip of the PCR iceberg. A week ago, research published in Clinical Chemistry confirmed what Dr Mike Yeadon believes, that laboratory contamination is a major cause of false positive COVID-19 tests. 

Yet once again it [sic] not wise scientists like Yeadon the government heeds but fanatics like Ashton.

You have only to stop and consider the number of people who've been told to self-isolate unnecessarily, to stay off work, avoid any human contact,  who've been taken away from their front line duties; you have only to consider the number of  hospital patients unnecessarily and dangerously placed on a COVID-19 ward (where they really run a risk of catching it) to marvel at the insouciance with which these 'experts' call for more closing down of society and the economy.
Kathy notes a new report on the mass testing of 9,453 Cambridge students that last week found just 10 positives, 100% of which turned out on re-testing to be false.
Undeterred, Health Secretary Matt Hancock has announced mass Covid testing for secondary schools in the worst-affected London boroughs to try to curb rising "cases" in the capital. To be fair, these are lateral flow tests (LFT) not PCR tests, which are more accurate, though will still give false positives and false negatives, particularly if handled incorrectly.
But is London really in the grip of a deadly second wave of coronavirus that would rage uncontrolled if we do not maintain and even tighten these ruinous restrictions? PCR testing might give you that impression.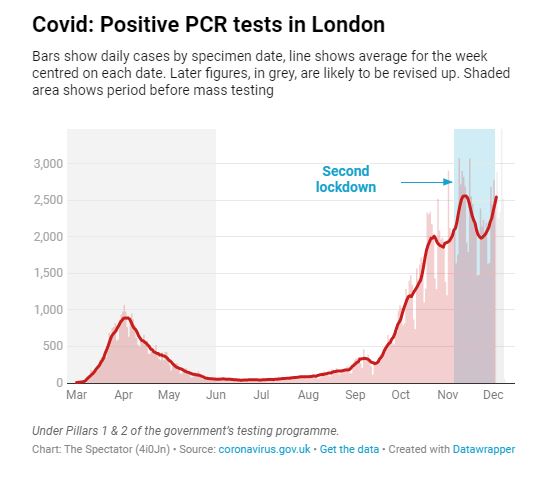 But what do other data show? Here's London ICU occupancy.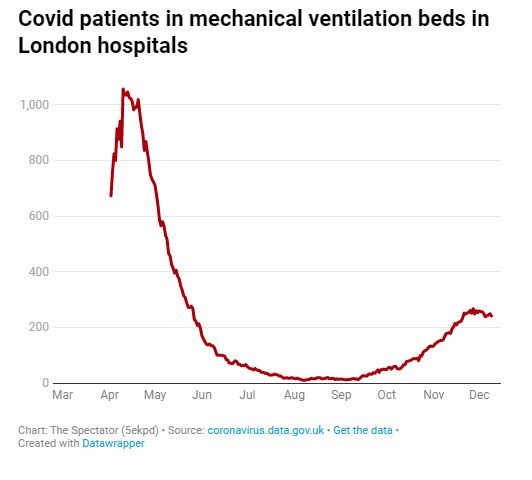 This shows that only about 80% of ventilation beds are occupied, which is below average for the time of year. While it's true that absolute numbers of ICU patients are a little above average in London at the moment, as far as hospital capacity is concerned that is not the crucial issue as long as hospitals are within their surge capacity, which they are.
What about 111 calls for potential Covid?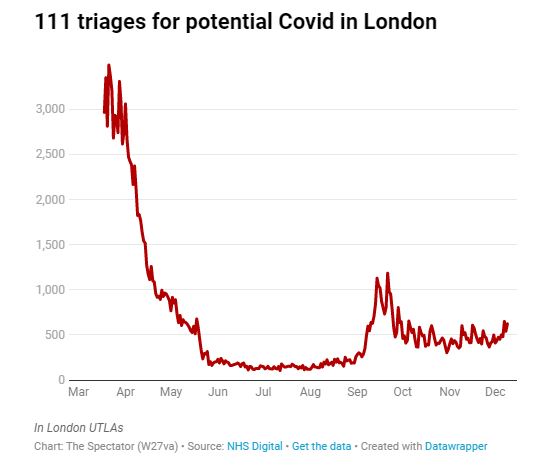 Nothing troubling there. This graph is also a close match in shape to hospital attendances for respiratory illnesses (like Covid and flu), which are still trending below the baseline. So where is this epidemic hiding? It must be somewhere. Perhaps there's a clue here. This is the UK PCR "cases" graph.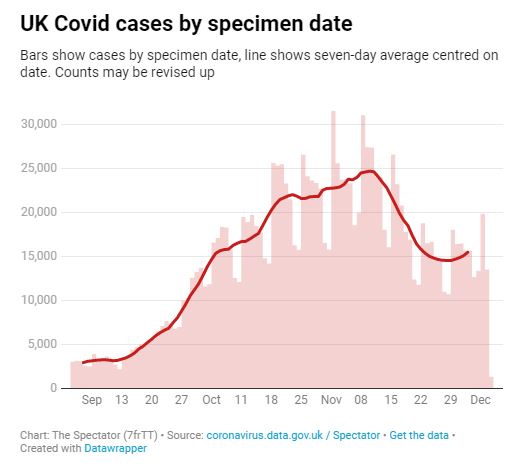 And this is the ZOE app graph of estimated UK symptomatic Covid (which relies on reported symptoms so avoids most of the PCR false positive problems).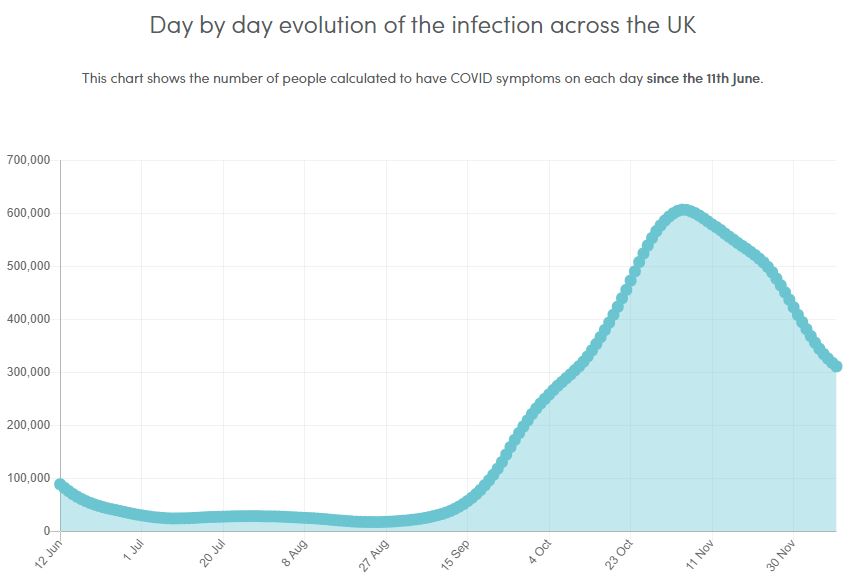 Not exactly the same shape – where's the recent rise in cases? The ZOE team estimate there are currently around 311,000 cases of symptomatic Covid across the UK, a figure that has been in continuous decline since November 4th, before the last lockdown began. Yet this is not the picture our "gold standard" PCR testing is giving us.
So I ask again – where is the runaway epidemic, or even the beginnings of one, that could justify the kinds of life-limiting, job-destroying restrictions we continue to be forced to live under? Nowhere that I can see.
Stop Press: Sweden's PCR "cases" continue to rise, but its ICU occupancy fell last week, according to new figures published yesterday.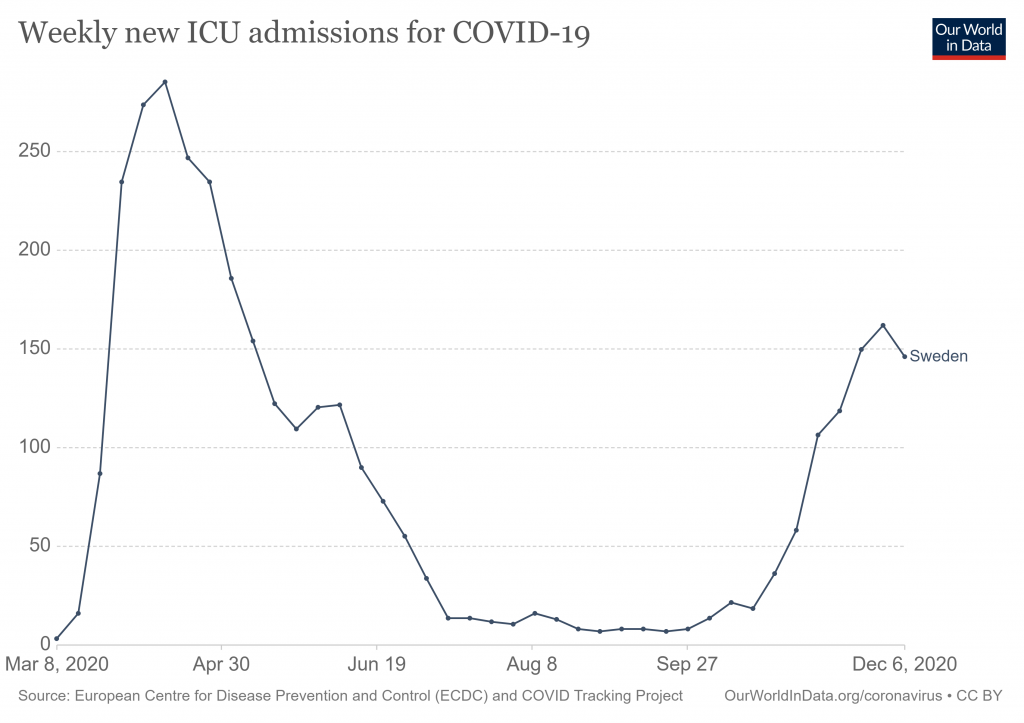 Perhaps that's why the no-lockdown country still has no excess mortality this autumn, and falling fast.
Stop Press 2: The Welsh Government is planning a second firebreak lockdown from December 28th. The inexorable lockdown logic strikes again.
https://lockdownsceptics.org/