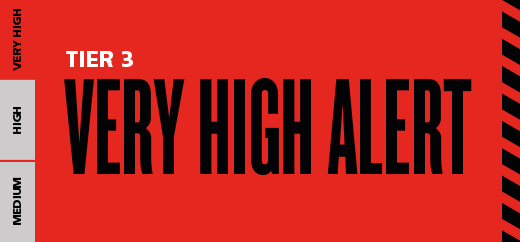 Is London set to join Kent and vast swathes of the North in Tier 3, and see its restaurants and pubs once again close their doors when the Tier system is reviewed on Wednesday? Sadly the answer appears to be "quite likely". The Telegraph has the story:
It is "inevitable" London will go into Tier 3, health sources say, amid warnings that the latest data on infections in the capital is "catastrophic". MPs from London and the surrounding areas are due to be briefed on Monday on figures that show the rate of infection is now doubling every four days.

One health source said the latest data was "terrifying", with rates in the capital worse than those of Liverpool or Manchester when they entered Tier 3, giving the Government little choice but to introduce the harshest restrictions. In spite of some variations between different parts of the capital, he said the London boroughs were seen as "far too interconnected" to each other to be split up.

"The new data makes it likely London will go into Tier 3," said another Government source, describing the latest figures as "catastrophic". Another Government insider said: "Boris will be very against putting London in Tier 3. But I think it's more than 50% likely London will go into Tier 3."
The move is forecast to cost the economy £3 billion, pushing businesses that have survived thus far to breaking point. The Guardian describes what it could mean for a restaurant owner in Upminster:
Festive lights twinkle on the outside terrace of Upminster's Osteria Due Amici Italian restaurant with outdoor tables placed beneath heaters, and indoor tables separated by Perspex screens.

Owner Edward Xhetani, 38, has done everything to entice customers and be Covid-compliant. It was due to be fully booked on Friday night. "But if we go into Tier 3, I'm done. That's the truth. I don't have a chance," he said.

At the furthest eastern reach of the District line, Upminster lies in the London borough of Havering, where coronavirus infection rates are among the highest in the capital. Xhetani was banking on pre-Christmas trade. Instead, he faces the prospect of closing down and letting his 20 staff go. Takeaway deliveries, permitted under Tier 3, are not financially viable. "I don't think we will survive."
Opposition to the move is growing among Tory MPs, especially those representing London constituencies, with many calling for the city to be split into different tiers. From the Mail on Sunday:
London's Tory MPs have urged Boris Johnson not to inflict "untold damage" on the capital by moving it into a Tier 3 lockdown this week. In a letter seen by the Mail on Sunday, the MPs urge the Prime Minister to spare the capital because shutting it down would hurt not just Londoners, but "people across the nation" who depend on the "wealth and prosperity generated by our great city"…

In a pre-emptive strike ahead of a review of the capital's restrictions, six senior Conservatives signed the letter, organised by Harrow East MP Bob Blackman, which warned that many London Tory MPs could vote against the Government's COVOD-19 [sic] approach when it is reviewed next month if the city is plunged into Tier 3.

Separately, Nickie Aiken, the Conservative MP whose constituency includes the West End, said Tier 3 would be a "disaster" for London and destroy livelihoods.

Mr Blackman said last night he supported the proposal to split London into different tiers, adding: "The least-affected areas should not be governed by the worst-affected areas." He said he would vote against renewing the current anti-Covid regime next month if London was forced into Tier 3, and warned that many other London Tory MPs would do the same.

However, former Tory leader Sir Iain Duncan Smith said it would be a "mistake" to put even some London boroughs into Tier 3. Sir Iain, MP for Chingford and Woodford Green in North-East London, warned that the virus increases in his area were among schoolchildren, not the elderly population more at risk.

And Ms Aiken said the approach of dividing the capital into different restriction zones would be "near impossible to police".

Chancellor Rishi Sunak and Business Secretary Alok Sharma have raised concerns over plunging the capital into Tier 3.

The MPs' letter highlighted the Government's own estimate last month that 550,000 jobs would have been at risk if London had been put in Tier 3 last month. They warned: "It would be a false choice to pit lives against livelihoods when it comes to deciding which Covid restrictions should apply in London. We believe the Government can both protect lives and livelihoods with a more measured approach of keeping our capital open while also bearing down on this terrible virus."
Officials have confirmed that London will be treated as a whole, with Matt Hancock stating that "narrow carve-outs" of areas with lower rates of infection often leads to them catching up or overtaking areas with a higher prevalence of COVID-19.
Tim Spector, a leading epidemiologist and the creator of the COVID-19 Symptom Study app, has also warned against putting the capital in Tier 3. From the BMJ:
Speaking at a Royal Society of Medicine event, Spector said, "This on-off business is a total disaster, and we should avoid it. In London the decrease has stopped and is flat or slightly increased. Most of the cases are in north London at the moment. It would be a big mistake if London goes into Tier 3. I think everyone should be coming down a tier and stay somewhere between Tier 1 and 2 until April, when we see the vaccine taking effect."

Spector said there was a danger that people would engage in risky behaviour if they thought their freedom was about to be curtailed even further. "Drinking and festivities will happen if people think that in two days' time that is it for another six weeks. It would be madness to do that."

"We need to think about these tier systems. The whole point should be the capacity of the NHS to deal with it locally. At the moment, according to our data, London has plenty of spare capacity [in hospitals]. We know we aren't going to get rid of this virus before the vaccine, so we need to make sure the NHS is under control and that people over the age of 60 are not getting it at bad rates and have some clear criteria."

He said the Government should stop treating people like "cattle" to be led and instead give them better information and trust them to do the right thing. "Just having this league table of who is being relegated and promoted and this on-off effect is madness," he added. "We need a much more consistent pattern that we can all relate to. If you tell people the truth and what is going on in the area, they will behave responsibly. They need to be part of the discussion not treated as if they are cattle."
Here, as a point of reference, is the latest critical care bed occupancy numbers from the Spectator's COVID-19 data tracker.

Stop Press: The data from Tim Spector's Zoe Covid Symptom study is well worth looking at for a detailed and nuanced picture of rises and falls in cases. The most recent data press release (dated December 11th) presents findings that though cases are rising in Wales and London they are falling in much of the rest of the country:
There are currently 19,190 daily new symptomatic cases of COVID-19 in the UK on average over the two weeks up to December 6th (excluding care homes). This compares to 20,497 daily new symptomatic cases a week earlier.
The UK R value is 0.9. Regional R values are: England 0.9, Wales 1.1, Scotland 0.8.
Age groups: cases in the over-60s that contribute to hospital admissions continue to slowly decrease over time
That press release also provides details of the survey's new English Tier Dashboard, which uses data from both the app and other publicly available sources to rank regions according to the criteria of the tier system. Commenting, Tim Spector said:
The new English Tier Dashboard aims to provide information to the regions based on the Government's own criteria. Key parameters in changing tiers is the rates in the over 60s and the percentage of hospital beds occupied by COVID-19 patients. Currently we have no data that suggests that the NHS in England is at risk of being overwhelmed. Before increasing restrictions I believe a full  cost-benefit evaluation should be made, that accounts for other factors such as mental health, the economy and employment. The good news is that in all the key regions, the dashboard is either trending down or staying the same, so things aren't getting worse.
Worth reading in full.
https://lockdownsceptics.org/