See all 22 adverse effects listed on FDA's COVID-19 Vaccine Saftey Surveillance bulletin — it may SHOCK you!
The FDA posted a list of adverse effects of the COVID-19 vaccine on its official government website.
The 22 potential adverse effects listed on the official Food and Drug Administration website are:
 Guillain-Barrésyndrome
Acutedisseminatedencephalomyelitis
Transversemyelitis
Encephalitis/myelitis/encephalomyelitis/meningoencephalitis/meningitis/encepholapathy
Convulsions/seizures
Stroke
Narcolepsyandcataplexy
Anaphylaxis
Acutemyocardialinfarction
Myocarditis/pericarditis
Autoimmunedisease
Deaths
Pregnancyandbirthoutcomes
Otheracutedemyelinatingdiseases
Non-anaphylacticallergicreactions
Thrombocytopenia
Disseminatedintravascularcoagulation
Venousthromboembolism
Arthritisandarthralgia/jointpain
Kawasakidisease
MultisystemInflammatorySyndrome in Children
Vaccineenhanceddisease
Page 6 from the bulletin: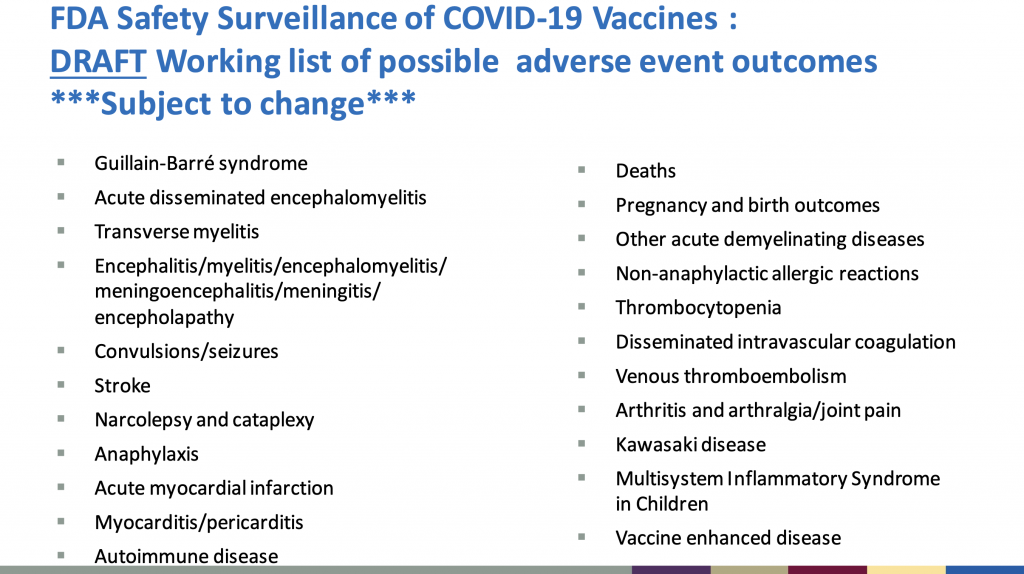 You still want the vaccine? Any questions?
Source: Vaccines and Related Biological Products Advisory Committee October 22, 2020 Meeting Presentation — FDA.gov
Shepard Ambellas is an opinion journalist, analyst, political pundit, nationally syndicated radio talk show host, and the founder and editor-in-chief of Intellihub News & Politics (Intellihub.com). Shepard is also known for producing Shade: The Motion Picture (2013) and appearing on Travel Channel's America Declassified (2013). Shepard has been a contributor to Alex Jones's  Infowars platform and is also a regular on Coast To Coast AM with George Noory.