FOX, CNN, AND ALL OTHER MSM OUTLETS HAVE DELETED THEIR ELECTION NIGHT COVERAGE.
YES, THEY BLOOPERED IT AND WERE LIVE DISPLAYING THE OUTPUT OF THE ELECTION STEALING SOFTWARE IN REAL TIME, AND WHEN IT STOLE VOTES, IT SHOWED UP RIGHT IN THEIR BROADCASTS. So what do you do? You delete your election night coverage, that's what!!!
This blog (Jim Stone) is highly emotional about the election result.  Maybe he's right to say what he says.    How can a country that rigs a Presidential election in broad daylight be a safe place for justice and peace?  Do you run or do you fight? Where do you run to?  One commenter on the chat button says he's leaving the US for Mexico.  I wish him luck.  Jim Stone blog rants –
I AM GOING TO SAY IT LIKE IT IS: IF YOU RUN A FORUM, BLOG, OR ANYTHING ELSE AND YOU ENCOURAGE NON-VIOLENCE AT THIS TIME, YOU ARE A PIECE OF SH*T.
YOU ARE A PIECE OF SH*T BECAUSE RATHER THAN STICK YOUR NECK OUT YOU'D RATHER ENCOURAGE PEOPLE TO SIT BY PEACEFULLY WHILE THE COMMUNISTS TAKE OVER, AND BURY THE NEXT GENOCIDE IN THE COVID STATS. THAT'S WHERE WE ARE HEADED IF WE SIT BY PASSIVELY AND LET THEM TAKE THIS COUNTRY VIA FRAUD – STRAIGHT INTO THE COVID STATS, JUST LIKE DISSIDENTS IN CHINA.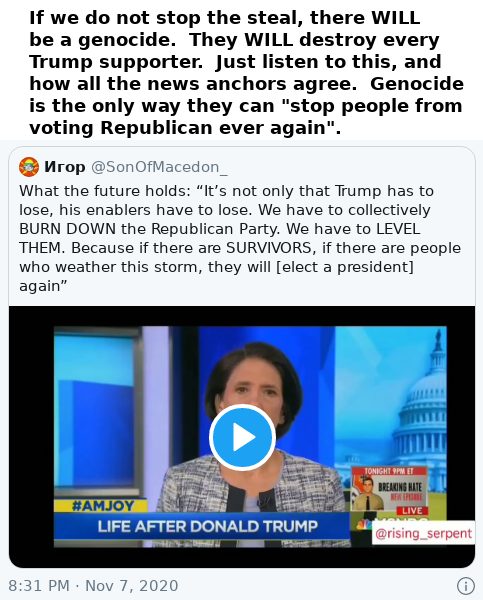 THOSE ENCOURAGING NON-VIOLENCE ARE PIECES OF SHIT BECAUSE: While you post all about "The Hammer" and how it has EVERY TRUMP SUPPORTER flagged, bagged, and tagged for extermination YOU STILL say "NO VIOLENCE DISCUSSED HERE PLEASE, Oh, I'm worried about my @SS." QUESTION: Is that how we avoid getting genocided? By worrying about where our @SSES END UP? Can you avoid getting your nation stolen and the subsequent communist genocide by sitting around talking about how bad it is to use violence to put things right? What patriot EVER put things right by worrying about his own behind? Certainly not YOU, if you tell everyone to shut up about it. Anyone who encourages "peaceful protest" rather than putting things right at this point in history is just marching lemmings off a cliff.
WAKE THE HELL UP PEOPLE: IF BIDEN ACTUALLY STEALS THIS ONCE AND FOR ALL, VIOLENCE WILL NOT BE "AN ANSWER", IT WILL BE THE ONLY ANSWER OR YOUR FAMILY, WIFE, AND KIDS ARE GOING TO BE FED TO THE PIGS JUST BECAUSE "THE HAMMER" SAID SO. WTF ARE YOU MADE OF IF YOU LET THAT HAPPEN? IN SHORT ORDER, YOU'LL BE MADE OF PIG SHIT.
I am NOT going to sit here and cower away from reality. If I lose my behind over saying it like it is – if I get carted off for this, one thing is certain, on my way out I won't be the only one gone, the other side WILL TAKE LOSSES. And that's how the tree of liberty gets watered. At this point in history, THAT particular tree is so parched it has been reduced to stubble.