UPDATE: Trump just released this:
"We all know why Joe Biden is rushing to falsely pose as the winner, and why his media allies are trying so hard to help him: they don't want the truth to be exposed. The simple fact is this election is far from over. Joe Biden has not been certified as the winner of any states, let alone any of the highly contested states headed for mandatory recounts, or states where our campaign has valid and legitimate legal challenges that could determine the ultimate victor. In Pennsylvania, for example, our legal observers were not permitted meaningful access to watch the counting process. Legal votes decide who is president, not the news media.
Beginning Monday, our campaign will start prosecuting our case in court to ensure election laws are fully upheld and the rightful winner is seated. The American People are entitled to an honest election: that means counting all legal ballots, and not counting any illegal ballots. This is the only way to ensure the public has full confidence in our election. It remains shocking that the Biden campaign refuses to agree with this basic principle and wants ballots counted even if they are fraudulent, manufactured, or cast by ineligible or deceased voters. Only a party engaged in wrongdoing would unlawfully keep observers out of the count room – and then fight in court to block their access.
So what is Biden hiding? I will not rest until the American People have the honest vote count they deserve and that Democracy demands."
My comment: That's just great Trump, you had damn well better at least bring the beef we all already know about!!! Giuliani absolutely SUCKED.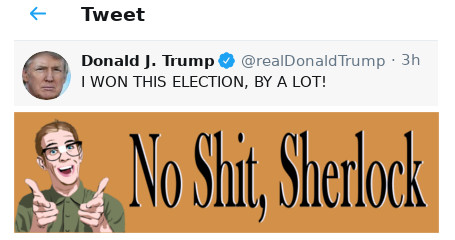 Actual vote totals (approximate to within 2 percent on Biden:)
Trump: 73.5 million.
Biden: 25.9 million.
Those are the real numbers, MINUS Trump votes that were tossed and never accounted for, Trump might have over 100 million but Biden definitely got 25.9 million. We'll never know the actual number of Trump votes because so many were thrown away.
The CIA leadership should be publicly lynched for their vote theft software, and the rest of the CIA should be disbanded and blacklisted from employment for the rest of their lives. They belong on the streets rattling cans, and if they did, they'd starve because NO ONE would drop a dime, including leftists who will only do so with other people's money.
That said: TRUMP RALLIES TODAY IN ALL MAJOR CITIES
This has gotten censored. I mentioned this last night also. Social media is attempting to block this from happening. There are supposed to be widespread Trump rallies/protests against vote fraud.
I have done nothing but pay attention to this situation, and here's where we are at as of Saturday morning (without you having to go and surf 50 sites to get this –
The watermark story is a probable hoax, however, there were other sting operations underway and Biden is hopelessly, irrevocably busted. That's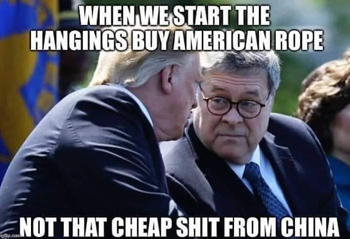 why no winner has been announced. I really don't know where this will all land in the end but there is such a mountain of fraud this time that it was like trying to contain the aftermath of a nuclear blast, containment is totally breached. There are even videos of CNN broadcasts that prove there is fraud, where numbers for the Republican candidates go DOWN, live, on screen, with votes vanishing, ON SCREEN, right on CNN. This time it was BAD folks, there's no way out of it. Now there are (according to my estimates,) 48.1 million false votes for Biden. And they did not stop there, they went to steal the house and senate also. So it's not just Trump that will blow this open, tons of Republican candidates are on stage for this sh*T show and it looks like it is going to be good.
However, no matter how good it is people must keep in mind the outcome is not guaranteed to be righteous because we are indeed in the middle of an attempted communist coup, and as I said in the subsequent post, that's the key factor in this – is America sufficiently subverted for the communists to simply brush all of this obvious fraud away? We are going to find out. I strongly suggest that if you can, pack your picnic basket and head into the city (preferably your state's capitol) today and join in the protests.
You know what I'd like to see? An ocean of guns, with everyone screaming: "This protest is peaceful, for now!". THAT would send a message!
There are over 50 rallies, but these are especially important:
MI – 9:30am TCF Center (Detroit)
ATL – 12pm State Farm Arena
PA – 12pm PA Capitol Harrisburg
DC – 1pm RNC Office 320 1st St SE