JOE BIDEN AND KAMALA HARRIS OUTRIGHT STOLE THIS ELECTION
---
And they both know exactly how it was done.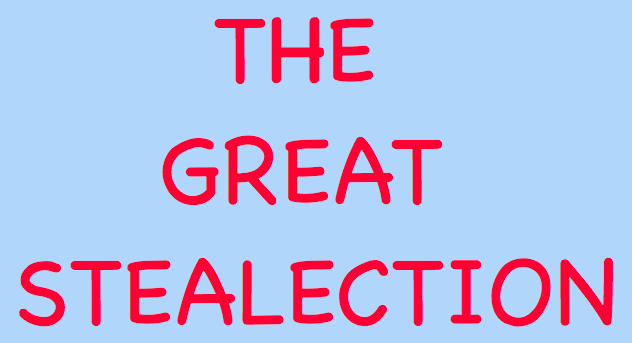 State of the Nation
What the American people have just witnessed is the most reckless and transparent and brazen election theft in U.S. history.  No, in recorded world history!
The multiple institutional perpetrators of this highly organized and complex criminal conspiracy really thought they could get away with this "Heist of the Millennium" scot-free because they control the whole system, especially the mainstream media.  As follows:
---
"Now we're hearing every major organ of propaganda and prevarication throughout the CIA's Mockingbird Media repeat and mock the Right about the 'lack of evidence'.  This is just a typical psyop deceit that the Mainstream Media knows will successfully con those glued to the idiot box.  However, the idiocracy is shrinking fast!  People, on the Right and Left are watching this nationwide crime scene like a hawk.  The reality on the ground is that there's already a massive and rapidly growing body of hard evidence that categorically proves election theft.  As for that evidence, let's be clear.  The perps did not take the time or measures to hide anything, so much of their ongoing crime spree was practically recorded on video.  They really thought they could get away with the heist of the millennium as long as the MSM completely covered it up, which they have done.
— Intelligence Analyst & Former U.S. Military Officer
---
THE GREAT STEALECTION
Truly, there has never — EVER — been anything like THE GREAT STEALECTION.
The Democrats, to their great detriment, had 4 long years to plan out this election theft so it was really just a matter of execution for them and their numberless co-conspirators.  Colluding intimately with Deep State, Mainstream Media and the New World Order globalist cabal, the DNC leadership put together a staggeringly scandalous scheme they really thought they could get away with.
However, in this Age of the Internet it's a lot more difficult to get away with conducting a full-scale crime wave in all 50 states when there are witnesses on every street corners armed with smartphones and tablets.
And, because the 2020 POTUS election was really set to be an overwhelming Trump landslide, the Democrats had to suspend many standard operating procedures when carrying out such a massive election theft.
In point of fact, the proof presented thus far indicates the perps cut a lot of corners, so much so that they will soon be indicted, arrested, prosecuted and incarcerated for the felony crimes of treason and sedition willfully committed to overthrow the U.S. Federal Government via election theft.
Just how vast and convoluted is this "complex criminal conspiracy" to steal the 2020 POTUS election?  Take a good look at any one of these highly radioactive exposés to comprehend the sheer depth and breadth of this ongoing crime spree.
---