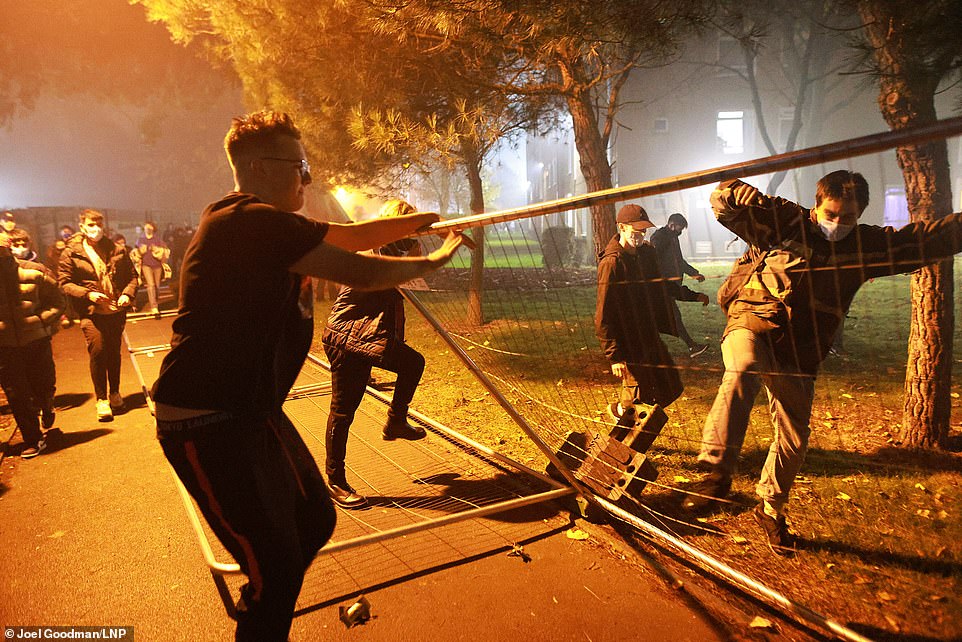 That's a bit more like it. Students at Manchester University last night tore down a nasty metal fence that had been erected to confine them to their halls of residence. MailOnline has more.
Furious students last night ripped down a metal fence erected around their halls on the first day of England's new coronavirus lockdown.

Crowds of undergraduates at Manchester University trampled on the barrier and set off flares in the Fallowfield area of the city.

Pictures showed tradesmen putting up the huge blockade for the four-week shutdown as scores of residents claimed it would have had a "devastating" impact on their mental health.

Joe Hindley, 19, a first-year maths student, said: "We've just been really frustrated. There's no benefit we can see to them being up."

He added: "They've said something about it increasing our safety but from what we can see it's a complete waste of money."

One student, who asked to remain unnamed, told MailOnline: "The consensus amongst the student population is that this is incredibly dehumanising."

Another added the university had relayed "absolutely no information" about the fencing and that they only told students at 3pm Thursday.

Vice-Chancellor Professor Dame Nancy Rothwell last night apologised for the "concern and distress" and said it was meant to protect students from non-university visitors but would be removed today.
Okay, it's not exactly a Berlin Wall moment. But still. Glad to see that some people in Britain are mad as hell and aren't going to take it any more.
Worth reading in full.
By Will Jones 
https://lockdownsceptics.org/