by: Ethan Huff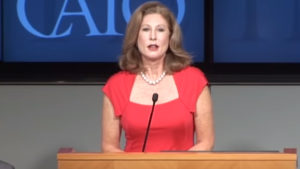 (Natural News) Many conservatives are bemoaning that Sidney Powell allegedly tapped out of the fight against election fraud. This is, after all, what the media is now claiming Powell did ever since it was reported that she is no longer part of President Trump's legal team. What this same media is failing to accurately report, however, is the fact that Powell is now working independently towards the same goal, which will allow her far more freedom to say and do what needs to be said and done, without impediment, in order to right the wrongs of the fraudulent 2020 election.
Brannon Howse of Worldview Weekend recently spoke with three-star Gen. Thomas McInerney, who reassured American patriots that the fight for a fair election is far from over. Powell is working harder than ever – at her own expense, it is important to note – to expose and ultimately remedy the election fraud that falsely delivered a "victory" to failed presidential candidate Joe Biden, who in reality was the election loser, as the world will soon discover.
A program of VCY America, Worldview Weekend tackles subjects like this that most other media networks ignore or gloss over as unimportant or "fake." Most of the establishment networks, sad to say, including many on the "right," are falling right in line with the phony narrative that Biden "won" and that the election is "over," which is simply not the case.
According to McInerney, the "good guys" recently captured servers in Frankfurt, Germany, where fraudulent votes were being cooked up for Biden during and after the election. The covert facility where these servers were being housed is run by the CIA, and it is where elections all over the world are monitored and "cooked" to produce predetermined outcomes.
"Her job is not going to change," McInerney says about the continued role that Powell will play in this important process. "She is going to do the things she wants. And she has the space, the distance she needs."
"It has to be one of those things that's done so she's not competing with the campaign and the administration and those other loyal supporters of the president, and she can speak her mind. That's what we need right now. We need Americans that will speak their mind and tell us the truth. We have the greatest scam in our history going against us in this election, and the voters, and we cannot ever let it stand. We must expose it, make it transparent, and let everyone know that those who voted fairly and legally that their votes count."
You can contribute to Sidney Powell's fight for a fair election at DefendingTheRepublic.org.
Trump "won in a landslide," says McInerney
According to McInerney, President Trump "won in a landslide." There is evidence to suggest that more than 80 million people voted for him, and that he would have received at least 410 electoral votes had the deep state not interfered with the count. Attorney Lin Wood, who is busy fighting election fraud in Georgia, stated the same in another recent interview.
"President Trump won in a landslide. Now we have to prove it," McInerney says. "Fortunately, we have that information and we are going to expose it … This is the largest cyberwarfare attack on a democracy in history."
McInerney further discussed Hammer and Scorecard, as well as how the opposition is busy cooking up fake news like the alleged arrest of George Soros – this did not really happen, by the way – in order to point the finger at the right and accuse it of spreading baseless conspiracy theories. The father of a well-known conservative media personality also allegedly put out fake news claiming that Powell is mentally ill, which is also fake.
According to McInerney, these planted fake news stories by the corporate media are an indicator that Powell and other allies of Team Trump are "spot on" in their endeavors. In essence, it means that the fight for election justice is shaping up to be a success, so stay tuned.
For more related news about the election, visit Trump.news.
https://www.naturalnews.com/2020-11-24-sidney-powell-strategic-independence.html