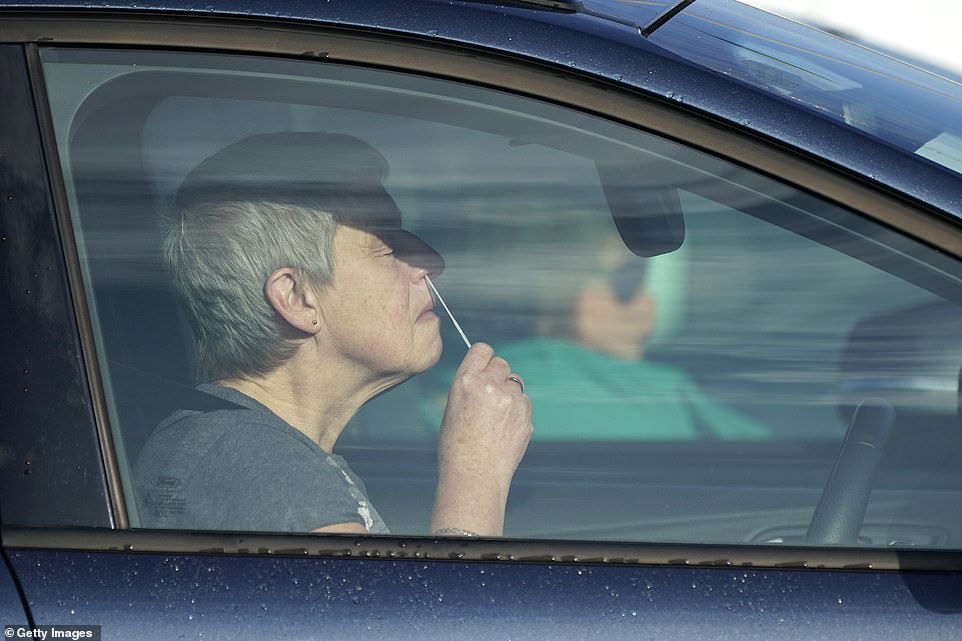 In a fresh blow to the Government's mass testing exit strategy, serious problems have emerged with the new rapid 20-minute test being deployed in the Operation Moonshot pilot in Liverpool this week. The Mail has more.
Rapid tests that give results in less than an hour are being used in the pilot, alongside the normal PCR swab tests that are already used in centres across the country for people with tell-tale symptoms of the illness.

Hospitals in the city were originally supposed to have a 20-minute test at their disposal – to be used to routinely test all of their staff in a separate trial – but it emerged today the machines are less than 50% accurate. Despite worries they are not good enough, officials will still use the kits on NHS workers.

In a blow to Boris Johnson's ambition of carrying out 10million tests a day by 2021, researchers found the Optigene Direct RT-Lamp tests missed more than half of positive cases in a trial in Manchester, meaning they risk dangerously underestimating the number of people who are actually infected.
The Government was, as usual, undeterred by unfavourable data on the accuracy of its tests.
Liverpool city officials say the Direct RT-Lamp tests tests were never intended to be used on members of the public and that the mass testing scheme is still going ahead as normal.

While the Department of Health accepted the Manchester study's findings, it claimed other trials of the Lamp test had shown it to be between 80 and 96% accurate. The Government department said the machine shouldn't be written off yet…

Everyone in the city is being asked to get tested, but particularly health and care workers, other emergency services and key workers and school or university staff and students.

Lateral flow tests, which work like pregnancy tests and give results in under an hour, will be used along with existing PCR swab tests. Both work in ultimately the same way, amplifying genetic material then looking for signs of the virus.

Lateral flow uses a different type of enzyme which allows the test to be done at one temperature, which makes it faster but less accurate.

PCR uses another type of enzyme and the process has to be repeated at different temperatures, which means it takes longer but is more accurate.
A group of academics has protested the scheme in a letter to the city's MPs, citing grave concerns about the accuracy of the tests and the likelihood of a poorly conceived mass screening programme to be "an expensive mess that does more harm than good".
A group of academics, including Allyson Pollock, Professor of Public Health at Newcastle University, said plans to test asymptomatic people in Liverpool went against SAGE advice to prioritise testing for those who were displaying symptoms.

In a letter sent to the city's MPs on Thursday evening, they said: "Searching for symptomless yet infectious people is like searching for needles that appear transiently in haystacks. The potential for harmful diversion of resources and public money is vast. Also of concern are the potential vested interests of commercial companies supplying new and as yet inadequately evaluated tests."

And Angela Raffle, a consultant in Public Health based in Bristol, warned the half a billion pound project could be a costly failure.

She said: "Experience with screening tells us that if you embark on a screening programme without having carefully evaluated it first, without a proper quality assured pathway, without certainty of test performance in field settings, without full information for participants, and without the means to ensure that the intervention needed for those with positive results does indeed take place, the result is an expensive mess that does more harm than good. Having looked carefully into what is being proposed, my assessment is that the current proposals for screening the City of Liverpool using SARS-CoV-2 rapid tests are not fit for purpose."

The academics were also concerned about the tests offering false negatives and false positives.

Professor Pollock told the PA news agency: "The test is not a measure of infection or infectiousness, it simply tells you if there is viral RNA present. It gives a binary yes or no result, but the reality is much more complex than that. It tests for viral fragments, these could be left-over debris from a previous infection or live virus. Even then, it doesn't tell you if you are infectious."

She added: "My concerns are that the current proposals for city-wide screening will fail to realise any worthwhile benefit, and will cause substantial harm through diversion of resources. They will also distract from solving the widely reported problems with the test and trace programme. It is my view that the National Screening Committee should be asked to rapidly review the proposals as a matter of urgency, in order that the plans can be subject to scrutiny by people with appropriate knowledge and experience."

The letter to the MPs was signed by Prof Pollock and Dr Raffle as well as Anthony Brooks, Professor of Genomics and Bioinformatics at Leicester University; Louisa Harding-Edgar, GP and Academic Fellow in General Practice at Glasgow University and Stuart Hogarth, sociology lecturer at Cambridge University.
Worth reading in full.
Stop Press: The headteacher of the Broadgreen International School, a technology college in Liverpool, sent a very sinister letter to parents yesterday, informing them how "privileged" they should feel that the army will be in the school on Monday testing all the children, marking them with a barcode and detaining those who test positive. The head adds that parental permission won't be sought because "under these very challenging and unprecedented circumstances that is not possible". Surely, this isn't legal?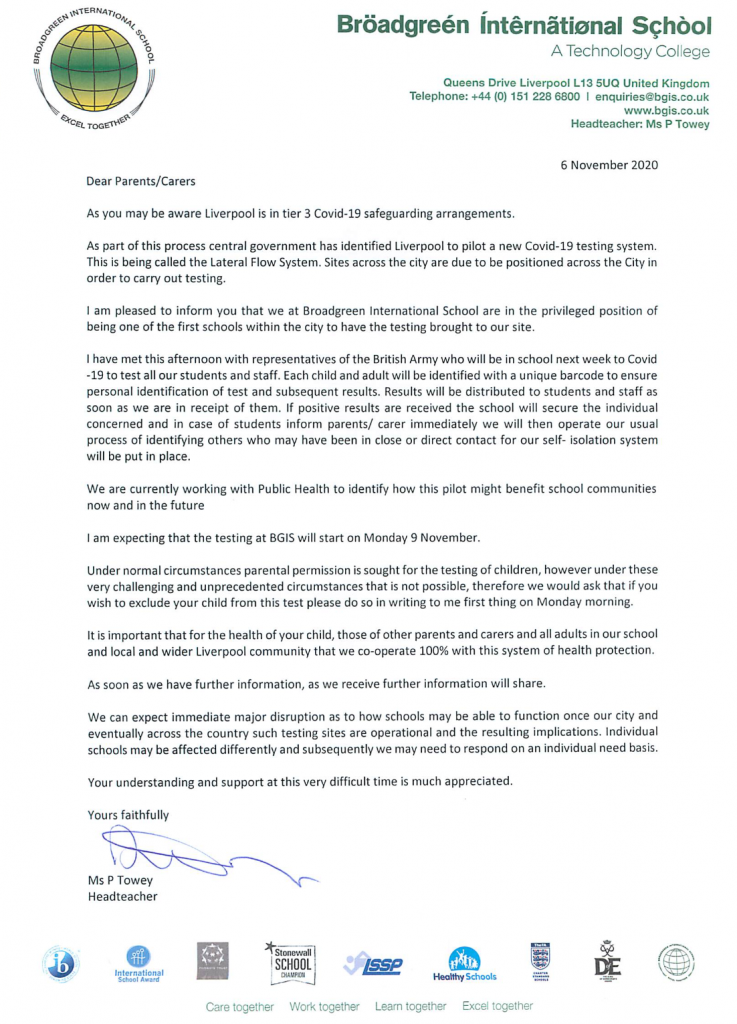 In spite of the unbelievably sloppy mistakes and the fact that it reads like a parody – has Liverpool turned into East Berlin? – the letter appears to be authentic. You can download it from the school's website here.
By Will Jones 
https://lockdownsceptics.org/