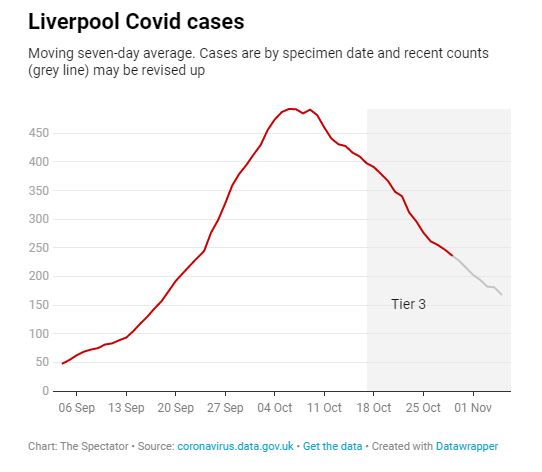 It's well-known that local restrictions failed to prevent the autumn surge in COVID-19 infections. The areas placed under such restrictions during the summer were among the worst affected in the autumn.
Despite this, it is now becoming commonplace to claim that the Tier 3 restrictions were responsible for bringing the R rate down ahead of the national lockdown. But does this stand up to scrutiny?
In at least seven areas placed under Tier 3 restrictions in October, including the cities of Liverpool, Manchester, Sheffield and Nottingham, positive case numbers had peaked and begun to decline days, in some cases weeks, before the new restrictions came into effect (let alone allowing for the delay in their having an impact).
This suggests local lockdowns are not necessary to end the current seasonal epidemic of Covid – if that's what it is, and not simply a "casedemic" – and that other factors such as population immunity are more important. The lack of a second surge in London, hit hard in spring, is also telling.
The October decline in Covid is actually a surprising turn of events. Not because we wouldn't expect population immunity already to be kicking in – anyone who's been following experts like Professor Sunetra Gupta and Professor Carl Heneghan will have been expecting this since the spring. But because respiratory illness normally keeps rising throughout the autumn and well into December before easing off in the new year.
With other respiratory pathogens such as flu running at a low ebb this year, if Covid doesn't resume its rise we could, ironically, be in for an unusually mild flu (and Covid) season. Particularly as hospitals have been quieter than usual for the time of year.
Either way, there is no evidence the recent decline in infections should be attributed to lockdowns, local or otherwise.
Once the current national lockdown is lifted, we should be looking to lift restrictions further, not double down on costly local restrictions that have also proven unnecessary.
Stop Press: The Spectator has launched its Covid data tracker that includes a page devoted to tracking "cases" in Tier 3 areas. It shows "cases" were already falling in many of them. Find it here.
By Will Jones
https://lockdownsceptics.org/