INTRODUCING THE WORLD FREEDOM ALLIANCE!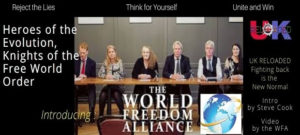 Intro by UKR Editor, Steve Cook
Please please do check out this video and the web page for the new World Freedom Alliance (WFA).
At UK Reloaded we regard this initiative as a very important and much-needed strategic development for the creation of a better future for you and your children, not least because of the vision that drives it and the very high calibre of the people involved.
We have long dreamed of and advocated unity and co-action across the world's broad and diverse freedom movement, the coming together of the planet's billions of people of good will with the common purposes of liberty and fraternity for all.
Together, we The People, are an unstoppable force.
Sometimes it takes a team of well-placed and highly capable movers and shakers to set a good example and get the show on the road.
In our view, this initiative does that.
We encourage you to support and help it.
As will we.
---